A Deliciously Sweet Guide to Haribo® Gifts
Who doesn't love to dive right into an open Haribo® hamper? Fruity, fun in shape and bursting with flavour, these gummies are bound to get gulped down at any family occasion (or even just in private, as the case may be!). This is why our range of Haribo® gifts and sweet trees is often exactly what you need for that date saved in your calendar.
We love what we do and we are passionate about making our products from the heart (both our own, and the succulent little red ones that come as part of the mix). As such, we want you to be able to find the gift that fits your loved one just right, and to help make this happen, we spend all our time dreaming and conjuring up new ideas to give our customers exactly what they have been wishing for, from the perfect open hamper to share with a group of friends to a sweet tree made just for two.
Make your dream Haribo® gift come true with us today, by getting in touch once you have found the perfect piece. Not that that will be difficult – kids and grownups really do love them so!
Take a Look at Some of Our Haribo® Trees
A Personalised Tangfastic®, Gummy Bear® or Starmix® Delight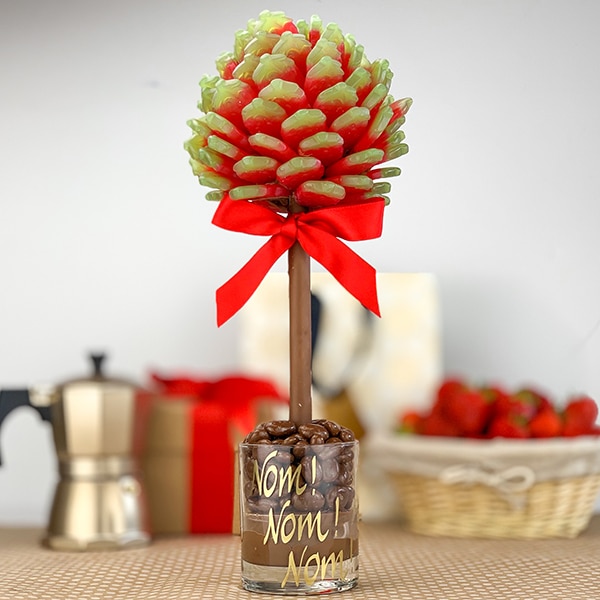 We believe that the best gifts are personalised, in order to show your friend or family member how much they mean to you, as well as how much you know them. This is why we are more than happy to offer personalised products, whether you are looking for a Haribo® bouquet or hamper set, or even one of our sweet tree delights.
Know how much your nearest and dearest love Starmix®, Gummy Bear® or Tangfastic® sets? Then why not add a personalised message on the vase your sweet tree will come in? To add one, all you have to do is order the piece you know they will adore, and fill in the details found on its page.
Personalised Haribo® Gift Ideas for All Occasions
There is never a "wrong time of year" to send your friends or loved ones wonderfully chewy, gummi candy. But, why not choose to mark a special occasion with one of our Haribo® gift ideas as well? We get as excited for Valentine's Day, birthdays, Easter and Christmas as we do for our sweets, so we can't think of anything better than combining the two.
Haribo® Gifts for Valentine's Day
Want to be sweet to your other half on Valentine's Day? Need a whole load of love hearts to tell them exactly how you feel? Then we have the sweet trees for you! Our Red Haribo® Heart Tree is delicately decorated with one of the most classic Starmix® shapes, which you and your loved one can pick off like tiny pieces of fruit. If that picture isn't adorable enough by itself, you may wish to consider a gift of our Marshmallow and Haribo® Heart Tree instead, which sees our little sweet hearts stuck to soft, fluffy marshmallows.
Haribo® Gifts for Birthdays
Birthdays truly are a magical time. You're a year older, your friends and family pile you with presents, and it suddenly becomes socially acceptable to eat cake for breakfast. When your friend or family member is having a birthday, why not continue this fine trend of sugary indulgence by gifting them one of our Haribo Tangfastic® Trees? This sweet tree comes with all the fizzy goodness of a birthday basket, bag, box or hamper, but in the surprise shape of a bouquet or tree you can eat from to your heart's content.
If your giftee has a taste for sweet strawberries over sour tropical fruits, then their birthday gift is waiting for them in the form of our Haribo Strawbs® Tree! As a tree made up of the most popular Haribo® sweet, these bouquets are stuck with giant strawbs just waiting to be plucked from the crispy chocolate centre. You will even be able to open up the giftee list with this treat, as Haribo Strawbs® are suitable for vegetarians!
Haribo® Gifts for Easter
Easter may not be the first occasion which springs to mind when you think of times to enjoy a Haribo® hamper, but we believe our sweet trees make just as delectable a treat as any gourmet Easter egg. Besides, you need something to go with all that chocolate! Our Haribo® Tree features the best of the Starmix® collection (including the fried egg, to keep with the theme!), stuck together to create a bouquet the entire family can share from.
Haribo® Gifts for Christmas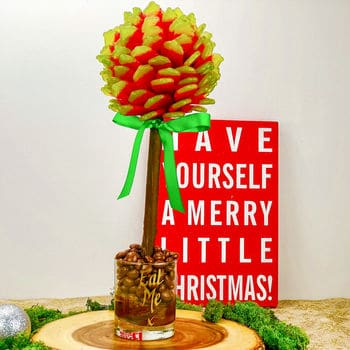 Of course, Christmas is never complete without a tree, and our very own Haribo Tangfastic® Towers make the ideal candied coniferous confectionary to complete your family's holiday table. Give your home a winter wonderland feeling with a sugary, "snow dusted" tower that you will be going back to long after the leftover turkey has been carved and turned into sandwiches.
Satisfy Your Sweet Tooth with Our Haribo® Gifts
Our Haribo® gift sets are all available to order in the easiest way you can imagine. All you have to do is click on the sweet tree or tower that tickles your taste buds the most, place an order and we will work our hardest to take care of the rest. Whether you are looking for a mouthwatering Haribo Starmix® creation packed with gummy bears, a tart Tangfastic® tower or tree, or absolutely need Haribo Strawbs® to make any day as special as it can be, we will make it for you.
Explore the sweet selection we have here and order one of our personalised Haribo sweet trees today. Your giftee will receive the perfect present to make them peckish in no time at all.