Chocolate Gifts for Teachers
As the end of the school year rolls around, our chocolatiers have been hard at work in the Sweet Tree kitchen creating the perfect 'Thank You, Teacher' gifts. Teaching is incredibly hard and it's important to show gratitude to those teachers who have had a real impact. And what better way to say thank you than with something sweet? Chocolate remains the unbeatable gift for teachers and when you buy from Sweet Tree by Browns, it's easy to see why!
You cannot add "Limited Edition Jubilee Cookiecrisp" to the basket because the product is out of stock.
Showing all 15 results
The Chocolate Gifts for Teachers We Sell
Finding the perfect chocolate gifts for teachers can be difficult, especially if you want to purchase a gift that is unique. Thanks to our expert chocolatiers at Sweet Tree by Browns, we sell unique chocolate gifts for teachers that can even be personalised with a name or message of your choice. Check out our irresistible chocolate gifts below, have a browse, and order your favourite.
Mini Belgian Chocolate Smash Pot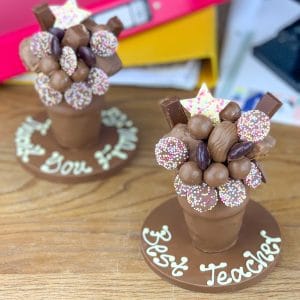 For just £14.95 you can purchase this popular chocolate gift! The Mini Belgian Chocolate Smash pot is made from the highest quality chocolate and is fully edible. Made from a wafer cup and dipped in creamy Belgian Milk Chocolate, this smash cup is filled with a selection of our favourite chocolate treats, including: chocolate covered honeycomb, chocolate jazzies, Maltesers®, Minstrels®, Cadbury's Chocolate Buttons®, and KitKat®.
And if you didn't think this gift could get any better, brace yourselves because this pot sits on a deliciously smooth chocolate plaque. The plaque can be personalised with a handwritten chocolate message for the cost of just £3! This chocolate smash cup really is the perfect gift for all the teachers out there.
Belgian White Chocolate Pot with 10 Sweetie Pencils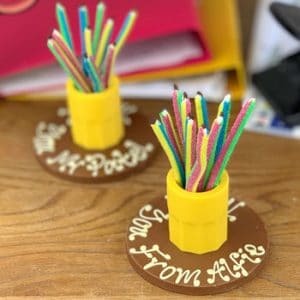 When searching for the perfect chocolate gift for a teacher, sometimes it can be fun to stick with the teaching theme. Our handmade Belgian White Chocolate Pot with 10 Sweetie Pencils is the perfect compliment to any school-themed gift.
Made from quality Belgian chocolate, this vibrant gift is fully edible. The bright yellow pencil pot is mounted on a solid chocolate plaque that can be personalised with a name or message of your choice. And the pencil pot is finished with 10 sweetie pencils that are perfect for sharing or just keeping to yourself. If you have been searching for unique teacher gifts, our handmade chocolate pencil pot is a popular choice!
Green Terry's Chocolate Orange Apple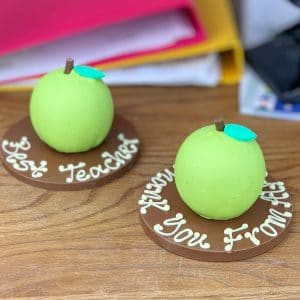 Giving an apple to the teacher is a tradition that has existed for hundreds of years and today remains a symbolic and thoughtful gift. Our chocolatiers hand make our irresistible green apples for teachers all over the country. Fully edible and made to look like a green apple, this chocolate teacher gift counts as one of your 5 a day, right?
The apple is made using a Terry's Chocolate Orange and covered in melted green Belgian Chocolate to provide a flawless finish. Sat on a solid chocolate plaque, this teacher gift can be personalised with a message or name of your choice that is hand scripted in melten white Belgian Chocolate by our chocolatiers.
Our Gifts for Teachers Can Be Personalised
What better way to make a teacher feel special than by giving them a personalised chocolate gift? Personalisation is extremely popular as it shows that you have gone the extra mile to buy a gift that shows just how much you care. At Sweet Tree by Browns, we are proud to offer personalisation options on most of our chocolate gifts for teachers.
Teacher Gifts and Our Delivery Times
When you order a gift for a teacher, you want it to arrive on time so that you can present it to them before school is out for the holidays. At Sweet Tree by Browns, we aim to process all gift orders within 24 hours, dispatching and delivering our gifts Monday to Friday. If you require your gift to be sent on a specific date, please just let us know. Although we use Royal Mail and we cannot guarantee exact arrival times, we can post it to match as closely as possible the date you specify.
If you would like to have a guaranteed delivery date, opt for Express Delivery at the checkout.
We Provide Gift Packaging with All our Products
Every teacher gift we sell at Sweet Tree by Browns is wrapped in cellophane, tied with a coloured ribbon, and packaged in a made to measure box to ensure its safe arrival. What's more, you can order your teacher gift well in advance of school finishing if you want to because our chocolate gifts stay fresh for up to 4 months, if stored in their original packaging.
Bespoke Gifts for Teachers
If you can't find what you're looking for, or you have a specific idea in mind, opt for our bespoke services. As expert chocolatiers, we are proud to always be working on new product ideas and designs. We create a variety of bespoke chocolate gifts for our customers every year. So, if you have a specific gift request for a teacher, please do not hesitate to get in touch. We would be more than happy to work to your requirements.
Buy the Best Chocolate Gifts for Teachers
Nothing shows quite how much you care than a thoughtful gift, and at Sweet Tree by Browns, we are passionate about creating beautifully unique, thoughtful, and delightful gift designs. We only create chocolate gifts from the highest quality Belgian chocolate and we haven't had a disappointed customer yet.
Browse our collection and we are sure you will find something you like. Our chocolatiers always work hard to make your chocolatey dreams come true. Treat the teachers today with a personalised teacher gift! If you have any questions or you would like to put in a specific request with us, get in touch today.