The Best Valentine's Chocolate for 2022
Valentine's Day is, at heart, about reminding the ones we love just how much we love them. So, why not show that special someone just how much they mean to you this 2022 with a selection of the best Valentine's chocolate we've got, right here for you to see (and drool over, admit it) on our website?
Have a look at all the pieces we've got below and pick out all the ones you fancy. Maybe they'll even end up going to someone you fancy this year…?
"Size" is a required field.
Showing 1–16 of 22 results
Our Gorgeous Valentine's Day Chocolates
We don't do generic here; every chocolate piece we provide for our customers is dreamed up and handmade in our very own kitchen! So, when you order something special for that special person in your life, you can be sure that you'll be getting a gift that's completely unique, and our chocolatiers will have made it with the love and care that your partner deserves.
Treat Your Loved One to a Tree
The clue pretty much is in the name. We're famous for our sweet trees, and we have an entire forest that might make the perfect present for your other half this Valentine's Day! For those who'd like something heart-shaped and bursting with sentimentality, for instance, you might want to take a look at our MalteserⓇ Heart Tree with Red Drizzle, just to get you started. Or, if you know they'd prefer a mix of smooth indulgence and rich crispiness, our Ferrero RocherⓇ and Lindor TreeⓇ is bound to hit the spot with its mix of indulgent chocolate truffles and nutty bonbons!
These delicious trees come stuck all over with a fabulous selection of sweets, and they're edible to the core. That's right, there's no polystyrene holding these trees together ‒ just our own secret recipe, crispy chocolate crunch! That means you and your partner can keep on eating your way through once the sweets have been plucked off, and once you're done there, you can eat away at the sweets we pile up like "soil"  in the tree's own glass "vase"! 
Our glass vases even make an extra special, permanent gift, and they'll be perfect tealight holders once all the chocolate has been eaten away.
Spoil Your Partner with Delicious Gifts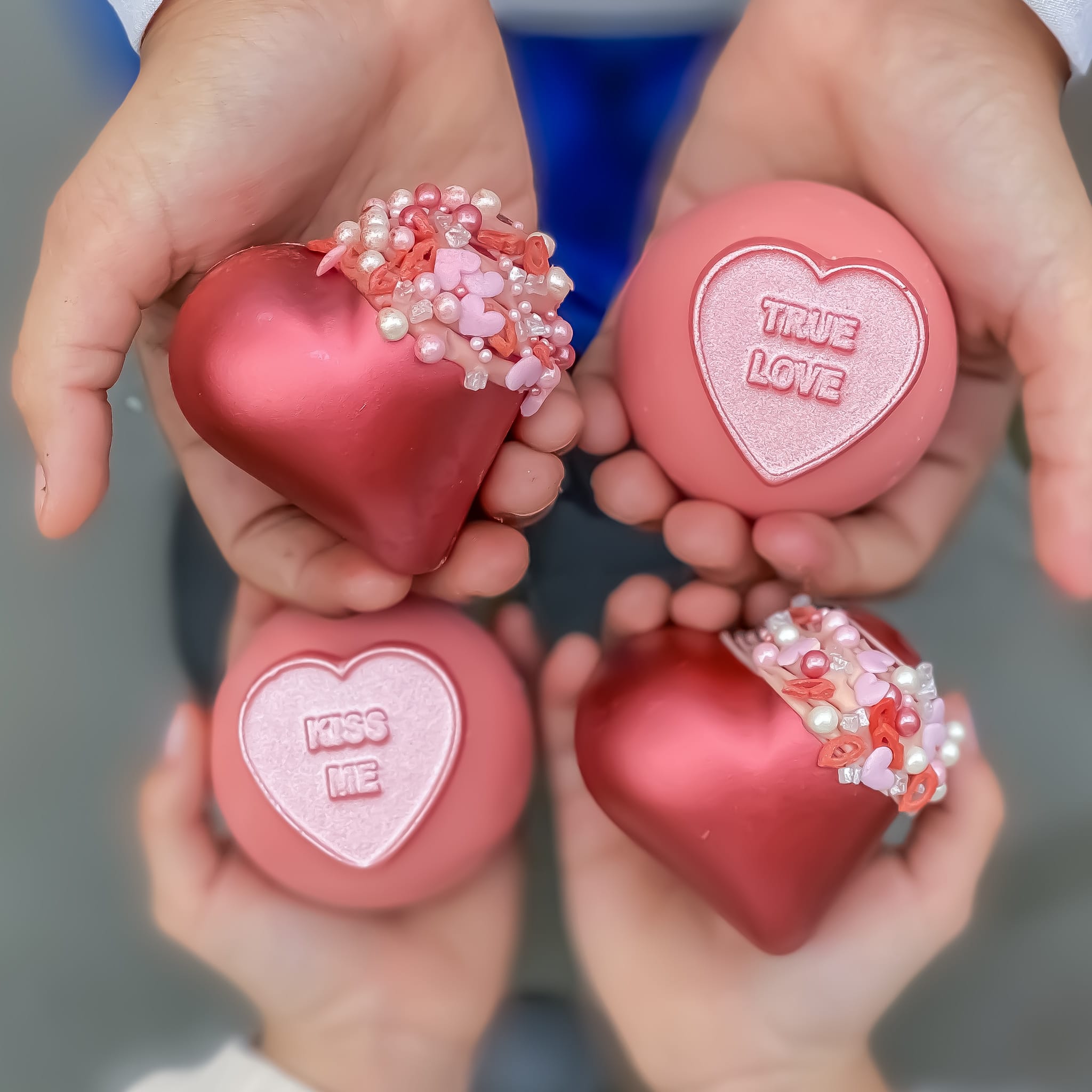 Perhaps you want to do something cosy with your partner to spoil them this Valentine's Day? It will be February, after all, and there's nothing better when it's cold outside than to snuggle up under some blankets, watch the telly, and eat something delicious. Of course, delicious things to eat are best paired with something delicious to drink, which is where our Love Bombs come in! 
These packs of four cute hot chocolate bombs come in pairs of pink-painted white chocolate with a pretty, glittery pink lustre, and pairs of milk chocolate finished in a shimmering red lustre that shows they're packed with love. Packed with love and marshmallows, if we're being technical about it. Pop any one of them into hot milk and you'll have yourself the perfect drink for a chilly day with the one you love!
Sending Hugs from Far Away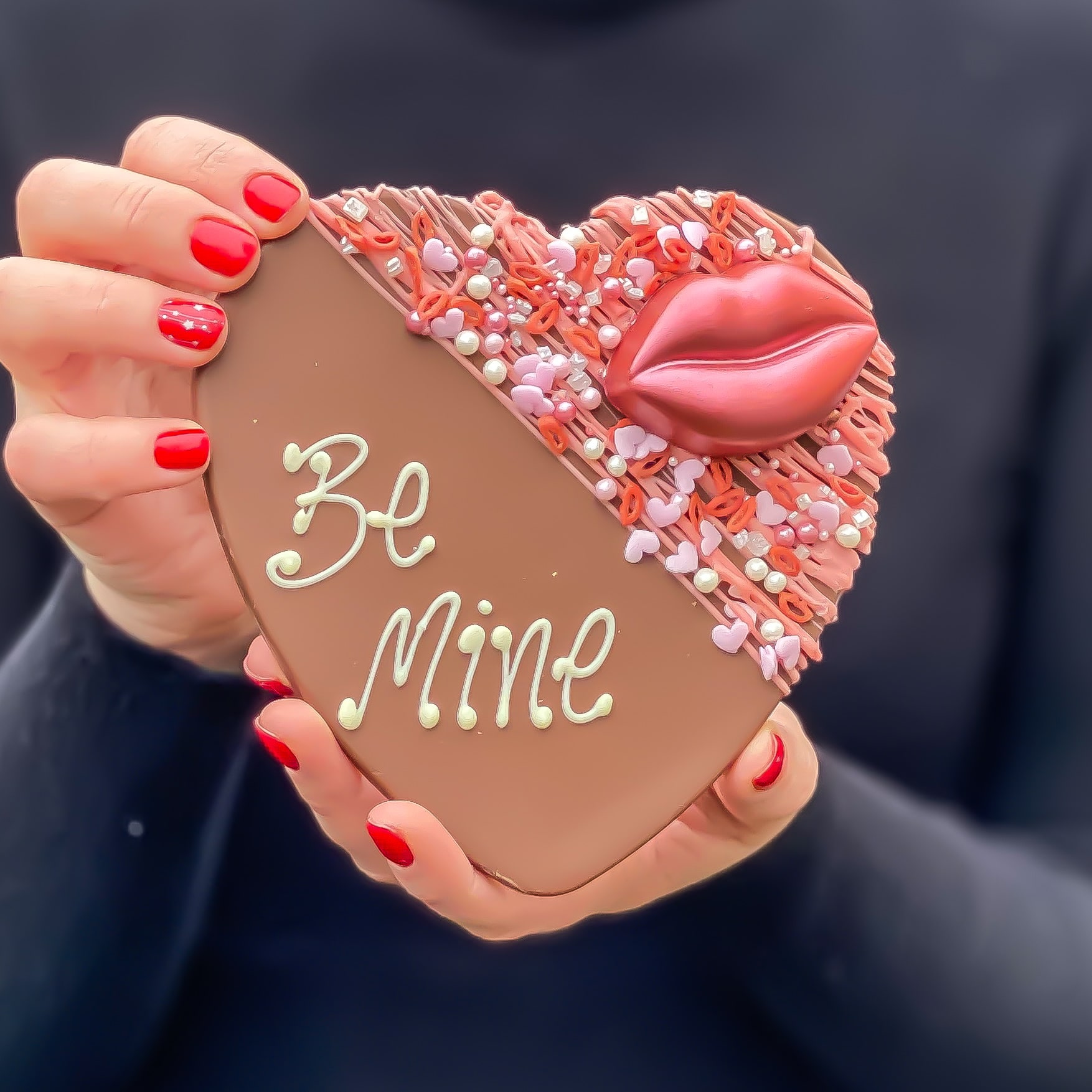 We know what it's like to be away from the people you care about, and how much all you want to do is give them a great big hug when you next see them. If you can't be with the one you love this Valentine's Day, for any reason, we'll be there to help you show them you're thinking of them. Our Letterbox Love Hugs might not come in a heart-shaped box, but you'll get that sweet sentimentality when you open it and find heart-shaped chocolate! 
They even come stuck all over with MaltesersⓇ, KitKatsⓇ, Cadbury's Dairy MilkⓇ pieces, RolosⓇ, and chocolate truffle hearts in red foil; it's a completely sweet heart for your far away sweetheart!
Send Them a Smashing Surprise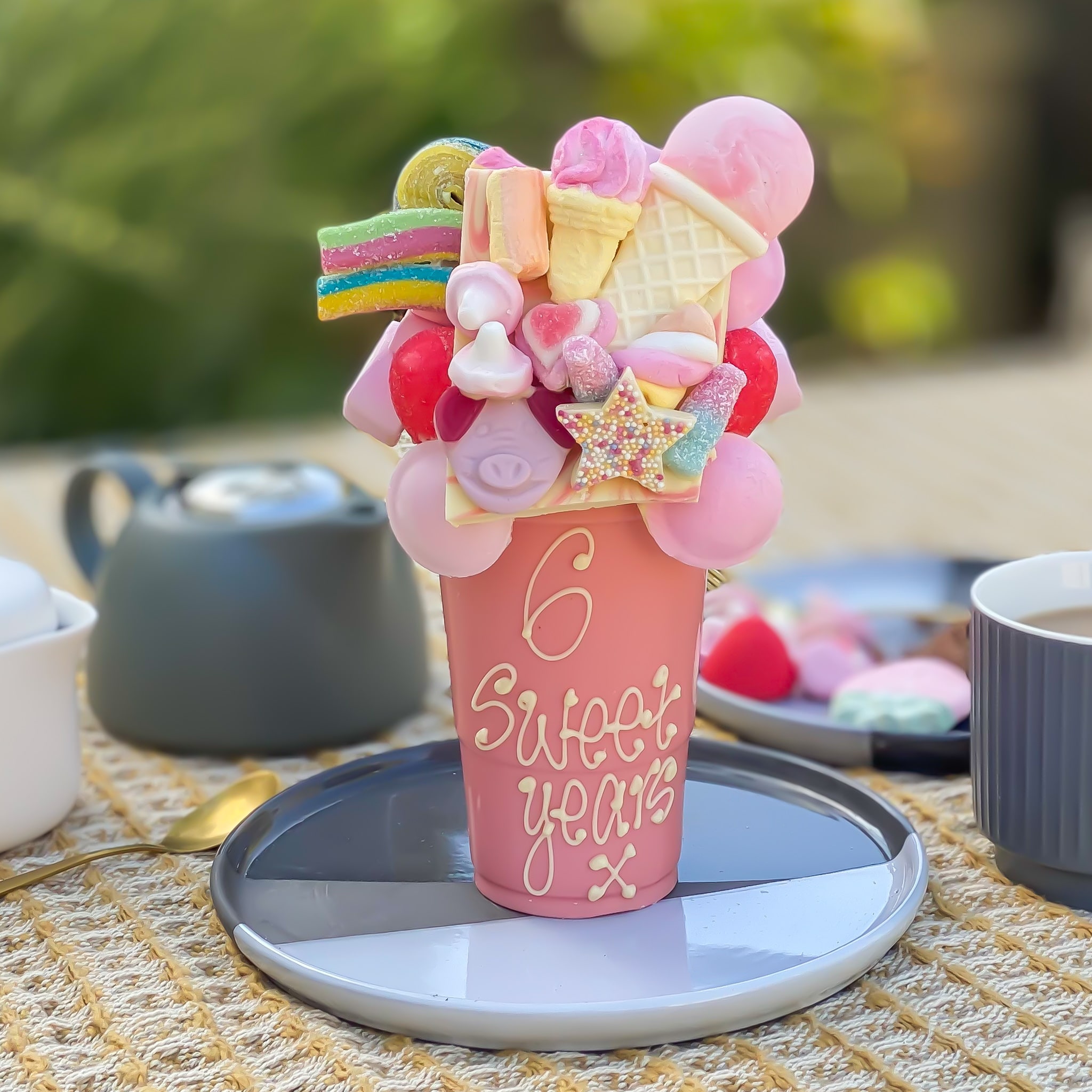 Maybe you and your partner want to make Valentine's Day as fun as it is romantic? We've got just the selection for you if so! Our Smash gifts are a popular treat on any day of the year, but they'll be just perfect if you want to look back in years to come and say to your partner or spouse "Hey, remember that year we had to break into your Valentine's Day gift?".
We'd always recommend starting your loved one off with their very own Valentine's Smash Cup. These smooth Belgian chocolate cups come filled up with an array of treat bits and chocolate pieces, from Milk ButtonsⓇ to MaltesersⓇ. The outside is hand-finished with a geometric Belgian white chocolate bar (turned pink for the occasion), red chocolate lips, sprinkles, drizzle, and a whole host of other things to surprise your lucky giftee!
Does your loved one like a gift box of chocolates or a bouquet of flowers every now and again? Then why not send them the best of both worlds this Valentine's Day by combining the two into one truly tantalising package? Our Red and Pink Smash Flower Pots are the perfect gift for anyone who loves cute gifts, flowers, and chocolate, coming in a Belgian chocolate "pot" with edible "flowers" made from lots of different sweet treats. They're filled up with marshmallows, Milk ButtonsⓇ and MinstrelsⓇ, too, so the surprise will continue inside!
Perfectly Personalised to Show Your Love
Anybody can be a chocolate lover, and there are so many chocolate bars, boxes, and hampers out there that you could send off without having to think too much about it. The gift ideas that really show a person how much you care about them are the ones that show them you know them. That's why we're always happy to help our customers personalise their luxury chocolate pieces!
The first thing you'll need to do is find the gift that you know your partner or spouse will just love for 2022. Click through to place your order and scroll down to the bottom of the page, until you see the box just above "Add to Basket". There, you can type in any name, nickname, in-joke, or sweet or sentimental note that you want your giftee to read. We'll make sure it gets added to your order when the gift is made.
But How to Do It?
You might be wondering this to yourself ‒ what's the best way to personalise your Valentine's Day gift for your loved one? Well, we've got a few options that you can start thinking about, depending on the gift you're giving. For example, if you're ordering an entirely edible gift and you want them to be able to munch right on through the message too, you can have your message added in smooth, creamy white chocolate, right onto the gift itself!
On the other hand, if you know your giftee is a bit of a softie and the sentimental type who'll want to look back on your words for years to come, we can put them on a little card for them to read! This will then be tucked in alongside your gift in time for delivery. Names and notes can also be painted directly onto the glass "vase" of our sweet trees, if that's what you know your loved one would like!
Order Valentine's Day Chocolate Online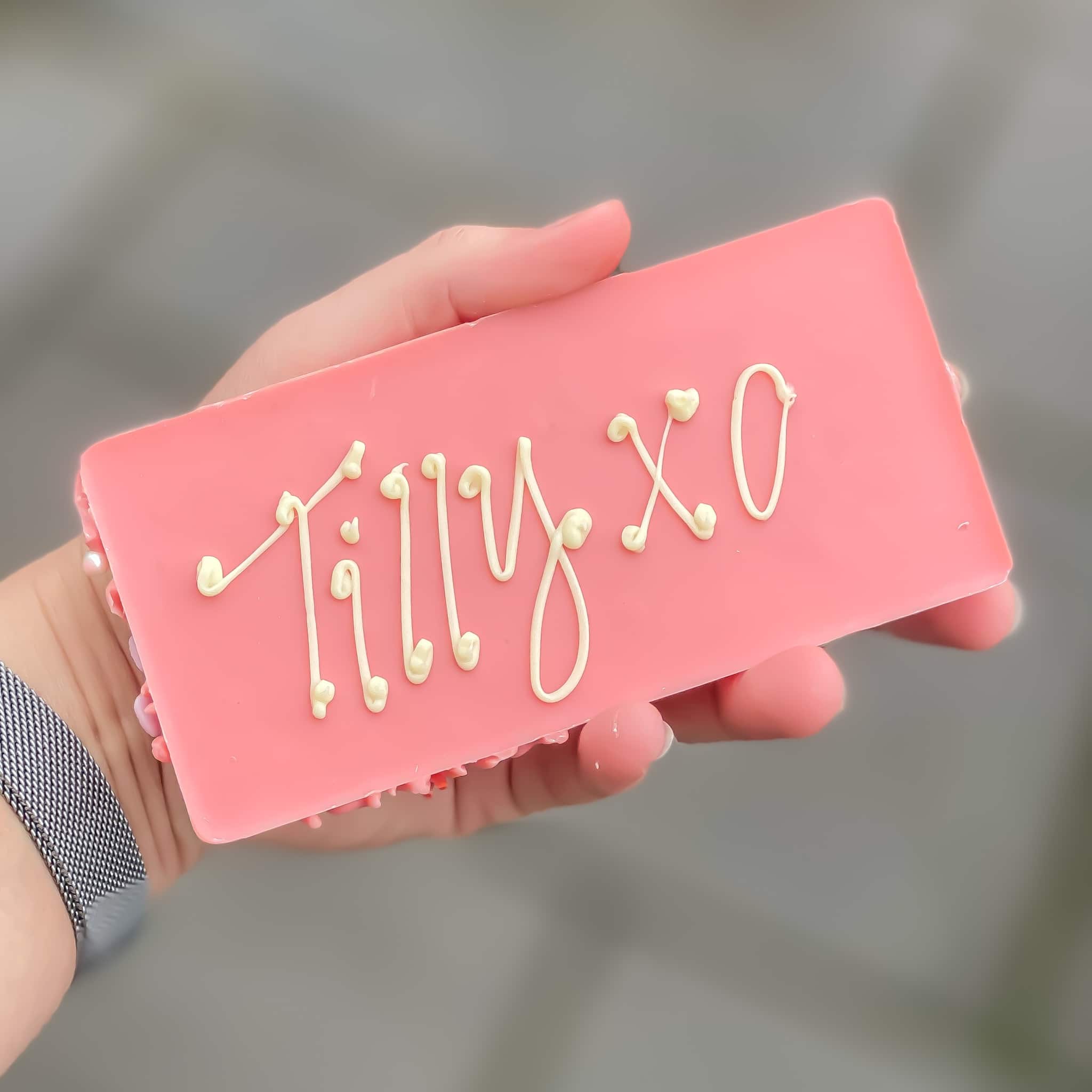 Modern technology is a wonderful thing, especially when you want to send the most fantastic and flavoursome gifts to someone you care about. It's never been easier to do just that, either, and with our service you'll be guaranteed the swift, safe delivery that you need anywhere in the UK.
Say goodbye to the stress and hassle of ordering online when you pick out your chocolate gifts at Sweet Tree by Browns, and sit back, relax, and just wait for it to arrive.
Keep it a Secret Surprise on Your Phone
Want to make sure your other half doesn't see the surprise gift you've got planned? Then you're in luck because ours are easily ordered from your phone! It won't be any different to ordering from a computer, either; just pick out the pieces you know will make your partner smile and pop them straight into your online basket. Add in your payment details, set up a delivery address (your place or theirs?), and you're done!
This is where your job ends and ours begins. We'll craft and create all the delicious, chocolatey gifts and pieces you've asked for, before sealing them up in cellophane and tying them with a colourful ribbon as an extra flourish. They'll then be sealed up, safe and sound, in made-to-measure boxes and sent out for a quick delivery via the Royal Mail. Keep an eye out for the post to see it arrive!
Get it in Time for the Big Day
We know that you'll want the most romantic day of the year to go off without a hitch, so we'll make sure we get any chocolate gift we make out as soon as possible. But, if you want to be absolutely sure, you can also set up a date of delivery with us when you place your order. That way no one misses out on the gift you know they'll love, on the day when they're really expecting it!
Take a look through our complete confectioner's collection of goodies and find the one that says "I love you" best today.