Chocolate Letters Made from the Finest Ingredients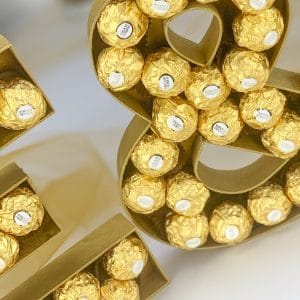 We have customers that reflect a wide variety of heritages and we find that gifting a letter to someone is a small but simple way to show your love and appreciation. Whether chocolate letters are steeped in tradition for you or not, they are a beautiful way to make someone you love feel extra special.
While only certain letters of the alphabet used to be made into chocolate initials, such as M and W, other letters were often too complicated in shape to be manufactured in bulk (or they simply weren't popular enough as initials), such as Q, X, Y or Z. Nowadays however, all the letters of the alphabet are made and sold. At Sweet Tree by Browns, we are proud to make all letters of the alphabet out of 100% quality Belgian chocolate.
Chocolate Letters for Special Occasions
Just as chocolate letters used to be made to celebrate the birth of a baby, we sell chocolate initials and letters that are perfect for any occasion. Do you want table place settings that stand out at your wedding? Do you want to say something special but you just can't find the right words? Do you want to send a funny phrase to a friend? Our chocolate letters provide a sweet solution. We can make chocolate letters for any event or special occasion. Just give us a call today and our chocolatiers will get to work creating the sweetest lettering just for you.
Chocolate Letters Delivered to Your Door
At Sweet Tree by Browns, we don't just make irresistible chocolates and unique and creative designs, we also deliver everything you buy right to your door. Order from us online today and your chocolate letters will be handmade, hand packaged, and hand delivered by our very own courier straight to your door. We are all about providing exceptional customer service. And we want to make the shopping process as smooth and as sweet as our chocolate.
Working from the Sweet Tree kitchen, we aim to have every order made, packaged and dispatched within 24 hours. So, your order should be delivered to you in just a couple of days. However, if you are placing an order at the last minute and you need chocolate letters delivered to you at a specific time, we can cater for that as well. All you need to do is opt for Express Delivery when checking out and you can choose a delivery day that best suits you. It couldn't be any easier!
Chocolate Letters Hand Made to Order
At Sweet Tree By Browns, we don't work from a factory or have products that are manufactured on conveyor belts and packaged by robots. We are passionate about carrying out every step of the process ourselves. From humble beginnings, our business has grown into a thriving family-run chocolate company. We hand make all of our chocolate products to order. Not only does this ensure we are creating quality chocolates, but it also means every order we receive is made, packaged, and delivered with the utmost care. We don't just use the finest Belgian chocolate ingredients, we also provide the finest customer service.
Personalised Chocolate Letters
Because we make to order, our chocolatiers are able to personalise every chocolate they make with a message of your choice. Do you want to write a little something on your chocolate letter? Leave it to us. Our team of chocolatiers will write your chosen message in melted white chocolate, adding that personal touch to your gift. Surely nothing can be sweeter than a message written in chocolate.
Bespoke Chocolate Letters at Your Request
At Sweet Tree by Browns, our chocolatiers are experts in chocolate first but they are also extremely talented creatives. All of our chocolate products are unique to the Sweet Tree by Browns team and are drawn up, created, tried-and-tested by our chocolatiers. There is nothing we sell that has not been designed and made from our very own working kitchen.
However, it's not just our team that are creative – our customers are too! So, if you have a bespoke chocolate idea in mind for a particular gift or perhaps even a special occasion, give us a call today. We are proud to cater to your bespoke chocolate requests. Give us a call today to discuss your requirements with a member of our team. We will then draw up some ideas and work with our chocolatiers to create the sweetest chocolate letter creation you could imagine. There isn't much our experienced chocolate-making team cannot do.
Why Chocolate Letters? The History Behind the Gift
Chocolate letters traditionally originate from the Dutch holiday of Sinterklaas (Saint Nicholas). During these celebrations, individuals would traditionally be given their initials made out of chocolate, either on the Eve of Sinterklaas Day or on the morning of. Various types, flavours, and sizes were made to celebrate the occasion.
However, this was not always the case. We can actually trace the tradition of gifting letters back to German roots when letters were made out of bread and gifted to new-born children. At the beginning of the 20th century, the Dutch chocolate industry began making letters out of chocolate, a trend that quickly grew in popularity. People loved the sweet taste of these letters and even during WW2 when chocolate was in short supply, these letters were made of sweet, sugary gingerbread. Once rationing ended, however, chocolate letter manufacturing was quick to resume and remains as popular today as it once was.
Order Chocolate Letters Today
We hope this article has really spelled out for you just how special our chocolate letters are. Experience our chocolate for yourself by placing an order with us today. We know you won't be disappointed! You can browse our selection of chocolate letters and other beautiful designs in our online store.
Hand made using the finest ingredients, packaged with care in our very own kitchen, delivered by courier, and even catering to bespoke design requests, there is nothing our team cannot do! So, please feel free to give us a call today to discuss your chocolate letter requirements and place your order. We have yet to receive a complaint about our chocolate. It's smooth texture and loving composition makes it simply irresistible.