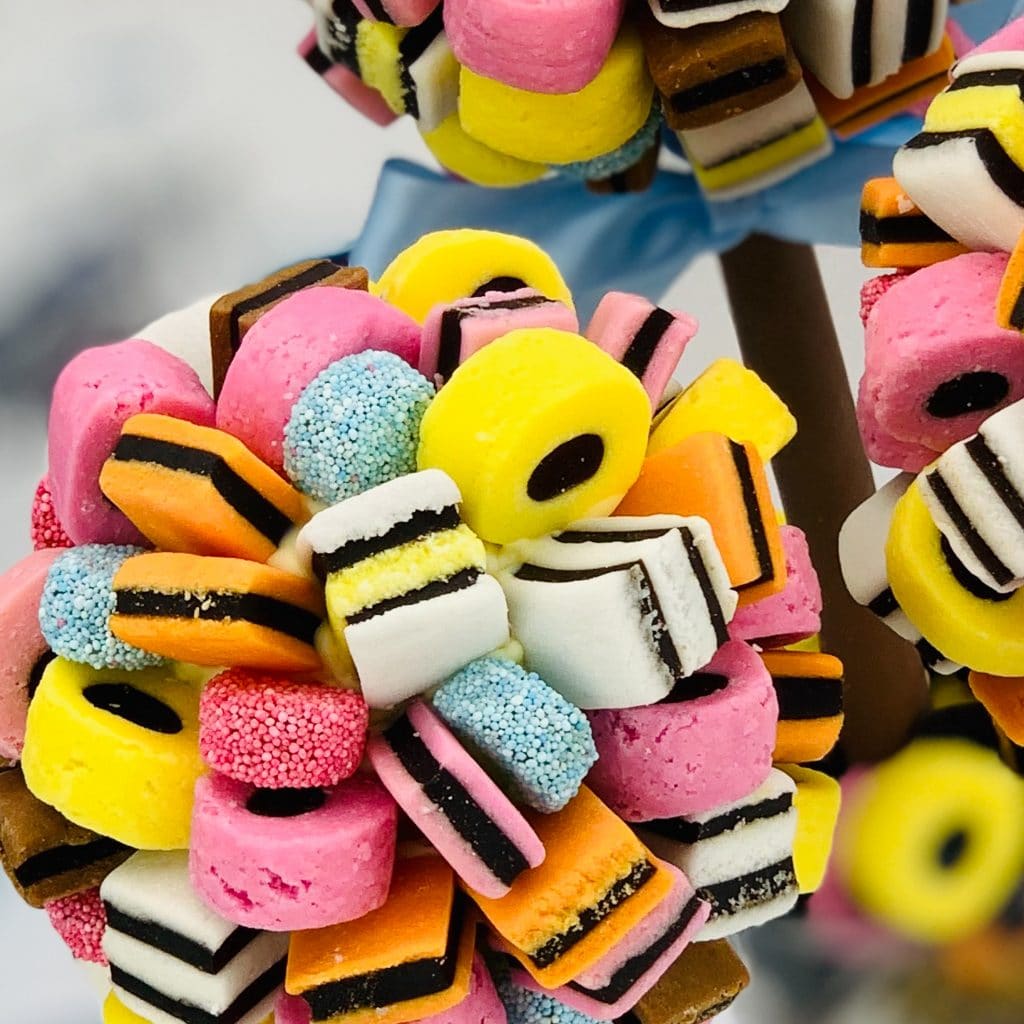 Liquorice Allsorts® Gifts for "All Sorts" of Occasions
When you imagine traditional, colourful sweets that could easily be pictured filling up glass jars in cute, old-fashioned confectionery shops, what comes to your mind's eye? For us at Sweet Tree by Browns, it can only be Maynards Bassetts® Liquorice Allsorts! These chewy delights have been firm favourites for many years now, and we want to do our part in ensuring our customers can pick liquorice allsorts gifts from us if their intended giftees will love this type of present the most.
We love what we do and we want nothing more than to help you find the gift that will go down a treat on any occasion. All of our products are lovingly handcrafted by our fantastic team, who spend their free time dreaming of more creations to conjure up, and they are ready and waiting to start work on anything you order, too. So, select the product you know your loved one will just adore and get them the liquorice allsorts gift they'll never forget today.
---
Personalise Your Liquorice Allsorts® Gift Ideas to Make Them Memorable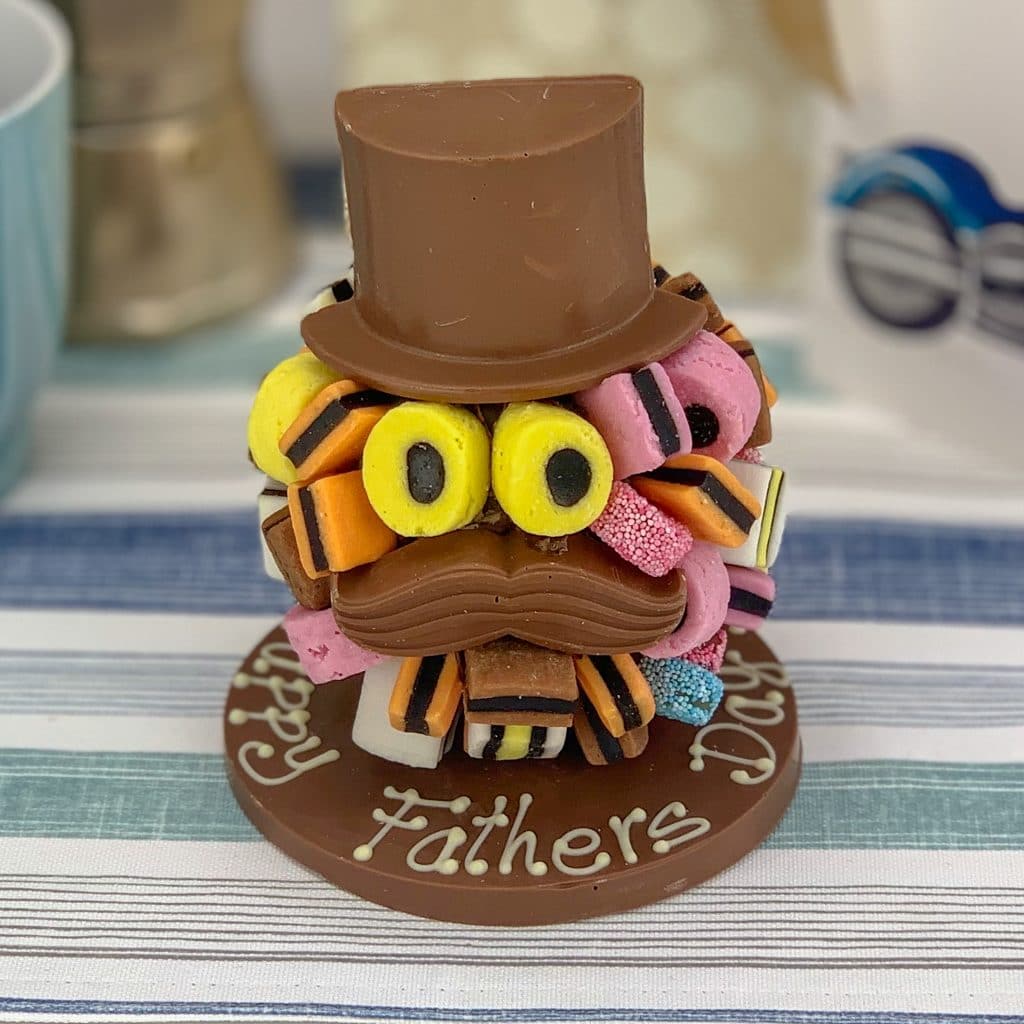 Do you often feel like the best and most memorable gifts are the ones which also show a person how much you know them? We completely agree! This is why we are delighted to be able to offer our customers the chance to personalise their liquorice allsorts gifts before they are sent out to an eagerly-awaiting giftee.
All you have to do to add that little extra touch to your gift is order the one you know your friend or family member will love the most. All the boxes where you can add messages you would like written out. These will either go on the vase of your sweet tree, or on a note that will be sent alongside your product.
Why Choose Liquorice Allsorts® Gifts for Your Next Event?
We know that Maynards Bassetts® Liquorice Allsorts may not be the first tin or box of sweets which springs to mind for every event. To this, we ask "Why not?". Our liquorice allsorts gifts make the ideal gift ideas for any time of year, whether you need a party table centrepiece that will get all your guests talking, an amusing gift for Father's Day, or even a Christmas stocking stuffer they will never forget.
Have a ponder over the events and celebrations we have listed below and think about why liquorice allsorts may just be the sweet for the occasion.
---
Our Liquorice Allsorts Products
---
Liquorice Allsorts® Gifts on Valentine's Day
Want to be sweet to your other half on Valentine's Day? Need a whole load of love hearts to tell them exactly how you feel? Then we have the sweet trees for you! Our Red Haribo® Heart Tree is delicately decorated with one Have you been looking for unique gifts to bring your loved one a surprise on the most romantic day of the year, rather than the same old box of chocolates or bouquet of flowers?
Does your partner or spouse not buy into the "soft and mushy stuff" but still appreciate a present for the occasion? Then why not consider one of our Liquorice Allsorts® Trees? These sweet trees are just as colourful as any bouquet of flowers, with the added benefit that you can tuck into every part that you pick off. Your other half might even consider sharing their treat, as these delectable goodies are perfect for two (though your partner might not see it that way!).
Liquorice Allsorts® Gifts at Easter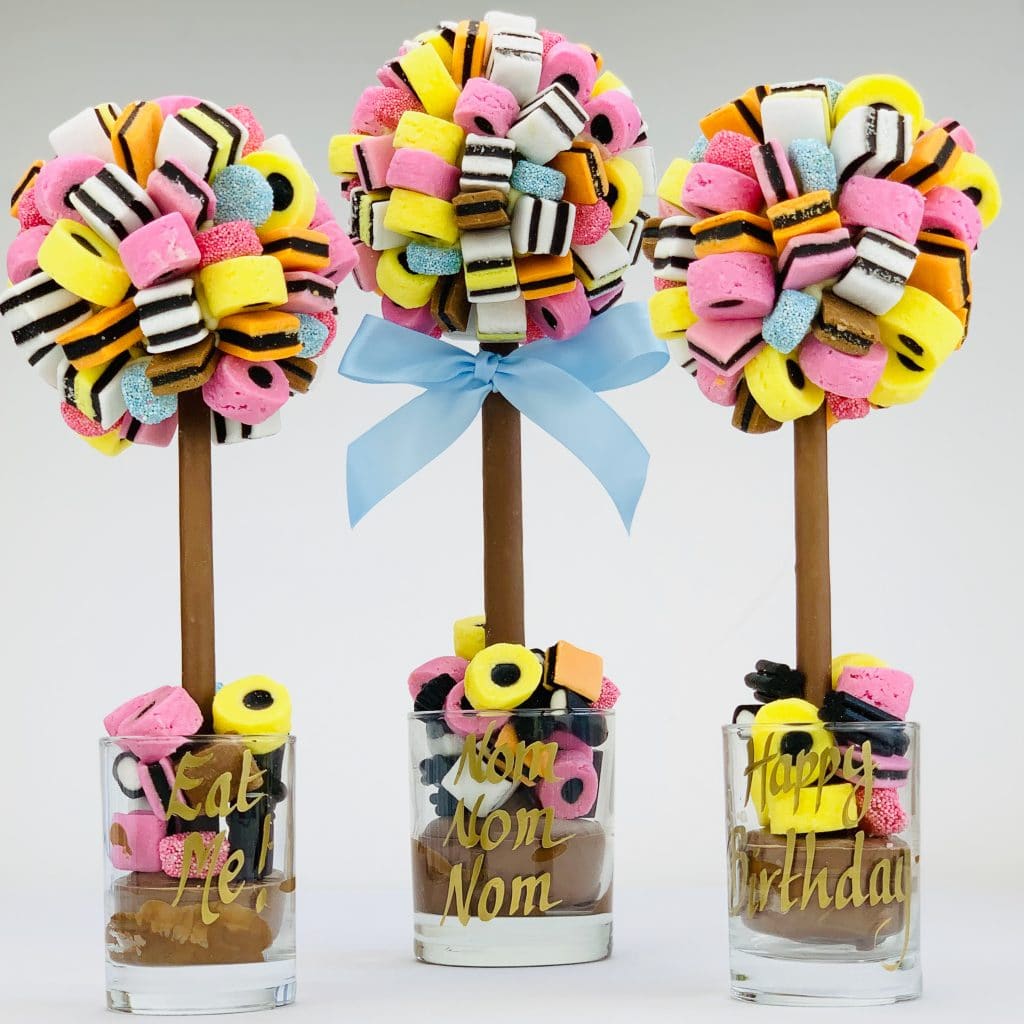 Looking for an alternative to chocolate on a holiday that normally calls for it? Then a sweet tree stocked with liquorice allsorts may be just the thing you are looking for! Our trees can easily be plucked for a sweet, tasty and vibrant treat that lets you join in the fun and the celebrations, without having to add chocolate into the mix. Of course, all the centres of our trees are made of a crispy Belgian chocolate centre, so the chocolatey choice is still available to sink your teeth into, if you so choose!
Liquorice Allsorts® Gifts for Her
Mothers, stepmothers, grandmothers and aunties ‒ even older sisters, friends or cousins, for some ‒ can all be some of the most important people in our lives, and they deserve Mother's Day and birthday presents which show how much we care about them in return. If your nearest and dearest absolutely adore Maynards Bassetts® liquorice allsorts, and always have since they were children, why not give them a gift from our selection that will bring back the happy memories?
Liquorice Allsorts® Gifts for Him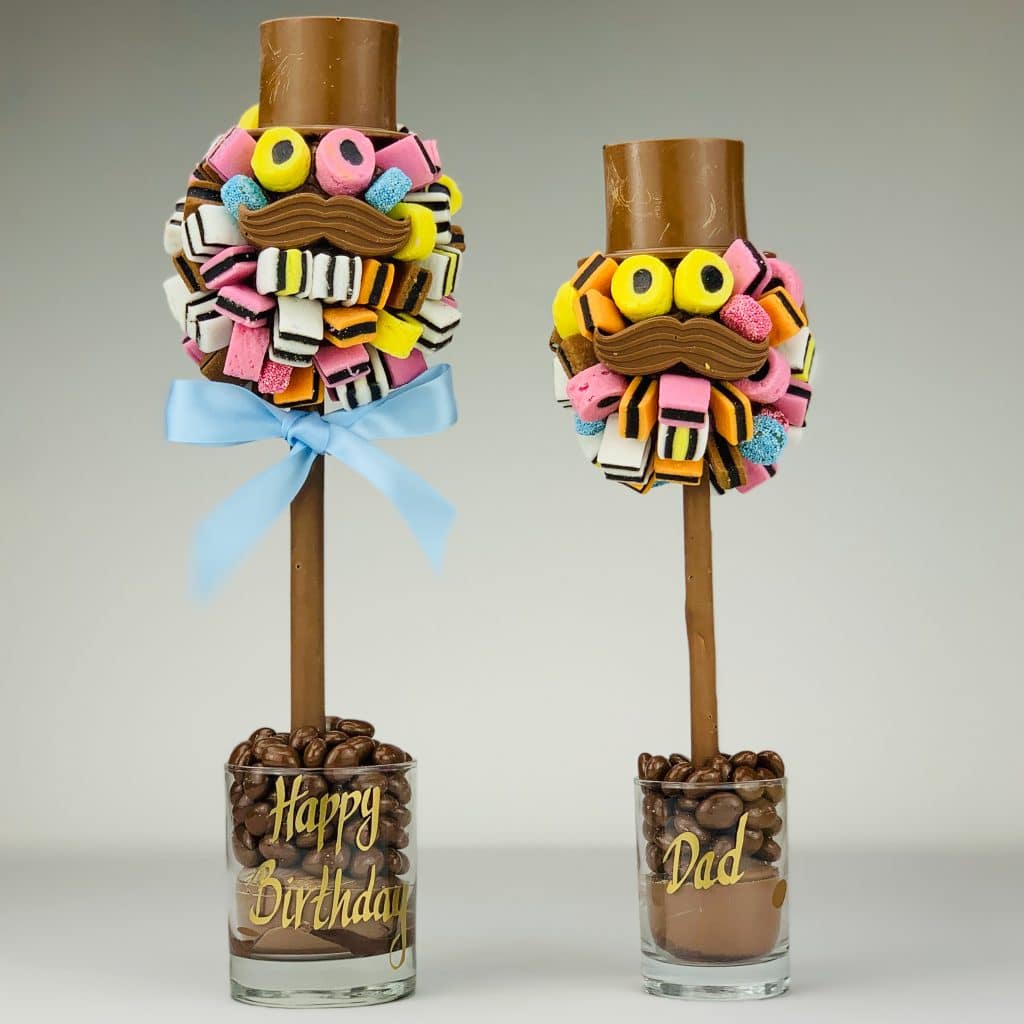 We must never forget the men in our lives who mean the most to us, either, so if your father, brother, grandfather or uncle is the one in the family with a taste for liquorice allsorts, why not consider getting him a gift that he will love and be delighted by, whether its for Father's Day or a birthday? With one of our Liquorice Allsorts® Hat and Moustache Trees or Liquorice Allsorts® Heads with Hats and Moustaches, you can bring your giftee a delicious, novel treat that is sure to have him laughing happily as well.
Liquorice Allsorts® Gifts for Weddings
We love a good wedding, and we are always delighted to help out whenever we are called to provide our goodies for someone's big day. If you are assisting in decorating the tables for the reception and looking for a sweet treat to add bursts of colour (and flavour, for after-dinner drinks), or if you know that the happy couple absolutely adore liquorice allsorts and would want them to be available on the menu in the evening, then we have just the gifts for you. The top hats on our Trees and Heads even make them look like tiny guests!
Corporate Liquorice Allsorts® Gifts
Does your boss need assistance in finding just the right gift for those big, potential new clients that your firm needs to give a good first impression? We know exactly what you need to help your company gift stay a cut above the rest of the box and tin gift ideas and presents that your clients will have seen before. Our Liquorice Allsorts® Trees are just the solution you need, offering any firm their pick of tasty, sweet snacks that come neatly tied with a brightly coloured ribbon. Your firm is bound to stay in mind when these trees are delivered directly to them!
Liquorice Allsorts® Gifts on Halloween
Thinking of something light and fun for Halloween, rather than something spooky? Perhaps you are considering a Charlie and the Chocolate Factory-style theme, a Mad Hatter's Tea Party, or a fairytale wonderland? Then our sweet trees and gifts can complement your theme completely! With their bright colours and whimsical designs, our Liquorice Allsorts® Trees, Liquorice Allsorts® Hat and Moustache Trees and Liquorice Allsorts® Heads with Hats and Moustaches will all make perfect edible party decorations. The latter two even come dressed for the occasion already!
Liquorice Allsorts® Gifts for Christmas
Are you in charge of bringing a tin or box (or two) of chocolates over to your relatives' houses for Christmas this year? Want a way to make your contribution to the dinner-and-snack table stand out from the standard party foods? Our liquorice allsorts products are the ideal solution, adding a vivid touch that makes them the perfect pre-dinner decoration and the best post-dinner treat (if you can wait that long, of course!).
If you have been looking for novelty presents to go in the stockings of younger relatives, our Liquorice Allsorts® Heads with Hats and Moustaches will fit the bill nicely! These cute decorated treats will last long after the last chocolate shapes have been emptied from their advent calendars, so the happiness will continue well into the New Year.
Order Your Perfect Liquorice Allsorts® Gift Ideas Online With Us
You will be happy to find out that it has never been easier to order the traditional and delectable sweets that make your loved ones smile. To get started, simply browse through the options and ideas we have available, pick the product you know is just right for them and place your order. We will take care of the rest right away, masterfully crafting and packing up your present in cellophane and a made-to-measure box. This will then be sent out for a swift, professional delivery via Royal Mail.
Whether you are looking to bring nostalgia to an older relative who has had a fondness for liquorice allsorts all the way from childhood, or even if you simply wish to bring a present with a touch of whimsy to a birthday or Christmas celebration, we can make the gift for you. Consider our products carefully and order from us today ‒ your giftee will have their treat in no time!