We love a good celebration in the UK, and when the most wonderful time of the year comes around, that means going all out and having the best of everything. Gourmet food, drink, incredible gifts of all kinds ‒ we make sure we have it all. For businesses, this also means keeping cheerful contact with customers, clients, and employees alike with a delightful selection of corporate Christmas gifts.
We're more than prepared to help you do this by crafting a uniquely sweet selection that everyone close to your business can enjoy. Explore the examples we've set out below to see if inspiration strikes for the gifts you need, or have a wider browse on the rest of our website to discover the other delectable offerings we have available.
You can also call us right away if you already know what you'd like for your company Christmas gift this year. We'll know just what to do ‒ we do corporate gifts all the time!
Cool and Irresistible Chocolate Christmas Trees
Looking for a list of far more memorable gifts than the same old sweets and gift sets this December? Want some novelty ideas to entice clients and customers and keep them talking long after the gift has been eaten away? Then you'll want to take a look at our fantastic selection of Christmas sweet trees!
We'll be happy to prepare as many as you need, in any number of combinations, to make sure all your clients, customers, and employees get the delicious sweets and chocolate pieces they deserve. Whether you want to pull out all the stops with a series of smooth, indulgent Mixed LindorⓇ Trees or think they'd prefer a fun and diverse offering in a whole winter forest of our CelebrationsⓇ Trees, we'll have them ready as soon as you need.
Each tree comes stuck all over with the sweets you've chosen, and the best part of all is the surprise underneath ‒ each core is made of a creamy, crispy Belgian chocolate crunch (our own secret recipe). This makes every tree almost completely edible, apart from the "trunk" and the glass vase it comes in, though this last part makes a brilliant candle holder once it's empty.
Sweet and Unique Chocolate Gifts
We totally understand if you want to take a modern, approachable stance to your clients and customers this Christmas, all while you're busy keeping up company morale among your employees. To do both at the same time, why not send out a series of fun, quirky chocolate favours that encourage friendly relations and good business deals between you all?
We stock our chocolate gift ideas in a number of imaginative shapes, with the perfect gift for Christmas coming in the form of our Terry's Chocolate OrangeⓇ Christmas Puds. These offer giftees a full, flavour-filled chocolate orange topped with lashings of white chocolate and edible holly, all set out to look exactly like the holiday's most famous dessert.
Or, if you'd like something less traditional but with the same amount of fun involved, we can send along a whole set of Rudolph Letterbox Chocolate Hugs! These thick, chunky Belgian chocolate disks are all decorated to look like Santa's most famous reindeer, complete with a delightful LindorⓇ truffle dipped in painted white chocolate to act as a "shiny red nose". There's even room left over on the disk for a small personalised message, or even the person's own name.
Don't Know What to Send?
Another option that you can go for is sending a little bit of everything! Our Jam Packed Christmas Chocolate Hampers come with everything you could want to send to clients, customers, or even to share out between your employees. From chocolate Santas and stacks of presents, to Christmas Tree Mallows and our own high quality, handmade Loaded Decs and Hot Choc Baubles, this gift box is sweet gifting at its finest!
Sensational Smashing Surprises
Want all your food gifts to be as memorable as they are tasty? No client, customer or employee is likely to forget one of our Mini Smash Cakes, and we can make as many as you want or need to make sure everyone gets their very own. Each cake comes with a smooth, creamy Belgian chocolate shell, stuffed to the brim with SmartiesⓇ, MaltesersⓇ, and Cadbury Milk Chocolate ButtonsⓇ!
If you're getting in the festive mood and you want your corporate gifts to be just as Christmassy as you're feeling, then you'll want to stock up on our Mini Christmas Smash Cakes! These are all hand-decorated with an array of seasonally-themed goodies, from KitKatⓇ Santas and chocolate present bundles, to gold coins, candy canes, and Ferrero RocherⓇ.On the other hand, if you'd like to show all your staff that they're simply the best, you might want to gift them all their own Mini Gold Smash Cakes. Just as the name suggests, there's a real gold theme throughout these treats, from the Ferrero RocherⓇ and LindorⓇ truffles, to the spray-painted Kinder BuenoⓇ, gold coins, and chunky chocolate teddy bear.
Give a Great First Impression with a Personalised Corporate Gift
Christmas is a time for cheer and goodwill, and nothing speaks from the heart more than offering out personalised corporate gifts. Perhaps your client is a small business with a list of employees you remember by name? Maybe they have a memorable slogan, or shared a joke with you at your last meeting that you'd like to bring back to mind? Or maybe you just know that your own employees have had a hard year and you want to show them just how much it's all appreciated?
In any and all of these cases, we can be there to help by personalising each of your corporate gifts, making sure customers and clients alike think the absolute best of your firm. We can even help make sure your workers know all their hard work has paid off and keep them feeling happy!
Each of our sweet trees comes in its own specially prepared glass vase, and we'll be more than happy to write out any message you'd like to send across. If you're thinking of picking out a number of chocolate products from our selection to act as gifts, we can even write the message out on the gift itself, in the best Belgian milk or white chocolate available. To get started on personalising these gifts, simply let us know when you contact us to place your order ‒ we'll ensure that your ordered pieces are made exactly as you need them.
Brand Your Gift and Keep Your Name Memorable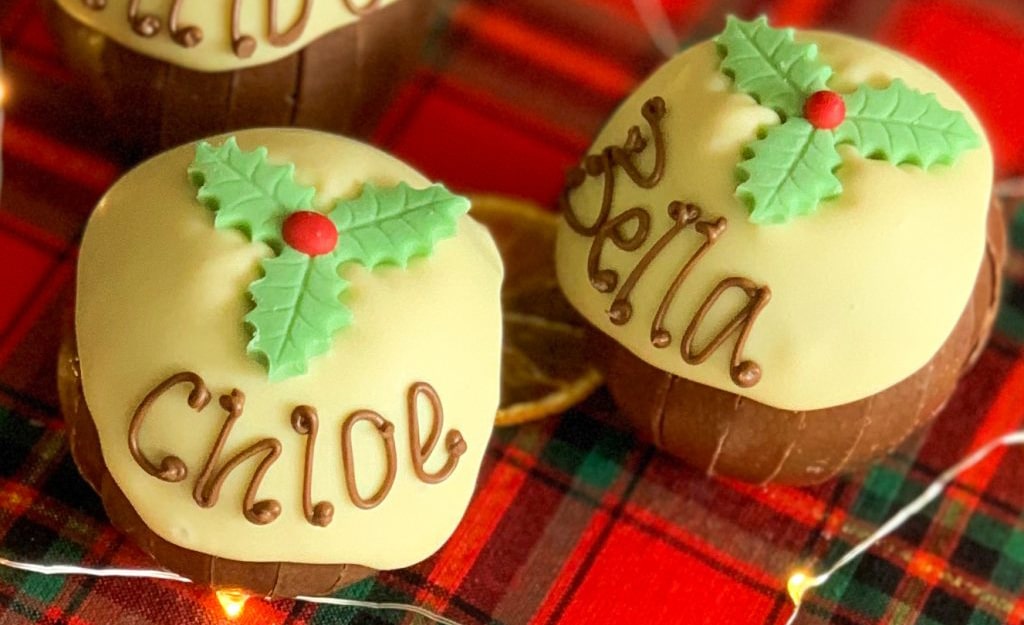 Keeping your company name in the forefront of clients' and customers' minds is your number one priority, we know. That's why we make it possible for you to order a branded selection of promotional Christmas gifts for your recipients, keeping every piece as unique to your business as we can. These should certainly see your name (and your gorgeous offering) standing out from the crowd!
With a branded corporate gift, every recipient you speak with is bound to remember you well into the New Year, setting up both your firms for a good year overall in your industry!
We Even Offer Branded and Bespoke Gifts
If you're looking for corporate Christmas gifts and you want something cool and completely unique to your business, we've got just the service for you! We've already done it for UK-based brands like Transport for London, Walt Disney, and Chelsea Football Club, so we know we can do it for you as well.
We'll stack our sweets and craft melted dark, white or milk chocolate into any shape you'd like, whether you need something simple, like pieces shaped and decorated into sports balls, or even something larger, like a masterfully crafted train station made entirely from delicious treats. Nothing is impossible in our kitchens!
Order Great Corporate Gift Ideas
Let us know what you'd like on the contact form found on our main corporate gifts page and we'll set to work on bringing your sweet, chocolatey food dream to life. By adding in as many specific details as possible, we can make any promotional items just as you've imagined them, and they'll certainly bring more novelty joy than the same old sweet hampers your customers and clients have received before!
It's never been easier to send food or gifts wherever you need them to go. So, when you need us to send corporate Christmas gifts to customers, clients, or even an employee or two working from home, we'll do that right away. We've practised our service to perfection over the years, so you can order and send any personalised or branded gifts out as soon as possible. We'll even ensure they arrive on (or in time for) a date you've set out with us!
Give Clients, Customers and Employees Something to Smile About
All you need to do is place an order for the corporate gifts that you know will seal the deal for your employees, or any new clients or potential customers. We'll craft and create every fun, fabulous and flavoursome piece that you've specified, and these will come wrapped in beautifully sealed cellophane, tied with colourful ribbons and tucked away in made-to-measure boxes for the quick, safe delivery you need. These gift boxes will then be passed on to the Royal Mail, and can arrive in the post anywhere in the UK.
We're ready to serve whenever you need a cool selection of retro sweets and delicious chocolate pieces that are bound to stick in anyone's mind. If your business needs a set of corporate gifts to send out this holiday season, contact us and we can work together with you to place the perfect order today. We'll make sure it's the most wonderful time in the year for everyone getting a gift from you.