We know there's nothing quite like picking out those old-fashioned but oh-so-tempting sweets at the cinema, or in your local shop, or even in the supermarket if you want the taste to take you right back in an instant. By ordering a 1kg bag of Pick 'n' Mix from Sweet Tree by Browns, you won't even have to hunt high and low for your favourites on the shelves, either ‒ they'll be right there on your doorstep with one simple order!
Pick 'n' Mix Sweets Packed by Professionals
We love what we do (almost as much as we love the sweets themselves!) and we spend a lot of our time dreaming up the best new ideas for gifts and packages to send across the UK. So, when you come to us hoping for a confectioner's collection of penny sweets, you know that we can provide.
Whether you're looking for something a little bit luxurious, or have recently been tempted by something tangy for your taste buds, our Pick 'n' Mix bags and gifts will have it all.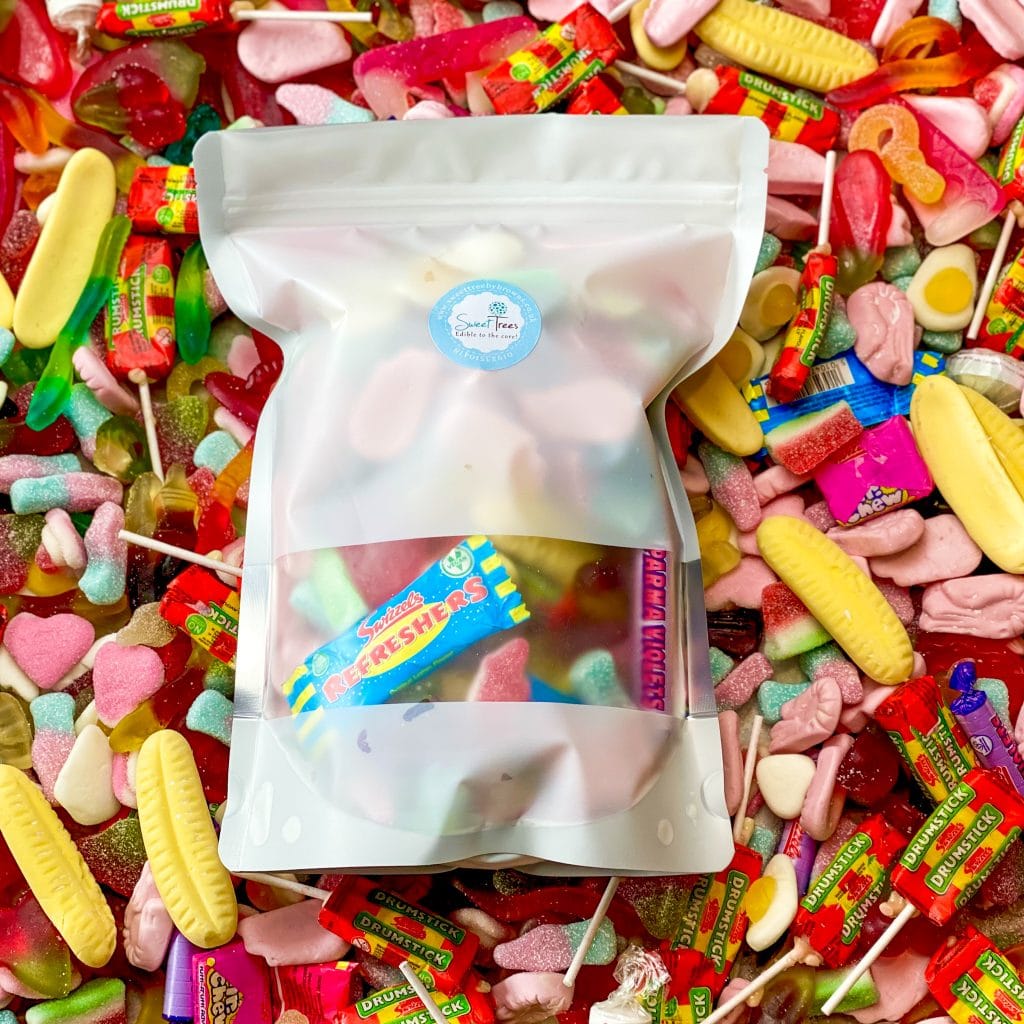 Our Deliciously Sweet Pick 'n' Mix in the UK
Here, we've listed the 1kg bags we'll be happy to personalise with a message before sending out to friends and loved ones across the country. We've even listed just a few of the sweet pieces you can expect to pick out when they arrive:
1Litre MEGA MIX, complete with Foam Bananas and Pink Foam Shrimp, sweet pieces such as Fried Eggs and Hearts from Haribo StarmixⓇ, Fruit Lollies, Pink & Blue Fizzy Cola Bottles, Gummy Bears and Snakes, RefreshersⓇ, and DrumsticksⓇ.
1Litre Fizzy Mix, packed to the brim with Haribo TangfasticsⓇ, Pink & Blue Fizzy Cola Bottles, Fizzy Watermelon Pieces, and Triple Fizzy Hearts.
1Litre Gummy Mix, full up with Gummy Bears, Snakes, Cherries, Lips, and a whole lot of HariboⓇ pieces!
1Litre Retro Mix, with all the old-fashioned favourites, such as Love HeartsⓇ, Parma VioletsⓇ, Pink Foam Shrimp, Foam Bananas, Fruit Lollies and RefreshersⓇ.
Looking for a big bag of Pick 'n' Mix?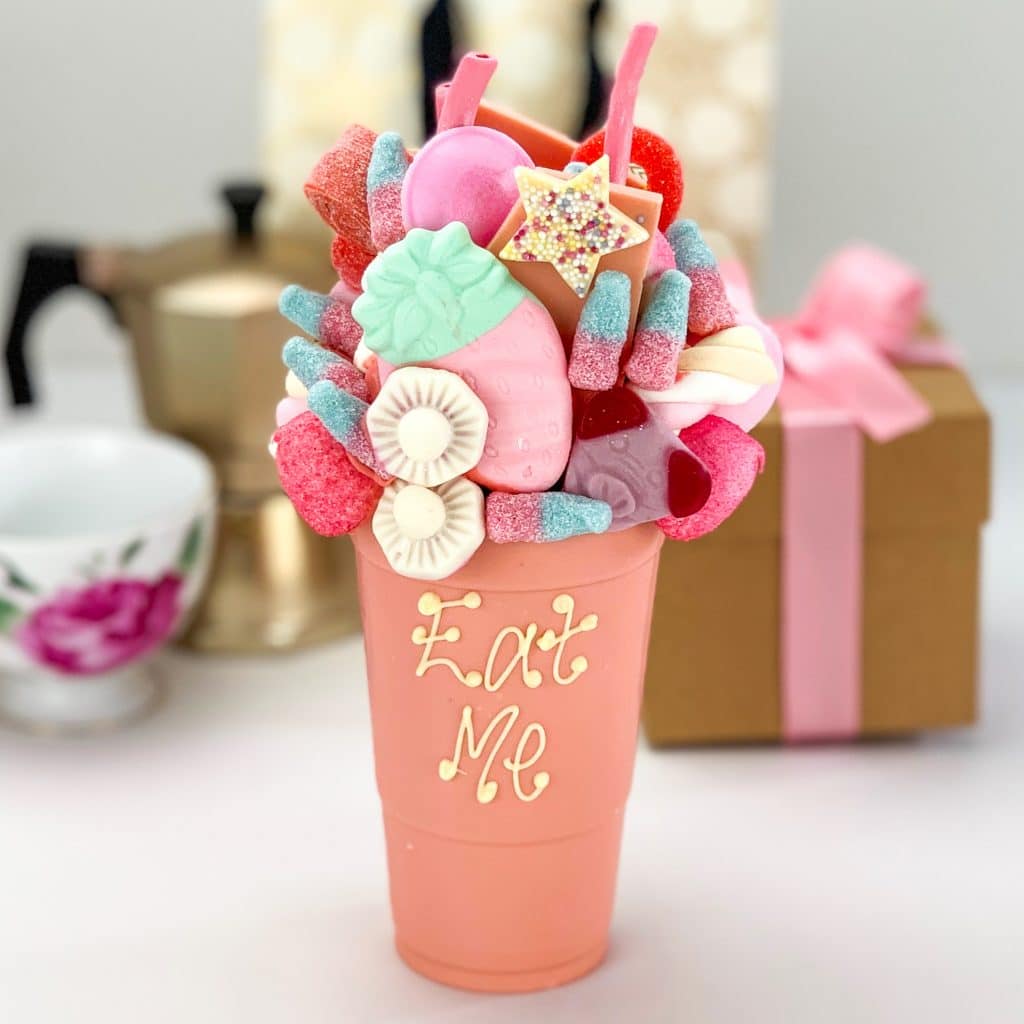 Would Some Milk Chocolate Go Down a Treat, Too?
If you're not looking to buy in bulk, but you know someone who'd fall over themselves at the idea of deliciously creamy chocolate or retro sweets on their birthday, Christmas, or even an anniversary, then we have just the set of gifts for you!
Our Pick 'n' Mix Smash Cakes or Pick 'n' Mix Smash Cups are packed with all the soft, chewy marshmallows, tangy pink and blue fizzy cola bottles, jelly beans, Percy PigsⓇ, Flying SaucersⓇ and other fun foam shapes you would expect to see in the window of an old-fashioned sweet shop. If you'd like to order a cup in a fabulously fun colour instead (or if you prefer a scrumptious bit of white chocolate to the usual milk), our Pink Chocolate Smash Cup will also go down a treat.
If you'd like any of these gifts personalised, let us know and we can write a message crafted especially for your giftee in delicious Belgian white chocolate on the product itself.
Ordered Online and Delivered to Your Door
Once you've been through the fun, fruity, and flavourful offerings we have and found your ideal selection, you'll be delighted to discover the ordering process is just as easy as nipping out to your nearest sweet shop or store. Simply click on the bag that you'd like to buy online and you can add it to your basket in no time at all. As soon as you've set up your payment and added in a delivery address, you'll be done!
We'll handle the work from there, safely packing and securing any 1kg bag or lovingly crafted chocolate product for you or your loved one to enjoy. Each order we receive will then be sent off for a swift, professional delivery conducted by the Royal Mail. This means you can have your perfectly sweet package or gift, anywhere in the UK, at a time which suits you!
If you need your good old-fashioned Pick 'n' Mix to arrive in time for a certain date, we can even arrange this for you as well. Just let us know if you have a date in mind and we'll make sure your order is ready in time.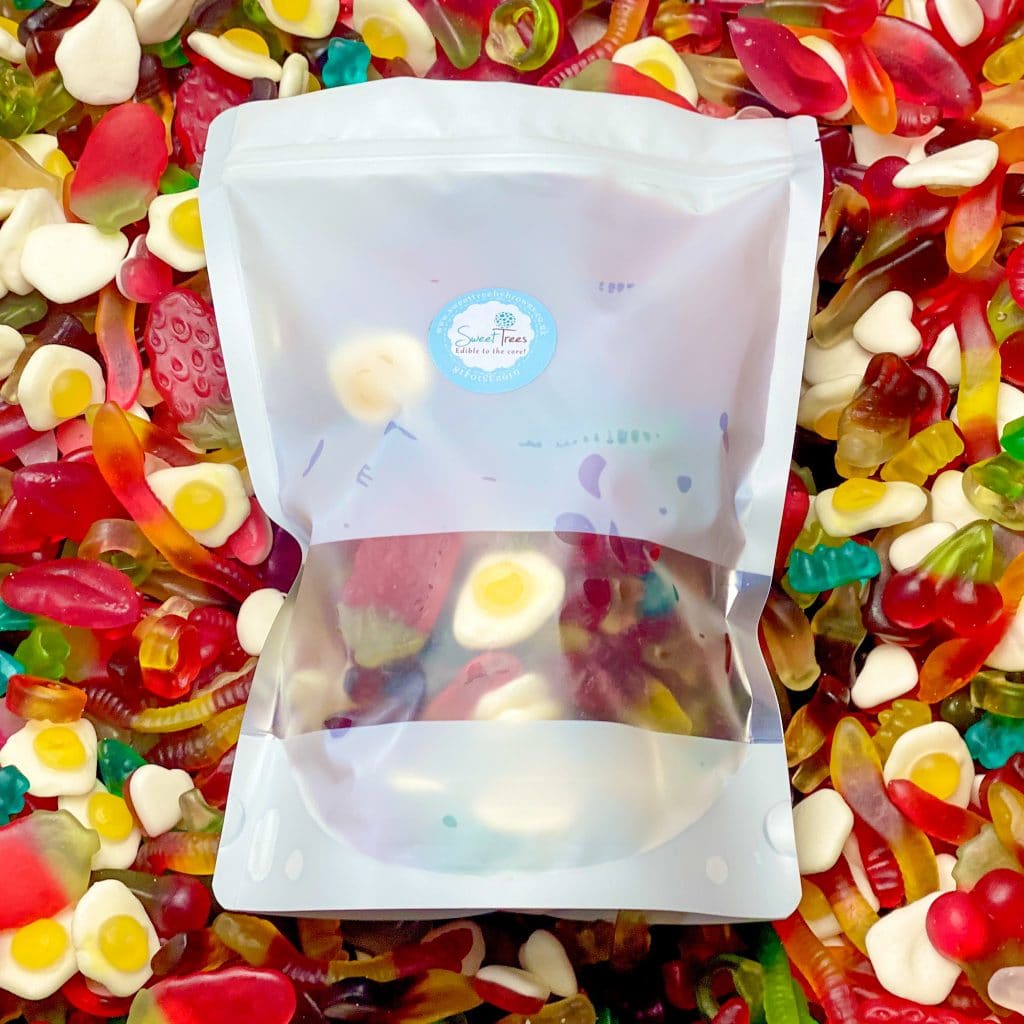 Buy in Bulk for Any Occasion
We know that Pick 'n' Mix might not be the first sweet treat you think of for birthdays, Christmases, or even just as a gift to say how much you appreciate a friend. We're aiming to change this, by reminding you of all the fun and fabulous occasions you can truly make sweet with a selection bag or a gift from us. For example, if you're having a birthday party for a friend with a sweet tooth, setting out a bowl full of Pick 'n' Mix is the best way to get your guests talking. Christmas and Halloween wouldn't be complete without sweets on offer, either, and what better selection to have than a nostalgic mix for the adults that kids are bound to love as well?
Even if you're not planning a party, but you'd like a great big bag of sweets like you'd get in the cinema to watch a movie with your loved ones, then you've come to the right place. Our stock can offer you all the old favourites, so it's like you're right back in the foyer and picking out your treats before the trailers start.
Order Your Perfect Pick 'n' Mix Online Today
Putting together the perfect gift package for the sweet lover in your family or friend group, or even getting in the best selection of snacks for a party or movie night, has never been easier with our service! We do everything we can to keep the ordering process quick and hassle-free, so you can have the tantalising treats you want, when you want them.
We've even made it easy to order sweets from your phone, so when the urge to splash out on some sugary delights strikes, you'll have everything you need in hand! All you'll need to do is click on the bag you'd like most, go through our ordering process and then we'll handle the rest.
What are you waiting for? All your favourite sweets are here, ready and waiting, and we'll be happy to send them out as a surprise gift or as a bulk delivery for any occasion. We're certain that it'll be a delectable date to remember!