Any kind of chocolate can make the perfect gift, but we know that sometimes, what you really want or know a giftee would love, is one particular brand that you can snack on and take care of those cravings to your heart's content. This is exactly why we have a huge selection of CadburyⓇ chocolate gifts for you to decide from, whether you're saying thank you for a favour, sending a gift on a holiday, or even just enjoying a little indulgence for yourself!
Read on to find out more about the gifts our team have dreamed up, so you can start thinking about what to gift that special someone in your life, at any time of the year or on any day of the week.
Choosing the UK's Most Famous Chocolate
From India to the USA, CadburyⓇ remains the UK's most famous (and best-loved) name in chocolate. It's hardly surprising, with a gorgeous recipe that makes use of cocoa butter and milk solids as well as sugar, and a reputation that stretches back all the way to its humble beginnings in John Cadbury's grocer shop in 1824. All of these reasons together help to make it our consistent favourite right here in Britain, too!
When you buy CadburyⓇ, you know that you are buying quality chocolate, and here at Sweet Tree by Browns, you can be sure that all of our creations that use the UK's best-loved chocolate will be just as mouth-watering and moreish as the bars themselves.
Cute and Quirky CadburyⓇ Chocolate Gifts and Trees
Here, we've given a little taster sample of a few of the flavourful fancies we can provide, all of which have CadburyⓇ pieces as part of their recipe: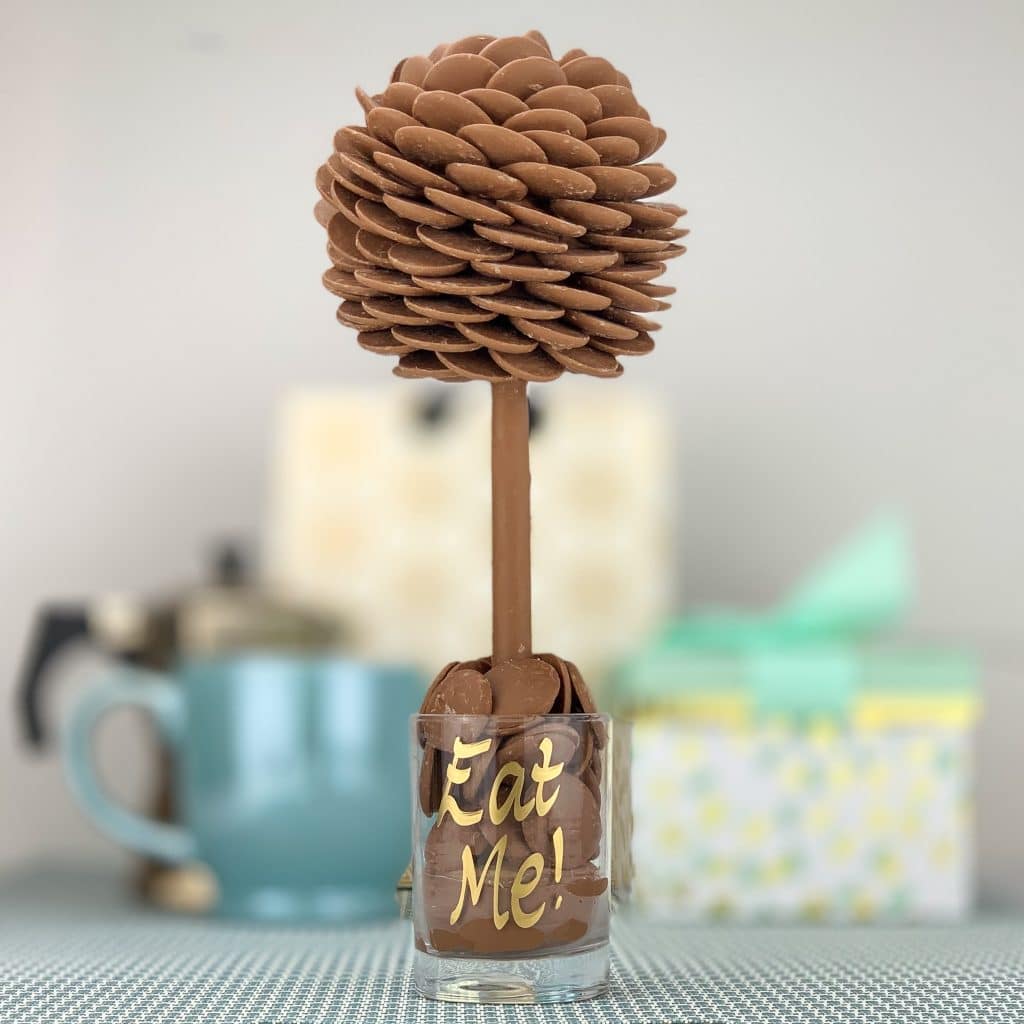 Our Fantastic Sweet Tree Selection
If you want a quirky CadburyⓇ creation that your giftee is bound to remember forever, then you might want to take a look at what we can offer in our most famous product range: our sweet trees. Each of these cute, whimsical little trees has a completely edible centre made from a crispy, Belgian chocolate crunch, and comes stuck with all the CadburyⓇ delights you could fill up on between meals.
For a year-round surprise that everyone in your family or friend group will enjoy, you won't find better than our Cadbury's Dairy Milk ButtonⓇ Tree. This fabulous gift is stuck with as many chocolate buttons as you could wish for, and then some; its glass vase is even filled with them (they're the "soil" for the tree)! So, if your dad's birthday is coming up and you know he likes a handful of chocolate buttons (and honestly, who doesn't?), sending out a "thank you" token to a friend who did you a favour, or even if you're getting ready for Christmas with all the goodies you need, you might have found your perfect gift right here.
We've even got a couple of choice trees that will be just right to bring home to the family at Easter. If you know you will all enjoy sweet, gooey-centred treats that you can just pick off your tree and eat at your leisure, then our Cadbury's Creme EggⓇ Tree will be just what you're looking for! Meanwhile, if you think everyone would enjoy something cute, colourful, and a little bit crispy, you might find exactly what you're after in our Cadbury Mini EggⓇ and Malteser BunnyⓇ Tree.
A CadburyⓇ Surprise in Our Smash Gifts
Part of what CadburyⓇ stands for as a company is bringing joy to everyone. We want to do that as well, by bringing you and your loved ones closer together with a smashing activity that only we can provide! Our Smash Cakes and other products come stuffed and ready to burst with CadburyⓇ Milk Chocolate Buttons, and we have a delectable selection designed for a whole host of occasions!
If someone you know has a birthday coming up and you know that they wouldn't want anything other than their very own handmade chocolate gift, then why not treat them to a Chocoholic Smash Cake? They'll find all the Dairy Milk ButtonsⓇ they could want for one year inside, alongside a smorgasbord of other treats and sweet things. If you buy them the Mini version, they'll even be able to eat it all themselves!
Our Smash selection also has a range of gifts fit for celebrations throughout the year, including the Christmas Smash Dome, which comes as stuffed as a stocking with all the chocolate buttons you could need to make it the most wonderful time of the year.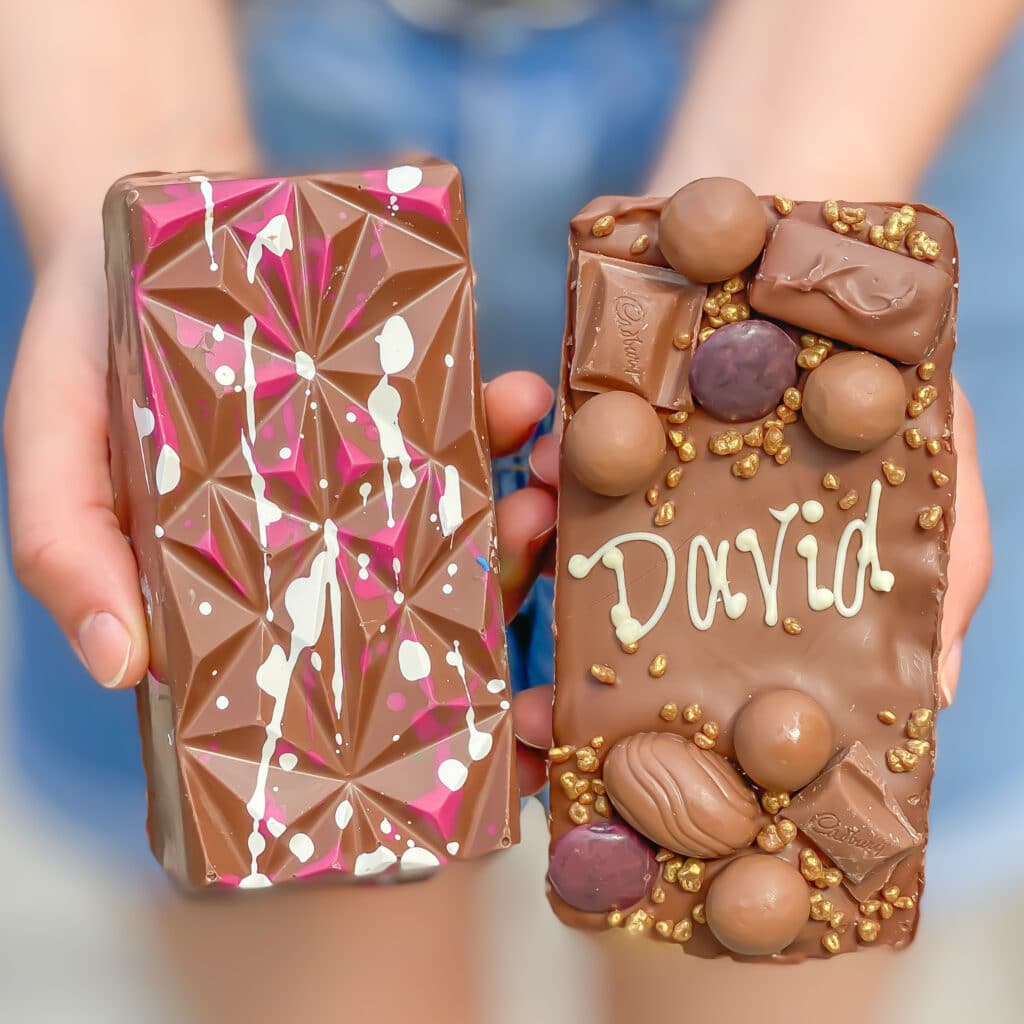 CadburyⓇ Pieces Loaded on Gorgeous Chocolate
Who doesn't love thick, chunky pieces of chocolate that you can really sink your teeth into? We certainly know we do! That's why we've even got a brilliant range of loaded chocolate gifts that we've stuck all over with parts and pieces of Cadbury's Dairy MilkⓇ chocolate bars!
If you'd like something you can slice up nicely to share between your friends (or even for yourself with a cup of tea), our Original Loaded Choco Bloc should go down a treat. Each comes in a bold geometric design and splashed in painted white chocolate, and has a crispy, crunchy centre for a truly indulgent experience, no matter if you're giving it away to say thank you to someone, gifting it for a birthday, or even just rewarding yourself after a long day at work.
For something a little bit cuter than a block chocolate bar, you'll want to head over to our Papa & Baby Bear range. Our Chocolate Loaded Papa & Baby Bear is a winning combination ‒ the "Papa" comes stuck with Cadbury's Dairy MilkⓇ chocolate pieces, alongside a confectioner's collection of other sweets and treats, while the solid little "Baby" bear is just that; solid and absolutely lovely to eat! They also make adorable Father's day gifts, so if you know your dad is actually a bit sentimental, why not send him one to make him smile?
Personalise Your Presents to Make Them Extra Special
If you're getting all of these CadburyⓇ treats in to spoil a friend or loved one with a sweet tooth, why not go that little bit further to show them just how much you care? We'll be happy to personalise any delicious gift you've got planned out for your nearest and dearest ‒ simply tell us that you want it done and we'll get it sorted out!
To start everything off, you'll need to order the piece (or even pieces!) that you know your giftee will love and click through to place your order. There, just above the box which says "Add to Basket", you'll find another, blank box, which is just right for typing in any message you want written in white Belgian chocolate on your gift, added as a note we'll slip into your gift's box, or even written on the side of a tree's glass "vase".
Which one you decide on all depends on which note you think they'd like the most: one they can keep and read forever, or one they can read and then eat their way right through! We'll leave that decision up to you. After all, you know all of your chocoholic friends and family members best!
Ordering CadburyⓇ Chocolate Online for Any Occasion
We love modern technology. Not only is it easier than ever to find the delicious treats and morsels you, your friends, and your family will love, having a hassle-free online service on your side also means that you can get them sent anywhere you need in the UK, in time for practically any occasion!
No matter if you need a personalised Dairy Milk ButtonⓇ Tree sent to your dad in time for Father's Day, want to say "happy birthday" to your best friend with a Chocoholic Smash Cake, or know that Easter at your aunt's house won't be complete without a Cadbury Mini EggsⓇ and Malteser BunniesⓇ Tree, we can help you make it happen! We'll even do everything we can to take the stress out of placing your order, so you can sit back, relax, and share in the joy of any celebration.
Buy Dairy Milk Chocolate ButtonsⓇ on Your Phone!
You'll even have the option to buy chocolate buttons or any other of our CadburyⓇ-inspired creations on your phone! We'll make it just as easy for you as it would be if you were ordering from a computer, but you'll get the option of keeping it as secret as possible if you'd like to make a birthday or Christmas gift a wonderfully sweet surprise.
To get started, simply pick out those gorgeous pieces that are bound to get them smiling and place them in your online shopping basket. When you've found everything you want on our website (and believe us, there is a lot to choose from!) click on through to the payment section. Fill in all the details you need, including where you'd like the gift to be sent, and you'll be done! We'll take your order and you can either wait for the chocolate to arrive so you can deliver it by hand, or wait to hear back from your lucky giftee that their delicious delivery has arrived.
Crafting Our CadburyⓇ Chocolate Gifts
As soon as we have your order in hand, we'll get cracking on crafting and lovingly creating your personalised CadburyⓇ gifts to make them just as good as they look right here on our website. This means melting down scrumptious milk chocolate and preparing our crispy, crunchy, Belgian chocolate centre from our secret recipe, before sticking each delightful CadburyⓇ piece wherever it's needed!
When the gifts are ready to be packed up, we'll seal them in cellophane and hand-tie each piece with a colourful ribbon, before fitting them all into their own made-to-measure boxes. This should keep each one safe and sound during its journey, no matter where it's going to be sent!
As soon as your chocolates are ready to be sent out, we'll hand them over for a quick, easy delivery, conducted by the Royal Mail. All you'll then have to do is watch for them to arrive in the post.
Get a Fast Delivery of the Tastiest Pieces
We understand if you can't wait around for all of your CadburyⓇ favourites to arrive, or if you need something that's been personalised to arrive in time for a special occasion. That's why when you click through to place your order for all of the chocolate pieces you need, you'll be able to set delivery times and dates with us. We'll do everything we can to make sure your gifts get to your doorstep, or to your waiting giftee, on time for anything you've got marked down on your calendar.
Browse through our CadburyⓇ chocolate gifts and find all the fabulously sweet pieces you need to make someone's day today.