In the UK, we all step into the Christmas season intending to go all-out, especially when it comes to getting gifts and good food to share with others. As such, we understand there's always pressure on bosses to get their staff Christmas gifts which show just how much you'd like to thank them for the work they've done during the year. Luckily, we are here to help at Sweet Trees by Browns, as we can offer you a wonderful selection of unique sweets and chocolate products for your employees.
We love what we do, and when we're not busy making staff Christmas gifts and other chocolatey treats to send out to friends and family, we'll be thinking up new ideas that can offer something a little bit more unusual than typical gift baskets and hampers. So, if you're ready to order a set of gifts for your hard-working employees, contact us and we can set about making what you need. If you don't already know what you'd like to order, you can also take a look at some of the products we mention below. You might just get an idea or two for your office Christmas celebrations!
Personalised Staff Gifts Mean There's One for Everyone
We believe there's no better way to show appreciation than by providing your employees with gifts that are personalised, demonstrating how much you know them while thanking them for the effort they've put in. If they've worked hard throughout the year, why not get them something that shows you're happy with what they've put in? We can personalise all corporate and employee gifts that are ordered on our website, placing messages on the gifts just as you'd like them.
We place each of our sweet trees in its very own specially prepared glass vase, where we will be more than happy to write out any messages that you'd like to share with your staff. These can then be set out on their desks as decorations once the product has been eaten away, if they should so choose. We can also write any words you want to say out on a note, which we'll then tuck away inside the gift box with the product itself.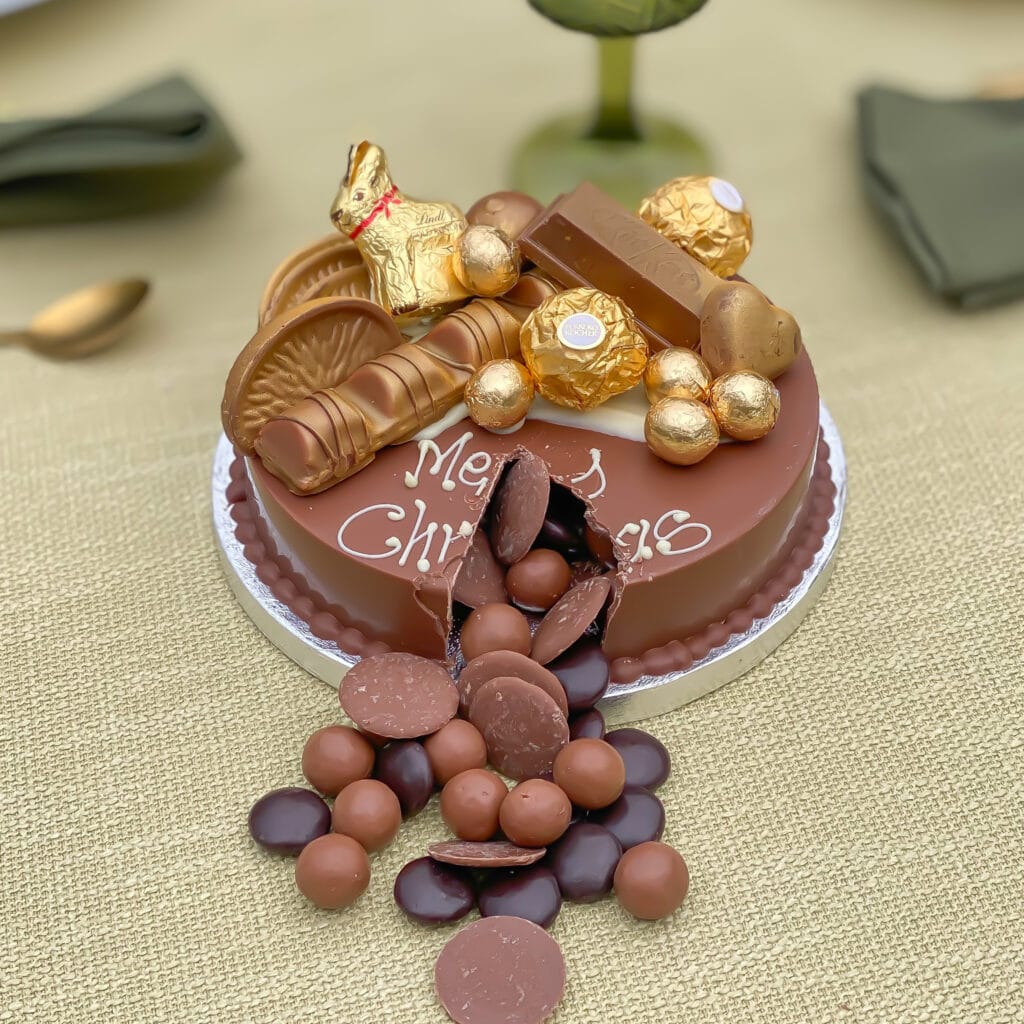 If you're looking at getting your workers a chocolate gift from our selection, we can also prepare their gift with the message directly on the chocolate itself. This will be written in the smoothest, creamiest Belgian chocolate we have available, and can be anything from the names of each of your individual employees to that funny joke you shared with them and still get a laugh from any time you remember.
When placing an order for personalised corporate gifts for your staff, all you will need to do is let us know what you'd like on each product. We'll then set to work on ensuring each is made exactly as you have asked. This will only be a little bit extra out of your budget, and we know it will be worth it just to see that your employees each get what they deserve.
Why Buy Sweet Treats as Your Staff's Christmas Gift?
Like the chocolates in a CelebrationsⓇ tub passed around the office, there are a variety of reasons you should think of getting good quality chocolate and sweets as gifts for coworkers and employees. To start, it's a gift you know that most people will like and can enjoy, even if they have their own individual preferences when it comes to flavours and brands. Also, it's a gift that you can provide for the whole office without having to make any distinct changes between male or female colleagues.
Depending on the size of the delectable treat you'd like to provide, you could also be spreading the joy even further when your employees take their gifts home. Our sweet trees, for instance, can be shared between multiple people, while our chocolate Christmas gift ideas are just ready and waiting to be plucked at, broken up into good-sized chunks and divided up among family members. It's not just a gift from a boss to an employee, it's a gift from a boss to a whole family!
Pick Out the Perfect Set of Delectable Sweet Trees for your Staff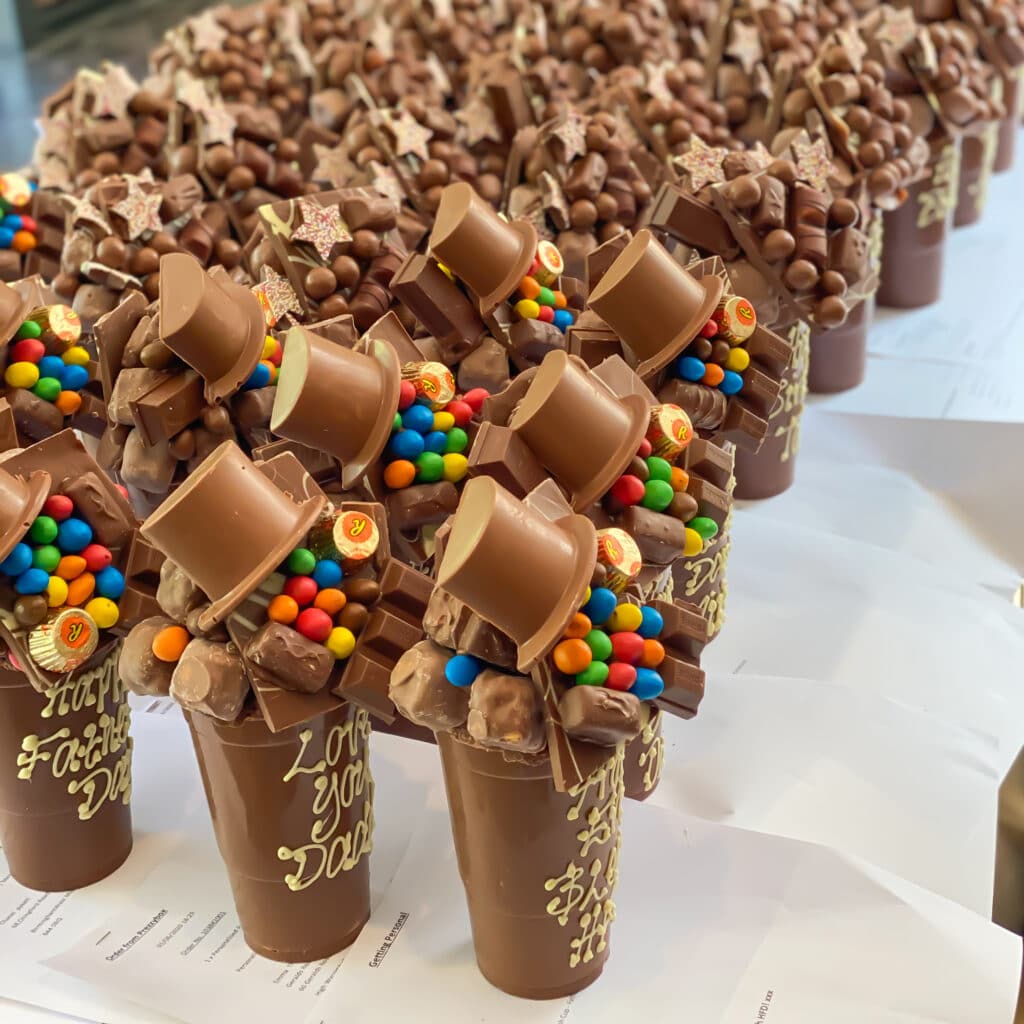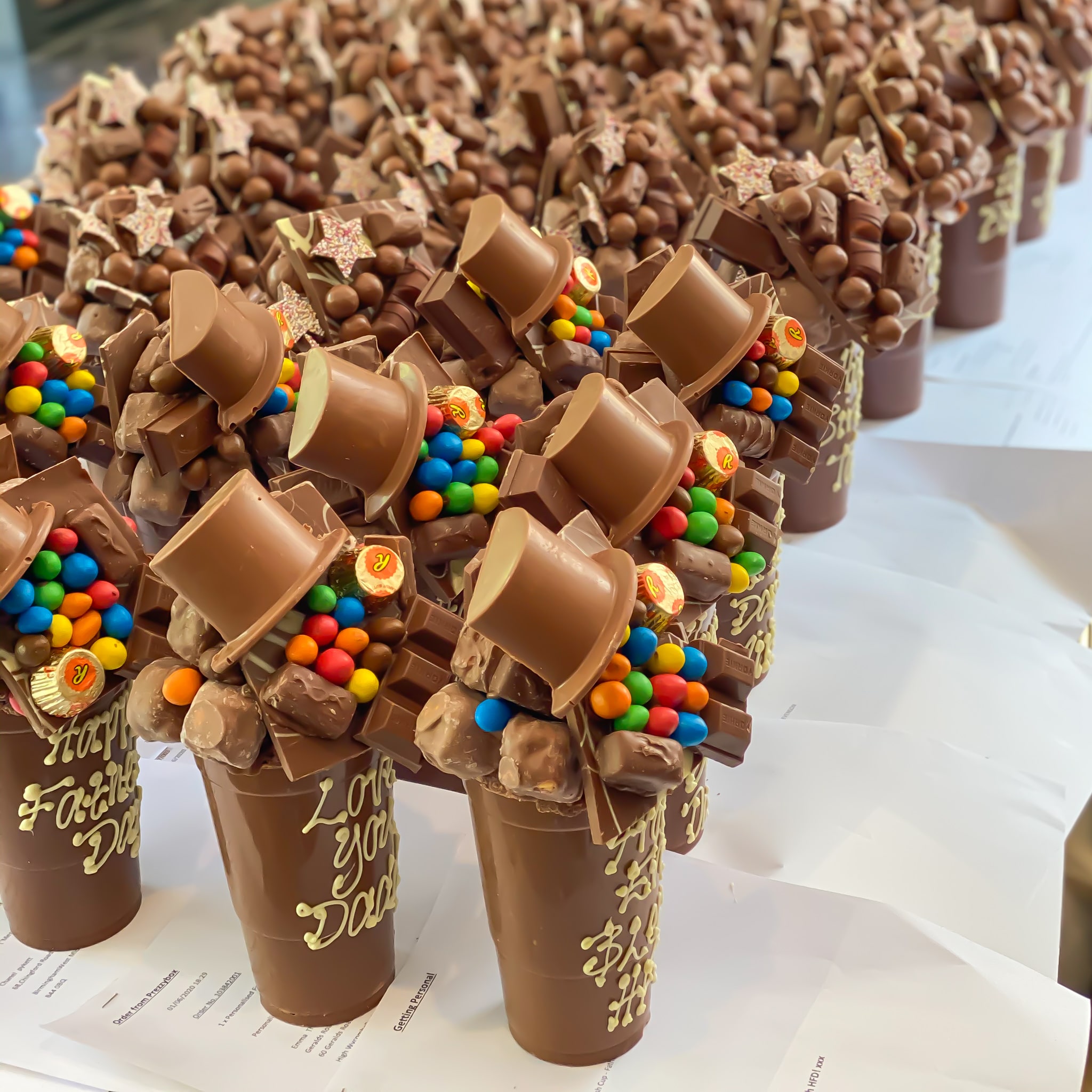 We can agree that gift baskets are great, but we do all know that they can become a little bit boring over the years ‒ especially if it's the same thing offered over and over again! If you're concerned that a once great gift has become a stale idea after so many years in a row, why not switch things up by ordering in a set of our famous sweet trees? We are known across the UK for these novelty offerings, and can prepare as many as you need to treat each person in your office, whether male or female and no matter what age they are. Our huge selection ensures that everyone can get the gift they'll love the most, too.
If you know that the chocolate tins, boxes and trays would normally be excitedly passed around in the leadup to Christmas, why not take this further by providing each of your workers with their very own CelebrationsⓇ Tree? Or, if you know they'd prefer something lighter and more crispy, we can also put together an entire forest of MalteserⓇ and SmartiesⓇ Trees to bring a dash of colour to their chocolatey delight. Alternatively, if they'd like a bit more fruit and a lot more colour to go with the absolutely gorgeous chocolate core, we'll also be happy to make a great gift for everyone in the form of our HariboⓇ Trees.
Bring Joy to the Office with Chocolate Christmas Gifts for Staff
If you've been searching for something a little bit smaller and slightly more friendly to your budget, while still offering your employees the unique treats that show them how much they're appreciated, then our selection of Christmas gift ideas are just what you've been looking for. These moreish gift favours have been specially prepared to offer a cute, quirky appearance before the recipient gets stuck in to the good part: the chocolate itself. They'll all come personalised just as you want them as well, with any male or female names, or any messages that you want to send along to any particular employee.
If you'd like to get them a gift that they can break into to reveal an extra sweet surprise, our small Christmas Smash Puds will be perfect for your gifting needs. These cute, creamy treats come hollow and packed with sweets, all inside a chocolate shell shaped like a classic Christmas pudding. Or, if you think they'd prefer a charmingly decorated offering they can share with their whole family, we also have Terry's Chocolate OrangeⓇ Puds, which come topped with plenty of white chocolate and edible holly, but are more easily segmented out than Smash Puds.
If you're more about having a laugh in your office and know that your employees will just love something completely different, we can also make you any number of MalteserⓇ Heads with Christmas Hats and Moustaches. These whimsical gifts come stuck with as many MaltesersⓇ as anybody could eat in a day, as well as a white chocolate moustache and red chocolate hat decoration to give them that Christmassy feeling.
Order Online and Prepare in Time for Your Office Staff Party
Buying sweet gifts for the people who deserve them has never been easier, and we at Sweet Trees by Browns are delighted to be able to play a part in this whenever you want to get a set of Christmas gifts in for your employees. No matter where your office is based in the UK, we will be able to get them out to you in no time at all. We've practised this part of our work to perfection over the years, so you can rest assured that ordering treats to reward your staff for their hard work won't be any hassle. We have even made it easy to order your gifts through your mobile, so you can safely shop without anybody looking over your shoulder at your computer screen!
To get started, all you have to do is place an order for the gift ideas you know will have your employees grinning at their desks before the holiday starts. Set out your specifications, including your office address, and your work will be done! We'll handle everything from there, melting down smooth, luxurious chocolate and crafting it into the fun, novelty shapes that make them such a delight. After this, everything will be beautifully wrapped in cellophane and tied with its own colourful ribbon, before being packed into made-to-measure boxes. These will then all be passed to the Royal Mail for a swift, professional delivery, so you should keep an eye out for their arrival in the post.
We'll be ready and waiting to help whenever you need a delicious selection of corporate gifts to treat your staff for all the work they've done for you, as their boss, during the year. If you've been thinking of getting them something a little more unique than the same old gift baskets but you need to stick to the company budget, get in touch with us today. We'll work with you to find the perfect gift for your staff, all in time for you to hand them out at your Christmas party or on the last day of work before the holidays.