We understand it can be hard not to fall into the same trap of buying your adult friends and family members the same gifts whenever a holiday pops up on the calendar. That is why we are here to offer you a delicious range of alternative Easter gifts for adults, saving you from carrying on with the same routine and giving your giftee something to smile about.
We love what we do (almost as much as we love chocolate!), and you can guarantee that any piece you buy from us will have been handmade with the love and care it deserves. As such, you can always be sure that your recipient will receive a gift that they adore, and that has been made just for them. Explore our range below to find the one that's just right for the occasion!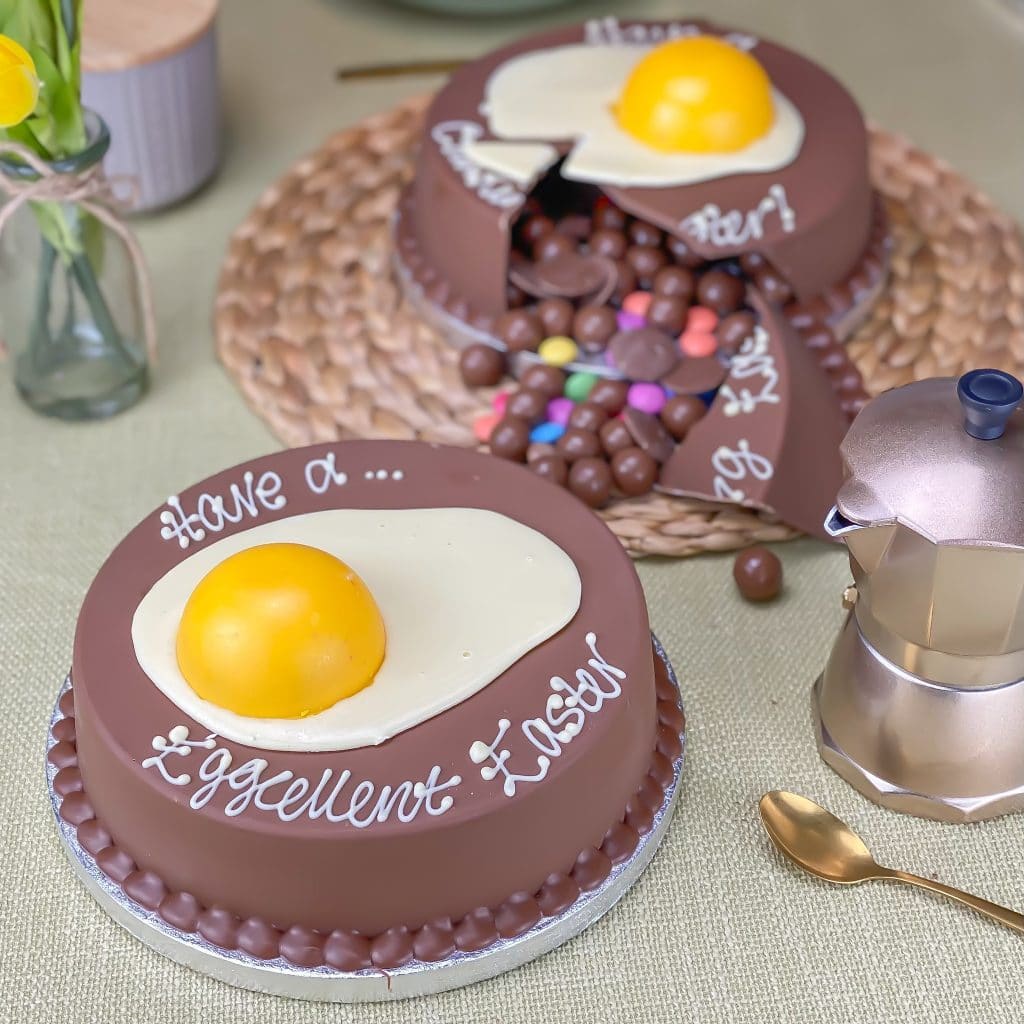 Incredible Easter Egg Offerings
If you're spending the holiday with friends, or even family members who like to have a little bit of fun and their own share of exciting adventures, why not try an alternative to just sitting down to lunch or dinner this Easter? Why let the kids have all the fun on an Easter egg hunt when you can set up your own scavenger hunt just for the adults? It's easy with our own range of Easter eggs, as these can be personalised with all your names (so everyone finds their own prize), and they're small enough to hide anywhere in a house or garden.
They'll still be easy enough to spot, however, as our Rocky Loaded Egg comes stuck with bright pink and white marshmallows, and a colourful assortment of Cadbury Mini EggsⓇ. Our Chocolate Orange Loaded Egg will be as vibrant as it is tangy and tasty, too, as it comes stuck with Orange Smartie Mini EggsⓇ and Terry's Chocolate Orange MinisⓇ. You should be able to spot them from anywhere, and as it'll have your name on it, you'll be able to tuck it away for later.
Looking for Personalised Easter Gifts?
Fantastically Flavoured Food Gifts
If you'd like something different to Easter eggs entirely this year, we can offer you exactly what you're looking for. No celebration is complete without cake, and we can offer you the perfect set of them just for the holiday. Our Smash products offer the perfect cake-like chocolate shell, stuck with everyone's favourite goodie selection, and when you break them open you'll have more than enough in the way of sweets and chocolate for the whole family to enjoy!
Our Easter Smash Cake should be your go-to gift if you want to bring something colourful to the table (perhaps as a light dessert after dinner?), and it comes stuck with such a full selection of sweets that you're guaranteed to find a delectable offering for everyone. If you'd like something in some lighter shades, or that offers a soft, marshmallowy topping, you can also order an Easter Bunny Smash Cake to get the same fabulous range of sweets inside.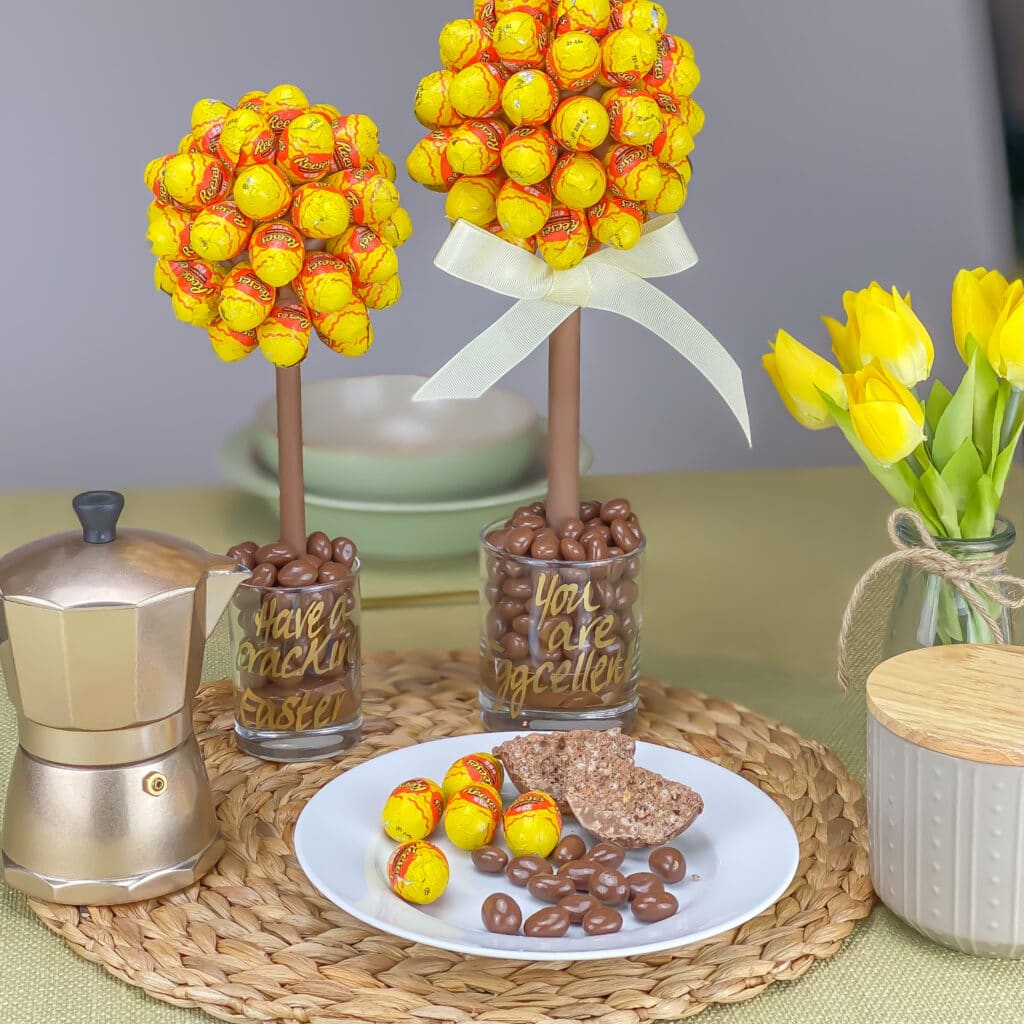 A Deliciously Sweet Easter Tree Selection
Do you like to decorate your Easter table? How about adding something that you can serve up to your guests after a lovely Sunday lunch? Or how about ordering something that you can use as a hostess gift if you're going to someone else's house for the big celebration? Our famous sweet trees are ideal for both, and can be shared between a family, or even just kept to one person.
If you know your giftee deserves a little bit of luxury, and absolutely adores smooth, creamy chocolate, then you might want to take a look at our Galaxy Enchanted EggⓇ Tree, as these trees make gorgeous desserts (both in taste and style). With their crispy rose gold shells and their thick, delicious centres, you won't find a much more exquisite offering on the day.
Alternatively, if you know they'd prefer something lighter, brighter, and the kind of fun that all the family can enjoy, you might want to get them a Chocolate Foil Egg Tree. These trees come stuck with small chocolate eggs, individually wrapped in multicoloured foil. It's like having a tiny tree that grows your very own cute little Easter eggs!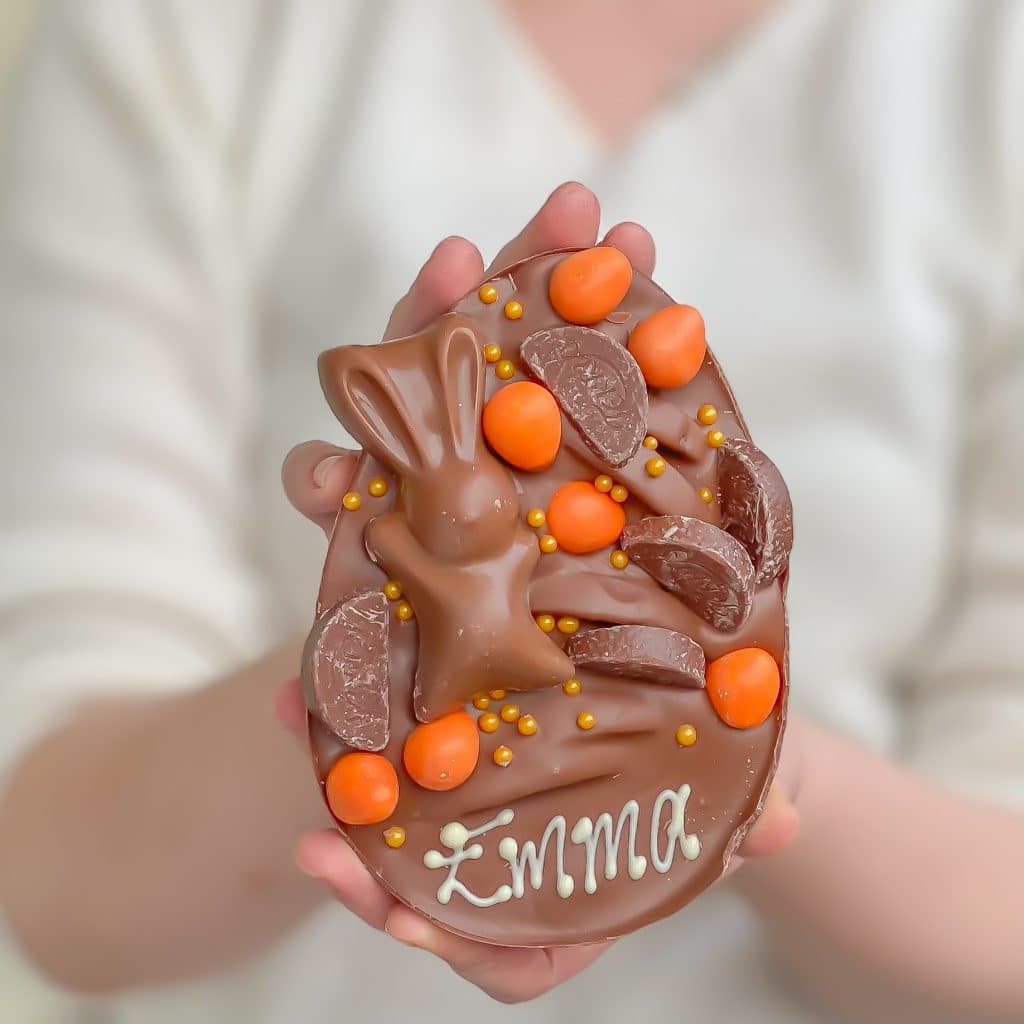 Personalise Your Presents for a Memorable Easter
Everyone knows the best presents for friends and loved ones are the ones which show them how well we know them. Of course, this might be as simple as getting the chocolate lovers in your life a selection of the sweetest Easter eggs you can find. However, if you want to add in that little extra touch and show that your gifts really are "just for them", you can also use our service to make your presents personalised.
All you have to do is find the gifts you know they'll love the most (think about their favourite treats and the chocolates you know they like best), go to the product's order page and find the little box near the bottom. There, you can type in any sweet, funny, or sentimental message you like to make their holiday weekend. We will then write it out for you on the gift itself in sweet, smooth white Belgian chocolate. This means that as soon as they're done reading the message, they'll be able to eat their way right through it.
If you're ordering your friend or family member a sweet tree, we can also write a personalised message out on the side of the tree's "vase" (this also makes a great holder for tealights when the tree is gone). As an alternative, we can also put any longer message you'd like on a notecard, which will then be tucked into the box for delivery along with the tree.
Order Easter Gifts for Adults Online Today
In the modern day, it's easier than ever to find and order food gifts to send across the country. So, when you need to find and send Easter gifts for adults, you'll have a host of options and all the help you need from us. Pick your presents carefully from the selection we have available here and find the ones you know your giftee will like best. It's simple to do, and we've even made it easy to order from your phone if you're busy during the day and can't get to a computer.
Select the small and large gifts you know they'd love to see most on Easter morning, and place them all in your online shopping basket. Fill in the payment details and add in a delivery address (theirs, or even yours, if you'd like to present it to them in person), before clicking to place your order. Easy! We'll set to work after this, putting together their perfect Easter treats and wrapping them securely in cellophane and tying them with colourful ribbons. Each will then be tucked safely and securely into its own made-to-measure box.
When to Eggs-pect Your Order
Each sweet gift we prepare will be sent out for speedy delivery via the Royal Mail, so you can expect your gift to arrive in a matter of days. However, if you're worried for any reason about your presents not arriving on time, you can also set a date of delivery with us. We'll do everything we can to make sure your Easter eggs and chocolate food gifts are delivered as soon as possible.
Place your order now and you may even beat the rush for Easter gifts! You'll be able to watch as your friends and family members open up their ideal fun, fanciful treats on the holiday, just as you intended.