We love a good holiday here in the UK, and we'll treat any special day as a chance to break out the chocolate for friends and family of all ages. When that special day is Easter this means pulling out all the stops, especially if you're planning on making it a fun celebration for the children. We can even help to make their holiday for you, by providing you with a host of adorable chocolate Easter gifts for kids.
Whether you're looking for Easter egg gifts for girls, cool novelty treats for boys, or want something inexpensive to share among cousins or siblings, we know that we'll have something for everyone! We are passionate about producing the finest quality pieces for your friends and loved ones, so you'll always be guaranteed the perfect gift in the shape of one of our chocolate delights.
Browse the options we have here, and find the gifts to keep them smiling even after Easter Monday has been and gone.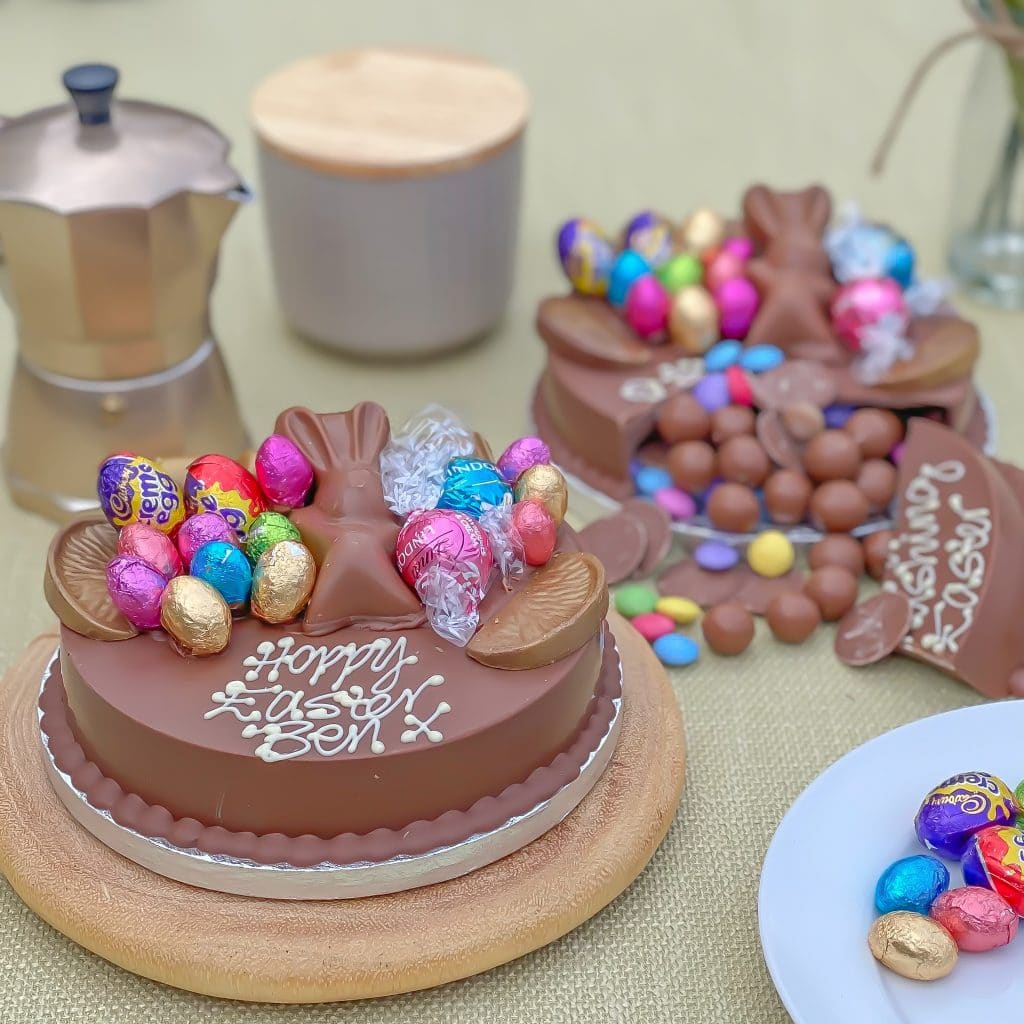 Delight Them with a Delicious Easter Egg
For many children, Easter means the arrival of the Easter Bunny, and the leaving of Easter eggs and other egg-shaped treats and sweets. If you'd like them to find something unique and personalised to them on their Easter egg hunt this year (and why not? It means everyone finds something!), we can offer inexpensive Easter egg gifts for boys and for girls that are bound to make them smile upon discovery.
Our Rocky Loaded Egg comes stuck with mini marshmallows and Cadbury Mini EggsⓇ, alongside a Malteser BunnyⓇ that you can say is a sign the Easter Bunny himself has been. Or, if you know they prefer the tangy taste of orange alongside their chunky chocolate, our Chocolate Orange Loaded Egg will have everything they need for the holiday, from Terry's Chocolate OrangeⓇ segments to Orange Smarties Mini EggsⓇ and golden sugar pearls (to add in that little touch of sparkle).
Looking for Personalised Easter Gifts?
Great Gift Ideas that Make a Smashing Surprise
You know your children best, and if you know that they'd like something other than Easter egg gifts this year, we can offer something a little more unique and a whole lot more exciting. Our Smash range can offer you a sweet, delectable chocolate shell stuck with fabulous fancies for boys and for girls, and when you break each gift open you'll be surprised to find all the extra chocolate that tumbles out!
If you want Easter gifts for children that like a splash of colour along with their chocolate, why not order them their very own Mini Easter Smash Cake? This cool little cake is just like a piñata ‒ it's bright on the outside, and stuffed full of goodies in the middle. All you have to do is break it open to get them out! If you want to keep the "egg" theme going, you can even order a Mini Fried Egg Smash Cake to do the same thing.
On the other hand, if you're looking for Easter gifts for children who love animals, or are always up for a good novelty gift, you might want to consider our Belgian Chocolate Smash Bunny Bum. This adorable bunny-shaped gift is packed full of Mini EggsⓇ and marshmallows, and comes with its very own RafaelloⓇ tail!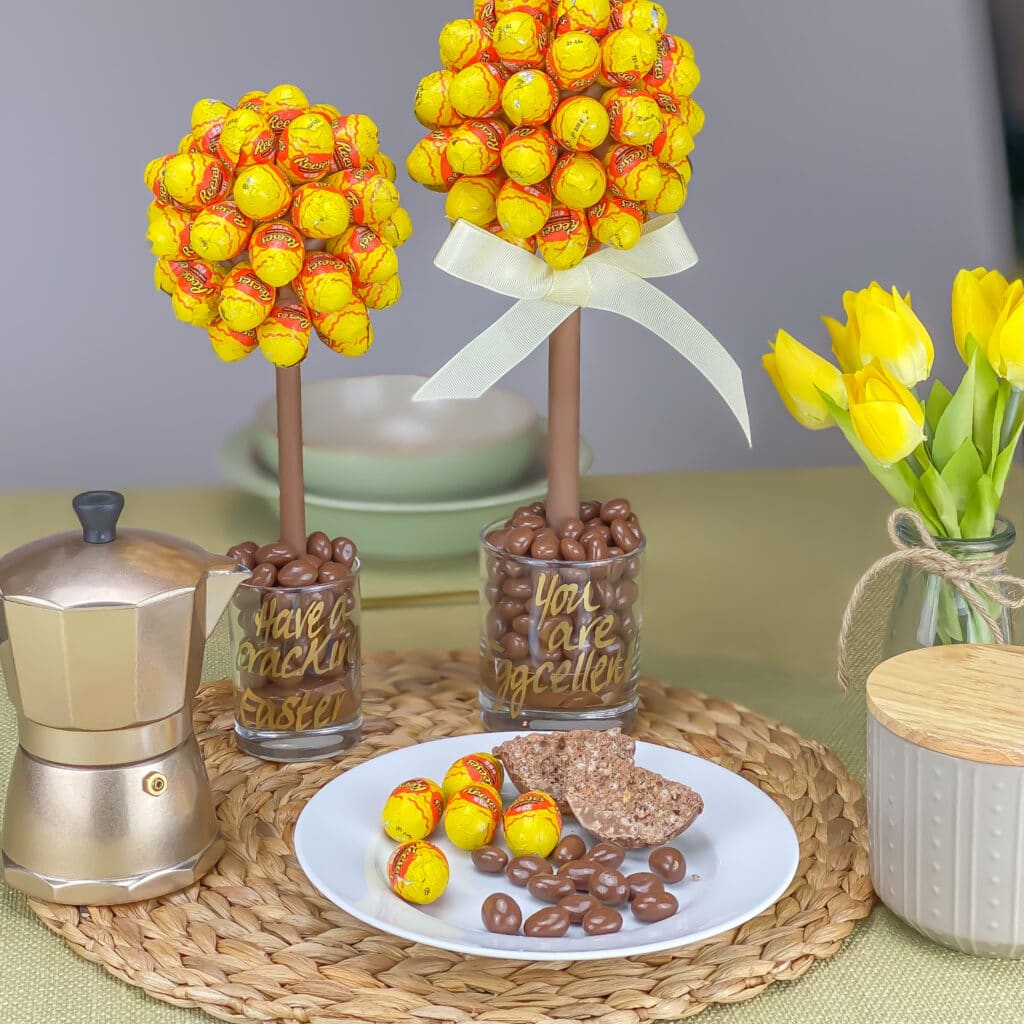 Fantastically Sweet Gifts for Older Kids
You might want to get something a little bit different for older kids who aren't into cool novelty shapes, or smashing their gifts open to get their favourite treats. We've got a range of delights that are bound to suit these children best, and if you know they're ready for it, why not let them have their very own sweet tree for the holiday? Our 25cm trees are ideal for one person, and their long shelf life means that any kid is bound to have their own stash of chocolate for a long time to come!
If your giftee absolutely loves the taste of peanut butter with chocolate (and honestly, who doesn't?) you might think about gifting them a Reese's Peanut Butter Crème Mini EggⓇ Tree to savour all to themselves. Or, if you know they'd prefer something cute with a crispy layer to it, our Cadbury Mini EggsⓇ and Malteser BunnyⓇ Tree will be ready and waiting. Each comes stuck with all the treats they could need for the entire weekend and beyond, and the delicious Belgian chocolate centre can be broken up into perfectly sized snack bites!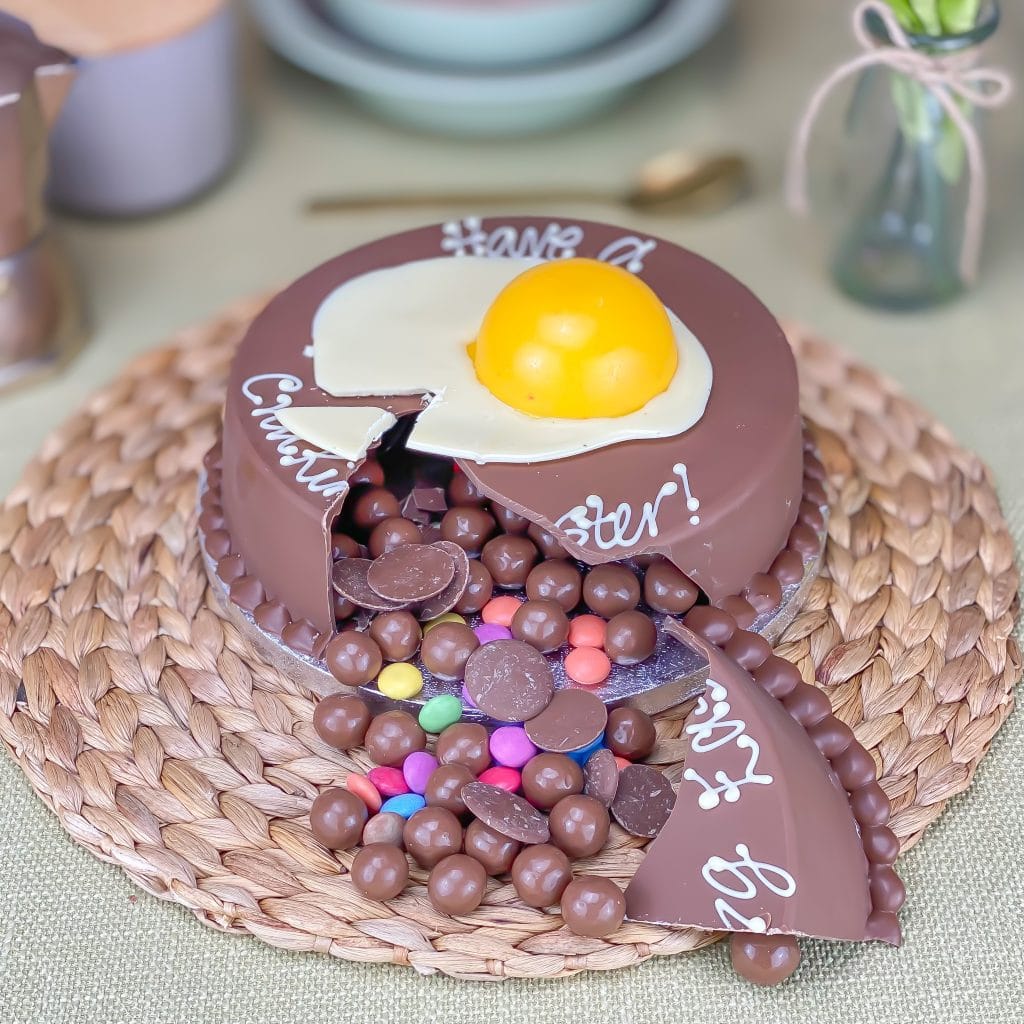 Personalise Your Presents to Them
When the day of the party comes and you've got so many cute and cool-looking sweets for the kids, it's only natural that everyone is going to clamour for their very own. To prevent any squabbling and to make sure everyone gets the Easter gift that suits them best, you can always have each of your gift ideas personalised. We'll be happy to step in and help, making each present as unique as the little one who'll receive it.
All you'll need to do is pick out the pieces that you know they'll adore, go to the little box on the product's order page and type in the message you want them to receive. This can be anything from a short joke, to their name so that they know which gift in the pile is theirs. No matter what you decide, we'll write it out for you in deliciously smooth white Belgian chocolate, directly onto the gift that you've ordered. That way, once they've read the message, they'll be able to just munch their way straight through it!
If you're ordering gifts for older kids and have decided on a great selection of our sweet trees, we can also write these messages onto the glass "vase" that the tree is planted in (though we do recommend caution with allowing them to keep this part after the tree has gone). If you'd like to write a longer message than the space on the vase can provide, we can even place it on a note and tuck it into the box the tree will be delivered in.
Order Easter Gifts for Children Online Today
It's never been easier to order Easter gifts for kids anywhere in the UK, and we're delighted to be able to help! Whenever you're ready to put together a surprise for the girls and boys in your family, or even to send out some sweets for the children of friends, browse through our selection of delectable offerings and find the gift ideas you know will go down a treat. You can even order from your phone, we've made it so easy!
Select each of the sweet pieces you want to send, personalise them if you'd prefer, and place them in your online shopping basket. Fill in your payment details and the delivery address (theirs or yours, if you want it to be a special surprise) and there you have it! Your work will be done and ours will begin. We'll lovingly craft your chosen chocolate gifts, wrap them securely in cellophane and tie them with a colourful ribbon. The pieces will then be tucked into perfectly sized boxes and prepared for delivery.
When to Eggs-pect Your Delicious Surprise
Each personalised piece will be delivered quickly and professionally by the Royal Mail, so you can expect your sweet treats and Easter egg gifts to arrive in a short amount of time! However, if you're worried and need your presents to be early to feel a bit safer, you can set a date of delivery with us. By ordering your gift ideas as soon as possible, you're even bound to beat the rush, and you'll have a selection of great, inexpensive gifts to make the whole family smile over the Easter weekend.