Father's Day is a very personal celebration for many Dads in the UK, and we understand that entirely. At Sweet Tree by Browns, we can help you pick out the right gift for your dad, stepdad, uncle, granddad, big brother, or even someone else you've grown up with. If he's something of a chocoholic, we'll even be ready to step in and help with our fabulous range of personalised Father's Day gifts.
We're proud of the work that we do, and we love it almost as much as we love chocolate and special occasions of all kinds. Because of this, you can guarantee that any product we send out to you will be exactly as tasty, fun, and quirky as you've been imagining. Browse through the options we have here like a great big chocolate selection box, and pick out the one he'll love the most today.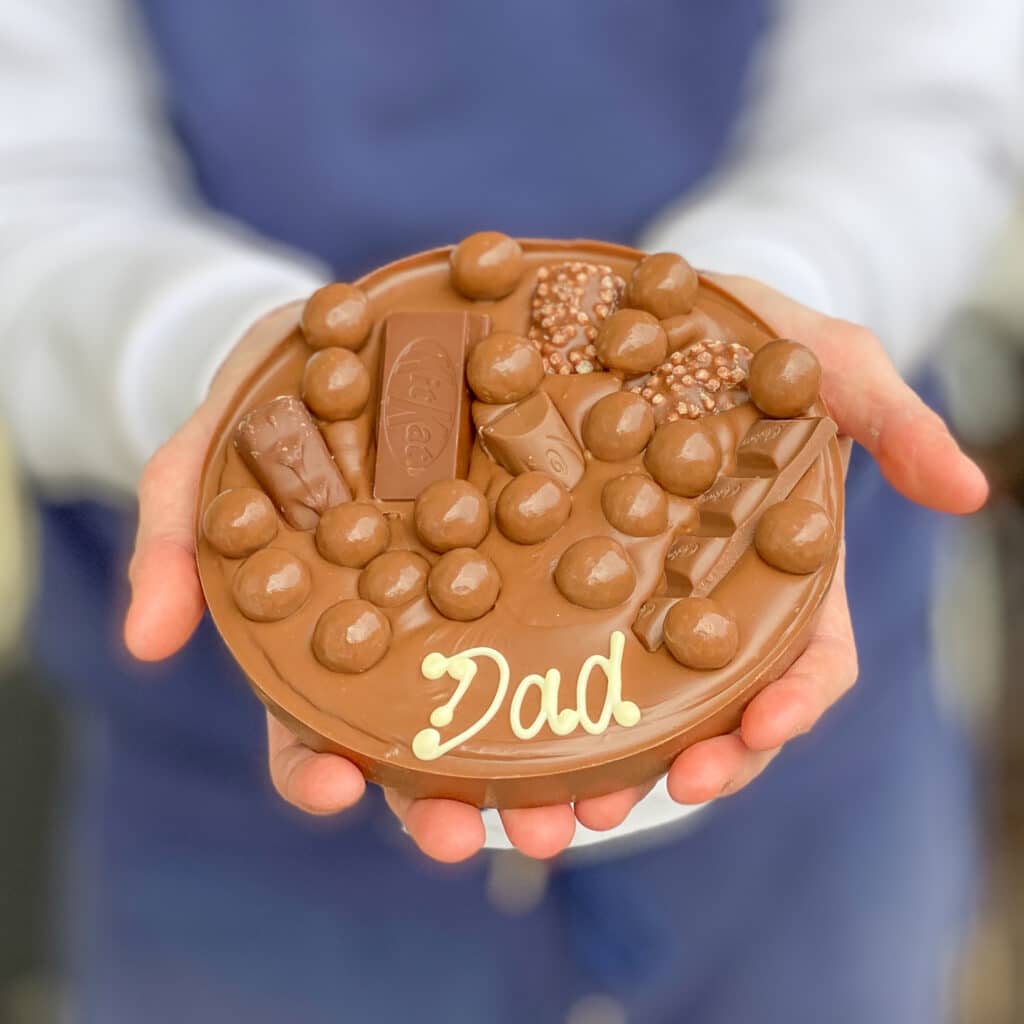 Making a Memorable Occasion with Father's Day Food Gifts
The day comes but once a year, so it's important to make it the biggest, best celebration of the men in our lives that are nearest and dearest to us. Getting chocolate involved just makes it that little bit better! But what happens when you've made your way through every chocolate hamper, every gift basket full of food, or tin of retro sweets that you've found on the market? You look for something personal, of course!
If you know your dad, stepdad, uncle, or granddad deserves something extra special this June, then why not show them exactly what they mean to you and make the day memorable by getting them a personalised gift?
We're fully prepared to provide you with the perfect bespoke piece, decorated with a loved one's name or a message of your choice. All you'll need to do is pick out the light, sweet, and crispy or deeply smooth and rich chocolate pieces that you know they'll never forget and go to the little box we've made available on the order page. There, you'll be able to type in any name or message you want sent to your recipient. If you're planning on sending out one of our delightful sweet trees, this can be written on the glass "vase" the tree will stand in, or it can be typed out on a little card for them to read and keep for years to come.
If you're looking for something a little bit more whimsical and unique for your dad, then you might also want to take a look at getting a custom chocolate gift from our selection. By taking your pick from the fun, flavourful offerings we have available, you'll also discover that we can write out a personal message for any friend or loved one directly on the gift itself! We'll do this in wonderfully creamy milk or white Belgian chocolate, so as soon as your giftee has read their message they'll be able to munch their way right through it!
Looking for Gourmet Father's Day Chocolates?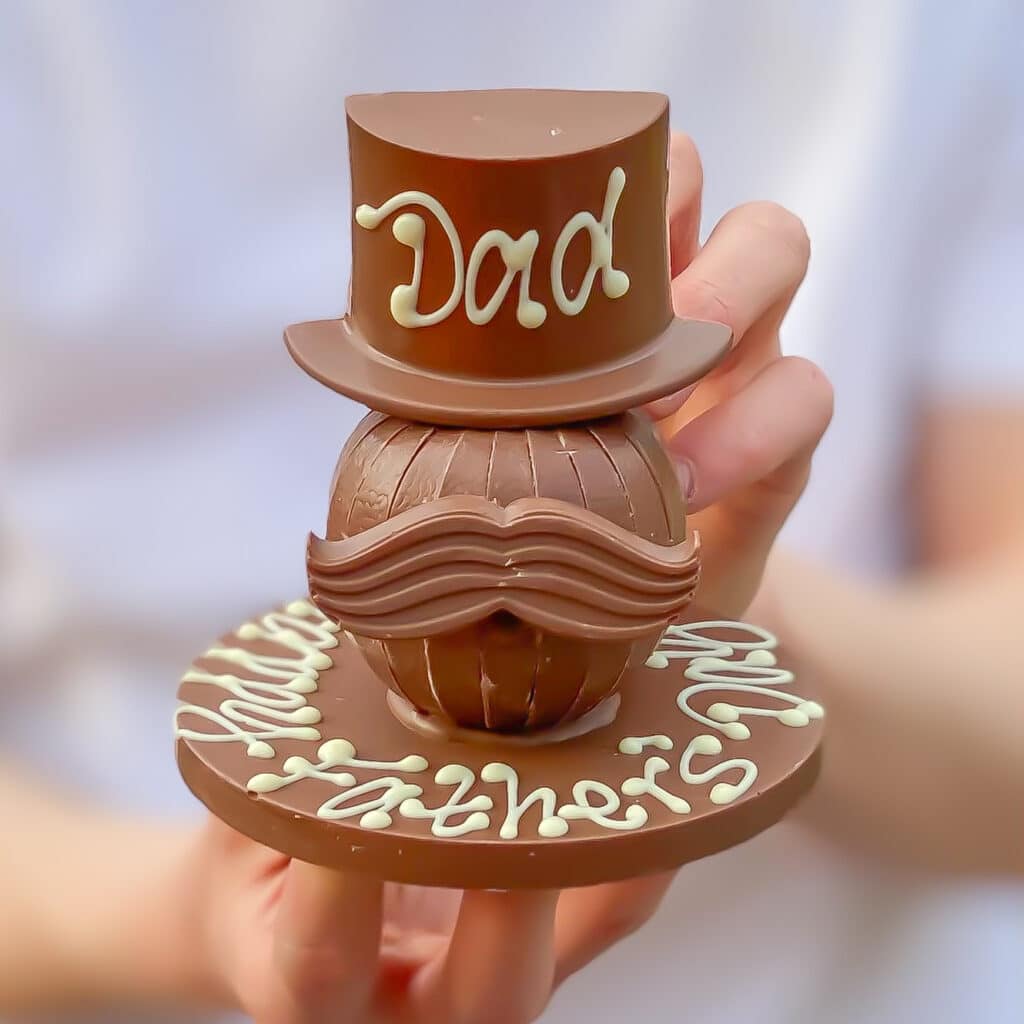 Personalising Your Perfect Gift Ideas
The last thing we want is for anybody to miss out on their favourite sweets and all the delicious chocolate pieces they'd normally pick out of a selection box, especially on a special occasion. To make sure nobody does, and so that you'll always be able to find the presents that will make your giftee's day (no matter what the day is on the calendar!), we've made it so that all of our gifts are easily personalised with custom names and messages.
We'll be happy to get these sent off to any address found across mainland UK. So, no matter if the older brother you've always admired has had to move all the way to Cardiff for his work, your family has moved south but your granddad still lives up in Edinburgh, or you've left home but you'd like to send something back to your parents in London, you know that they'll get the sweet treat they deserve on the day.
Here, we've picked out just a small sampling of the products we'll be ready to make bespoke with a name, nickname, or even a short, sweet message you'd like them to read this Father's Day. If you know they have an absolute favourite chocolate but you don't see it here, you can also take a look around at the rest of our website and have a bit of a longer browse of what we can offer. You might just find the perfect treat sat waiting to be ordered!
Getting Your Dad a Delectable Sweet Tree
Is your dad still a big fan of the sweets he used to love in his childhood? Does he simply enjoy all things retro? Either way, we think that our specially selected sweet trees might make the perfect personalised Father's Day gifts.
If he'd enjoy something fruity and gummy alongside a gorgeous helping of chocolate, then you won't find much better than our Wine GumⓇ Tree. This colourful offering is the ideal way to celebrate, and enjoy something with "wine" in the name without any fear of a hangover! Besides, it's always fun to read the names on the sweets before you eat them, isn't it? On the other hand, if you know he'd prefer something a bit firmer and he loves the taste of liquorice, then you should also consider our Liquorice AllsortsⓇ Hat and Moustache Tree. This novelty nostalgic piece is bound to take anyone back to the days when they were kids!
Both trees come with a wonderfully chunky solid chocolate moustache, and topped with a smart-looking chocolate hat. You'll even be delighted to know that as you pluck the sweets free from the tree, you'll be uncovering a creamy, crispy Belgian chocolate centre. The whole middle of the tree is chocolate, so even after the sweets have been eaten away you can just keep on munching!
Sending Him a Smashing Chocolate Gift
There's nothing quite like getting a cake for a celebration. That's why we've made it our business to create our very own for every occasion! Our Father's Day Smash Cake is the result for this time of year; a smooth Belgian chocolate shell stuck with all the sweets you could imagine, from MaltesersⓇ and CelebrationsⓇ to M&MsⓇ, Reese's Mini Peanut Butter CupsⓇ and even a whole YorkieⓇ bar! Don't worry, though ‒ there's still plenty of room on the cake for us to personalise it, before you break it open and dig into the MaltesersⓇ, SmartiesⓇ, and Cadbury's Chocolate ButtonsⓇ that are piled up inside.
We can also create something utterly adorable to make personal for your loved one before we send it out. After all, what better way to express how much you adore them? Our Loaded Papa & Baby Bear is perfect for getting that message across. This cute little bear (and the even littler solid "baby" bear that comes with it) are made from the finest chocolate we have, and the "papa" comes decorated with CelebrationsⓇ, Dairy MilkⓇ pieces, MinstrelsⓇ, MaltesersⓇ, and more. His middle even comes stuffed with our deliciously crispy chocolate recipe, so our bear is just as sweet inside as he is out!
Ordering Your Perfect Father's Day Gift Online is Easy
It's so easy to order bespoke and personalised Father's Day presents online these days, and we just happen to think that's marvellous! When you want something to put a smile on his face and show him just how much he means to you, you're never more than a few clicks away ‒ especially with our service. So, when you've decided on the custom gift you know he'll love and you want to make sure it's there in time for the big day, you can rest assured that we'll be there to help. We've even made it easy for you to order gifts for delivery on your phone, so you can keep it as much of a secret as you like!
Simply pick out the piece (or pieces, if you're feeling jammy) that comes stuck with everything he'll want to treat himself to this Father's Day and place them in your online shopping basket. After this, you'll be prompted to put in your payment details and the delivery address (his or even yours, if you'd like to give it to him yourself). Fill in all the details you'd like completed as part of the present's package and you'll be done! We'll take over from this point on, lovingly crafting our gorgeous chocolate pieces and wrapping them up securely in cellophane.
Every piece will then be tied with a colourful ribbon and packed up in a made-to-measure box, before being sent out for speedy delivery via the Royal Mail.
Get Ready for a Father's Day Gift Delivery Today
Every gift we make will be sent out as soon as possible, and you can expect a quick, professional service that gets your food to its recipient no matter where you are in the UK. However, if you'd like to make sure your bespoke present will be there in time for your dad, uncle, big brother, or anyone else you're close to in your family to unwrap it in the morning, you'll have the option to set a date for delivery with us. Simply select his favourite sweets and go through all the motions needed to place your order.
You'll find the option to set a date with us, and you'll have his gift ready in plenty of time!