Chocolate slabs, or chocolate bark as it's sometimes called, have become a trendy treat in recent years, and we totally understand why! Who wouldn't want their very own ginormous bar of chocolate, sprinkled all over with their favourite sweets and treats, that they can break up and take a bite of whenever they want? Of course, if you want or need one (or more – no judgments here) for yourself or a special event you're going to need to know how to make chocolate slabs correctly.
When you're ready to make yourself some chocolate slabs at home, stuck all over with your favourite goodies, take a look at our guide here. It's the perfect recipe for any occasion or none!
How to Make Chocolate Slabs
Before you can make a chocolate slab, you will need to know how to melt chocolate. It's the most important step if you want to make your own slabs and bark! Take a look at our guide here and find your favourite way to melt chocolate before you begin the rest of these super-easy steps. You can use any chocolate bars you want, but there are certain methods for melting chocolate that might be better for your slab than others.
The Easiest Chocolate Slab Recipe You'll See Today
Got your melted chocolate? Good, now you can begin the rest of the steps in this really easy chocolate slab recipe:
Line an A4 baking sheet with parchment paper
Pour the melted chocolate onto the baking sheet, spreading it into a thick but even layer with a palette knife (make sure it's even or the slab could break!)
If you are using more than one kind of melted chocolate (for instance, a milk chocolate base and a white chocolate top), pour dots and dabs of the second chocolate on top of the first
Swirl the dots and dabs of the second chocolate around with a knife or skewer to create a pattern of your choosing
Top your unset chocolate slab with any sweets and treats you want (crumbled biscuits, nuts, and other sweets are all good options)
Leave your slab to set in a cool place for several hours; we'd recommend overnight in the fridge
Test if your chocolate has set by gently pushing it with your fingertip; if it has, remove it from the greaseproof paper
Break the slab into shards to serve – you're done!
Making Chocolate Slabs for All Sorts of Occasions
Luckily this recipe is so versatile you don't have to change it much, beyond the ingredients selection you'll use, to make it just right for any holiday or special occasion! If you're looking for ideas though, you might want to start by trying out some of these:
Swapping out milk chocolate for dark chocolate and adding in black and white, purple, green, or orange sweets for Halloween
Using an all-white slab, flower or bunny-shaped sweets, and different kinds of chocolate eggs for Easter
Making a dark chocolate slab and topping it with heart-shaped sweets for Valentine's Day
Making a milk chocolate and white chocolate slab and topping it with crushed peppermint sweets (like candy canes) for Christmas
A Few Extra Fun Chocolate Slab Ideas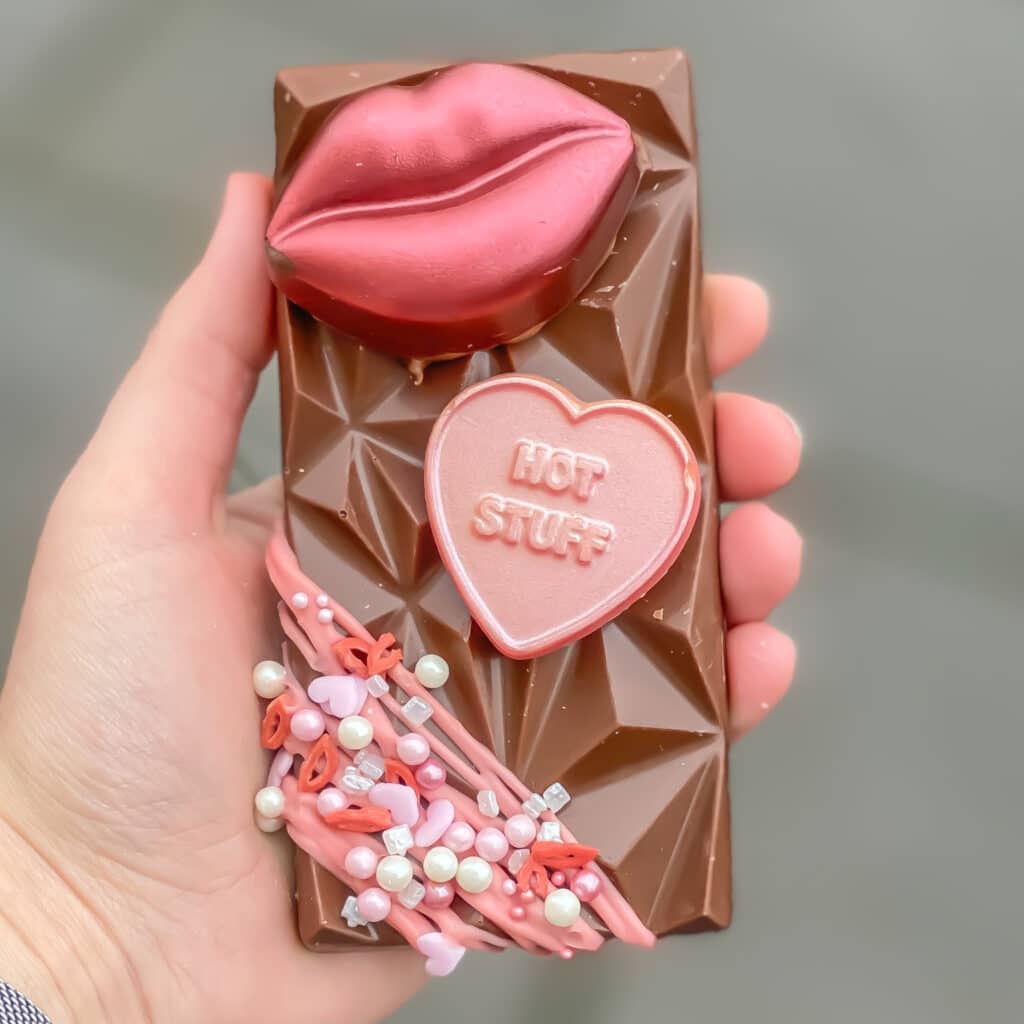 The ideas you try out don't have to be limited to the sweets you put on your slabs! You might also want to try some ideas that mean you can make more than one slab at once, get creative with how you use more than one kind of chocolate, or that let you make different shapes:
Making More than One Slab at Once
For this, you'll need a fairly large baking tray and a lot of tin foil. Cover the baking tray in tin foil and separate it into four sections using more foil (these foil "walls" should be taped so they stand up by themselves). Now, you have four places to pour different chocolate combinations to make more slabs!
Using More than One Kind of Chocolate
Why not try pouring the chocolate into your mould in lines, like Neapolitan ice cream? You could have a line of dark chocolate, milk chocolate, and white chocolate, for example! Or you could make half a bar of milk chocolate and half a bar of white chocolate!
The possibilities really are endless, if you want to get really creative. For example, if you're making a slab for Christmas, you could try putting a little bit of white chocolate at the bottom, filling the rest of the slab with milk chocolate, adding in a chocolate Santa or snowman, and flicking some slight spatterings of white chocolate or adding in white chocolate drops on the milk chocolate to make your own snowy scene.
Making Different Shapes
If you want to make your own cool shapes for chocolate slabs, you might think about repurposing an old biscuit tin you no longer use, or getting a cheap one from the supermarket, and carefully cutting out the bottom with a Stanley knife so that you can bend and shape the sides. Be sure that you're being careful, though, and cover any sharp edges!
If you want to be a bit safer, you can always make a makeshift mould for your slabs out of tin foil. It's easier to bend, too! The only problem is that it will be a one-use tin only, and you'll have to make another one if you want to do it again.
You can also add in extra shapes on top of the slab by using cookie cutters as mini moulds, making chocolate shapes you might not find in shops otherwise (like stars, Christmas trees, or butterflies, for example). Pour the melted chocolate into these moulds and leave them to set, before removing them (gently! They can break quite easily!).
Push these extra shapes into your full slab before it's set. Voilà! You'll have a chocolate slab full of cool, cute, and quirky shapes!
Want to Make More Chocolate Treats at Home?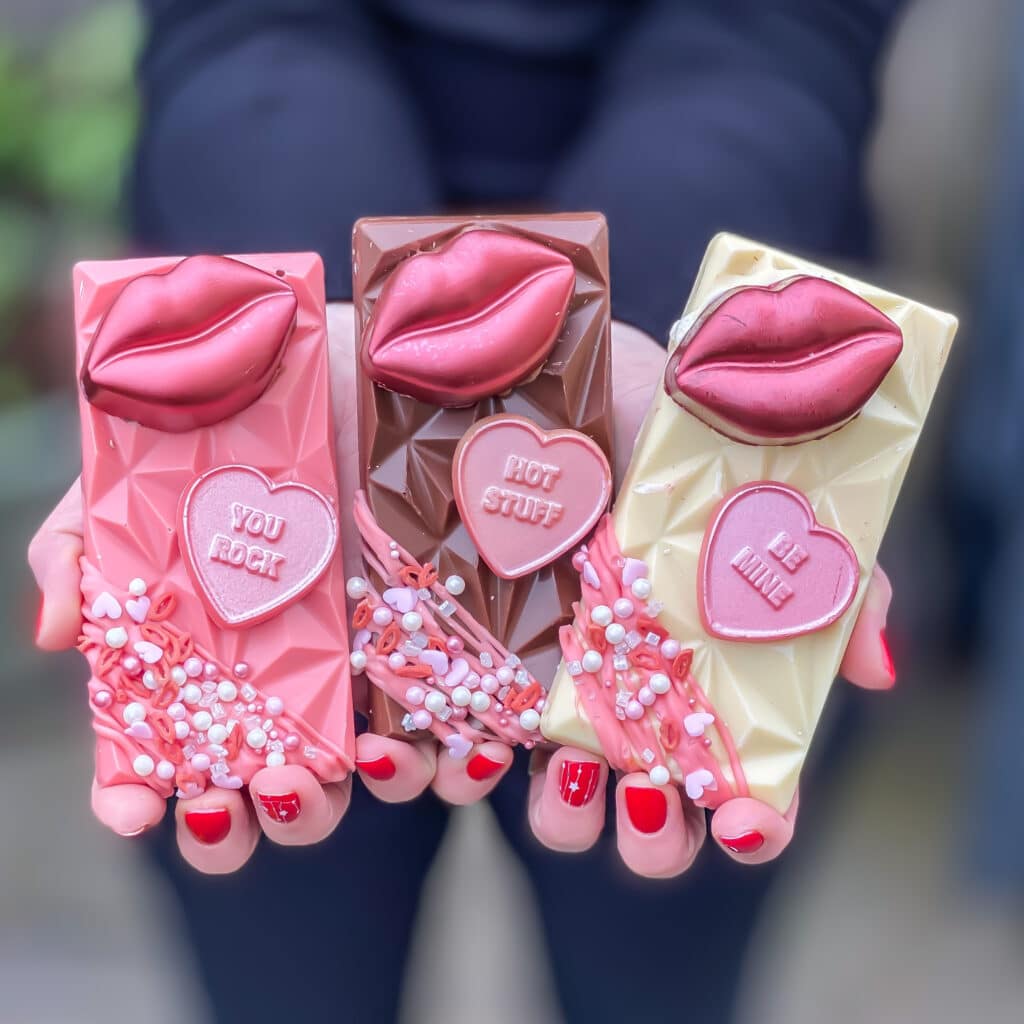 Interested in making as many different chocolate treats and sweet pieces as possible? Then why not have a look at some of our other blog posts and tutorials and see which ones appeal to you most? Once you know how to melt chocolate you're opening yourself up to a world of possibilities, from tempering chocolate, to making hot chocolate bombs – or even making your own chocolate tree, like we do!
Of course, if this is all too much for one chocolate session (and we understand if it might be), then you can always save making your own for later and take a look at our website instead. We've got a confectioner's collection of chocolate bars, gifts, and other bits and pieces – including our own famous sweet trees – ready for you to choose from right here! So, why not hold off on the lessons on making your own and get some sent to you right away?
Order Some Chunky Chocolate Pieces Right Here
If you're in the mood for some crispy, crunchy, absolutely lovely and irresistible chocolate without any fuss or hassle, you can easily order our pieces on your computer or your phone! Choose all the chunky treats you'd want to see on a chocolate slab, add them to your basket, arrange a date for delivery, and complete your payment to place your order. Easy! We'll get started on our side of the arrangement, so you can sit back, relax, and wait for delivery.
Check out our Fully Loaded treats for a full list of our own chocolate slab-like delights, and order the ones you want to enjoy in your own home as soon as possible. It'll save so much time on cleanup in the kitchen, with the same delicious chocolatey result!