Here in the UK, we love to get a little bit extravagant at Christmas. This includes picking out the best presents for loved ones, as well as choosing the most delicious food to go on our tables, or in bowls, boxes, tins or trays strategically placed around the living room so that everyone can help themselves whenever they want. We spoil ourselves and our loved ones, and at Sweet Tree by Browns, we think offering personalised Christmas chocolate is the best way to do this.
We love what we do and we spend all our time coming up with new ideas so that you can offer your friends and family the gift that they deserve, in the form of CadburyⓇ, Terry's Chocolate OrangeⓇ or luxury GalaxyⓇ. Explore the selection we have available here and choose the Christmas presents you know they'll love, before getting in touch and placing an order with us for a personalised chocolate gift today.
Get Them a Gift with Meaning
Giving a gift is one of the most heartwarming and delightful ways to show appreciation for your nearest and dearest. If they have a sweet tooth, then all the better! Chocolate boxes and novelty favours are right there and ready for you to send off and make your loved one smile. But, why not add in that little touch of extra meaning by showing your intended giftee just how well you know them? This is easily done and is something we can help you with whenever we personalise your Christmas gift.
To get started, all you need to do is pick out the product you wish to have personalised. When you click through to place your order, there will be a box waiting for you to fill in that funny or heartfelt message that will mean the world to your giftee. All of our created and crafted sweet trees come in their very own glass vases, and we will be more than happy to decorate these with your chosen message before it gets sent off. Alternatively, we can also write the note out on a little card that we'll tuck then into the box alongside your gift.
If you are planning on buying any of our smaller pieces as stocking fillers, or to give away as table favours after you've had an absolutely splendid meal, we can also write your message directly onto your gift. This will be done in gorgeous white or milk chocolate, so your intended recipient can read their message and then just munch their way right through it!
Have Your Pick of Personalised Chocolate Gifts
It's only natural to want to buy the most special gifts for your loved ones at Christmas. After all, it's a time for celebration and indulgence, and nothing says either of those things quite like a good selection box, tin, or even a nice, chunky chocolate bar that you don't have to share with anybody. We don't want anybody to miss out on the personalised Christmas chocolate that would make their year, so we are more than prepared to add funny messages and sentimental notes to any product you choose to send off as a gift this year.
These can be sent anywhere in the UK, so no matter if your nan lives in Torquay, your parents are at home in Wrexham, or you have family friends who've recently moved to Inverness, they can have the gift which best suits them.
Below, we've given a few examples of each of our available products, just to get you started on thinking what your friends and family members might like this year.
Sweet and Decorative Chocolate Trees
We have a whole forest of sweet trees just waiting to be chosen for your loved one's Christmas gift, or to go on any table or sideboard as a gorgeous (and edible) decoration. If you have any boxes that are so small they'd easily get lost in the pile underneath a tree, you might even consider setting up a separate pile around this sweet gift.
If you're looking for a gift that matches the Christmassy theme of your loved one's living room, dining room or any other available space in their home, you might want to consider our Puds 'n' Present Tree. This cute offering comes completely stuck with blocks of fudge made up like presents, mixed in with smooth LindorⓇ and crispy Ferrero RocherⓇ that we've especially worked on to disguise as tiny Christmas puddings. Or, if you know your family constantly dives for the CelebrationsⓇ tin as soon as the calendar hits 1st December (it's practically a tradition for every family, isn't it?), we have the tree for you in the form of our very own CelebrationsⓇ Tree!
There's also nothing quite like offering the most traditional and high-quality chocolate when everyone you know and love is coming to stay. That's why we also have our Cadbury's Dairy Milk ButtonⓇ Tree available, so you can be sure your guests have their fill of the absolute best.
Fun and Fanciful Chocolate Gifts
As they say, "'Tis the season to be jolly", and our chocolate Christmas gifts are just right for setting the mood. If you've been thinking about the ideal set of sweet sensations to present as Christmas favours at the end of your dinner, you might like to take a look at our small and large Christmas Smash Puds. These delightful treats are shaped just like the classic pudding we all know and love, with the added bonus of being made entirely of thick, creamy Belgian milk chocolate, with a hollow centre that's filled with delectable surprises. They're even covered with lashings of delicious white chocolate and topped with edible holly, so they look just the part of a pud you'd normally put on your table.
If you're looking for a touch of whimsy to go with the rest of the holiday spirit, or if you're planning on giving out a few fancies to fill up a stocking or two, we can also prepare any number of personalised MalteserⓇ Heads with Christmas Hats and Moustaches. These adorable pieces come stuck with all the MaltesersⓇ you could have in a day, decorated with a fancy top hat and complete with a white chocolate moustache. Each is then mounted on a mouthwatering Belgian chocolate round, which is where we will write out your message.
If you've been planning on surprising your loved one from afar by sending their gift to them, our Christmas Chocolate Letterbox Hugs may be the present you need. These chocolate rounds come ready prepared, stacked and stuck with treats and sweets to get them in the mood for Christmas, including a mint candy cane, a MaltesersⓇ Reindeer (we've turned him into Rudolph with a red chocolate nose!) and white chocolate snow. You'll never have to worry about this package being left outside, either, as its small, flat design means it will fit easily through any letterbox. Your giftee will be able to pick it up and enjoy it as soon as they walk through the door! Or wait until Christmas, of course.
Order Your Personalised Stocking Stuffers Today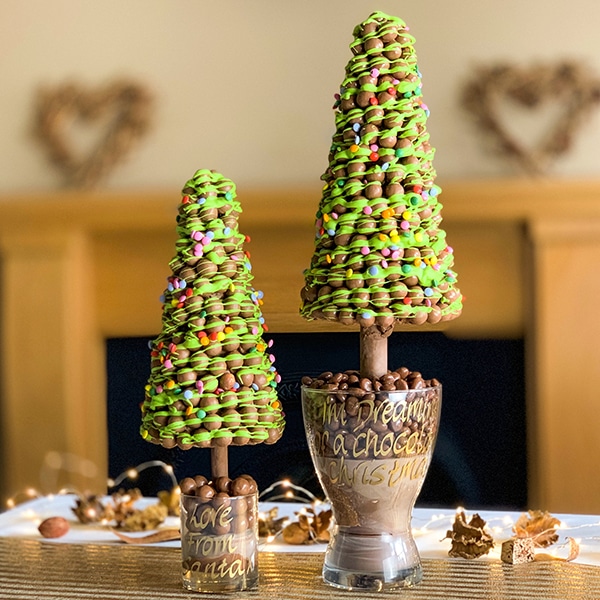 In the modern age, it's easier than ever to send gifts and treats of all kinds to friends and loved ones across the whole of the UK. So, whenever you are most in the mood to send fanciful favours anywhere in the country, Sweet Trees by Browns are here to help. We've practised our service to perfection, making it as quick and free from frustration on your part as possible, so you can send personalised Christmas chocolate to those who deserve it most, just in time for the holidays.
Pick out the present that you know will make them over the moon and place it in our handy online shopping basket. After this, it's a simple matter of filling in the postal address (either their home or yours, if you intend it to be a surprise!). Complete the purchase and that's your work done! We will handle everything from there, from crafting and making every part of your gift's delicious features, to tucking it away safely and soundly in cellophane and a made-to-measure box. This keeps it looking as good to eat as it tastes. All gift boxes will then be handed to the Royal Mail for a speedy delivery.
We will be there for you whenever you need a cute, quirky gift that you can really sink your teeth into, whether it's made of Cadbury'sⓇ finest, stuck with all their favourite CelebrationsⓇ, or set up for the perfect decoration on your Christmas table. If you are planning on preparing for the holiday season and know that you need personalised Christmas chocolate gifts to make it the most special, get in touch and place an order today. We'll make sure that your present is ready for delivery in time for the big day ‒ just like Santa, only with a few less reindeer.