Sometimes, it can be difficult to pick out the perfect gift for that one person in your life who seems to have everything.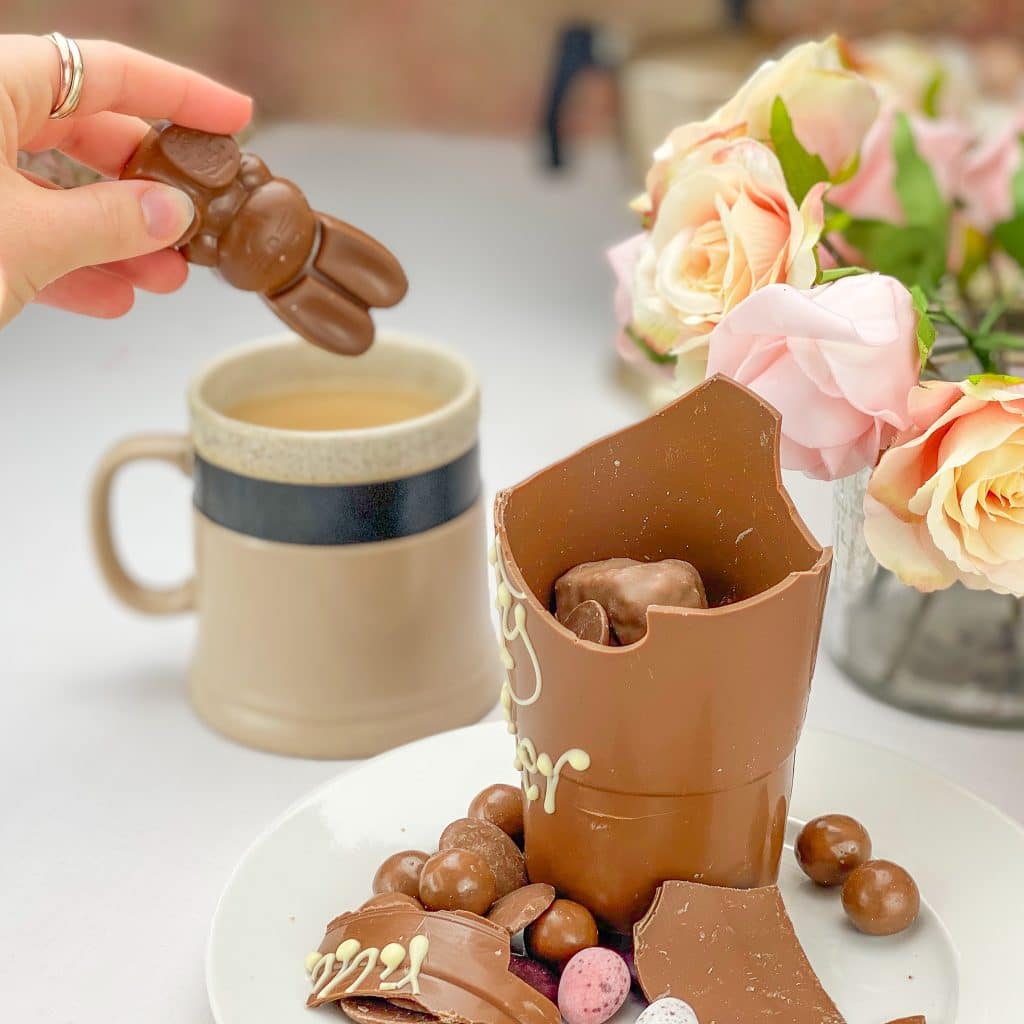 On occasions such as this, you may think about getting them something novelty, to make it a gift to remember. If you know that your giftee has a sweet tooth, this may be easily achieved by looking for the best chocolate gift to suit them, whether they are a friend, family member, or loved one.
At Sweet Tree by Browns, we are passionate about providing the best chocolate gifts in the UK, and we want all our customers to love their gifts as much as we love our sweets. This is why we spend our time cooking up new, irresistible white, dark and milk chocolate gifts of all shapes and sizes, crafting them with care to give you a range of ideas to choose from.
If you are looking for the best chocolate for a birthday gift, or even if you like to plan ahead and are casually browsing the online world for the best chocolate gifts for Christmas or Valentine's Day, we know we have the treat for you.
Our chocolate gift ideas are made for anyone and everyone, no matter their age or gender, and we make sure that each piece is delivered swiftly and safely. Choose one of our smooth Belgian chocolate gift ideas from below, place your order and find out why our customers keep coming back for more…and more…and more…
---
All the Best Chocolate Gifts are Personalised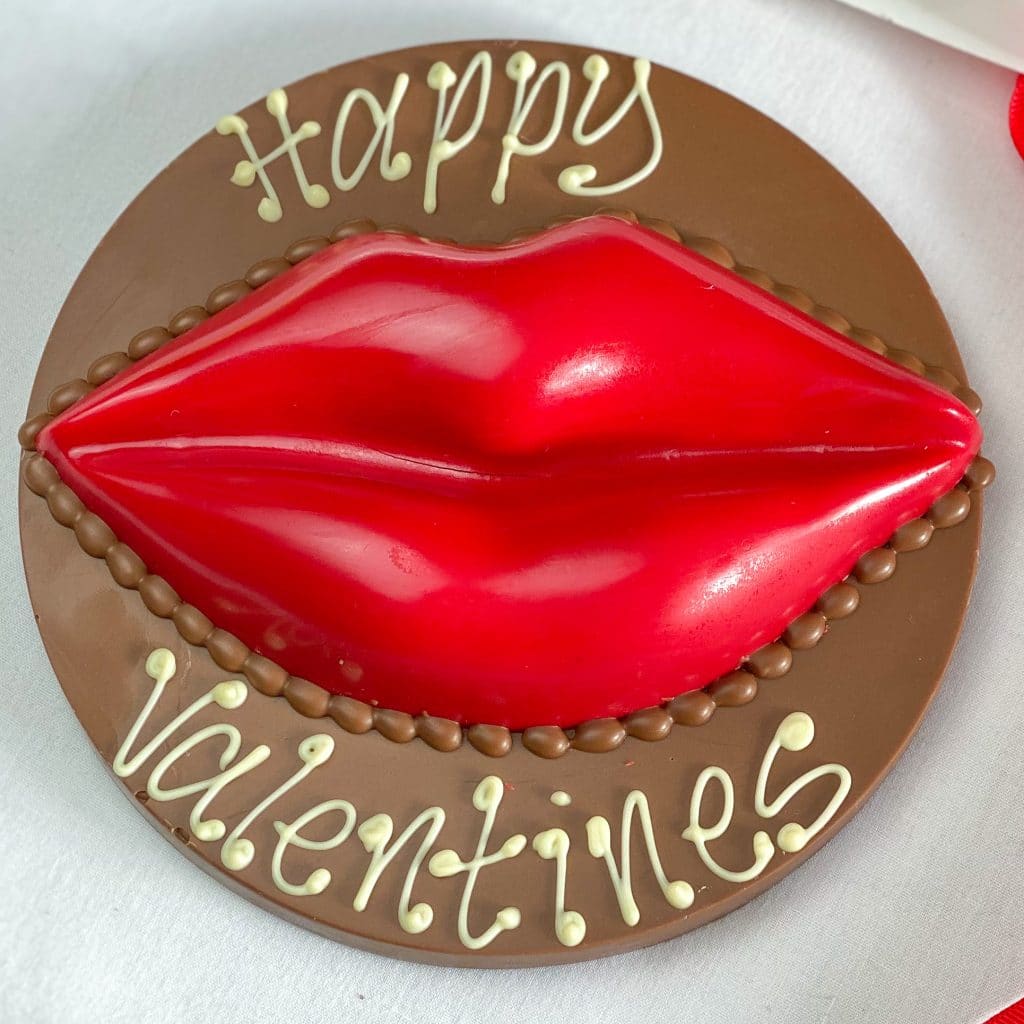 We know that you want to make your gift as special as it can be, and there is no better way to do this than by personalising it. Our best chocolate gifts are all handcrafted and beautifully decorated in the way that will most show how much you love and care for its recipient¹.
Make any of our delicious pieces as thought-through and tailored to them as you would like, and you will make it the best chocolate gift your girlfriend or boyfriend, parent, child or spouse has ever had. Celebrate your personal connections in style – and by "style", we of course mean "with as much chocolate as you can sink your teeth into"!
All you have to do to give your loved one their very own personalised chocolate gift is order the piece you know will make their mouth water the most, and fill in the details found on the page. You will be given the option to send a message with your gift, or you can choose to have something written on the chocolate itself, just to make it that little bit sweeter.
---
The Best Chocolate Gift Boxes are Open to Everyone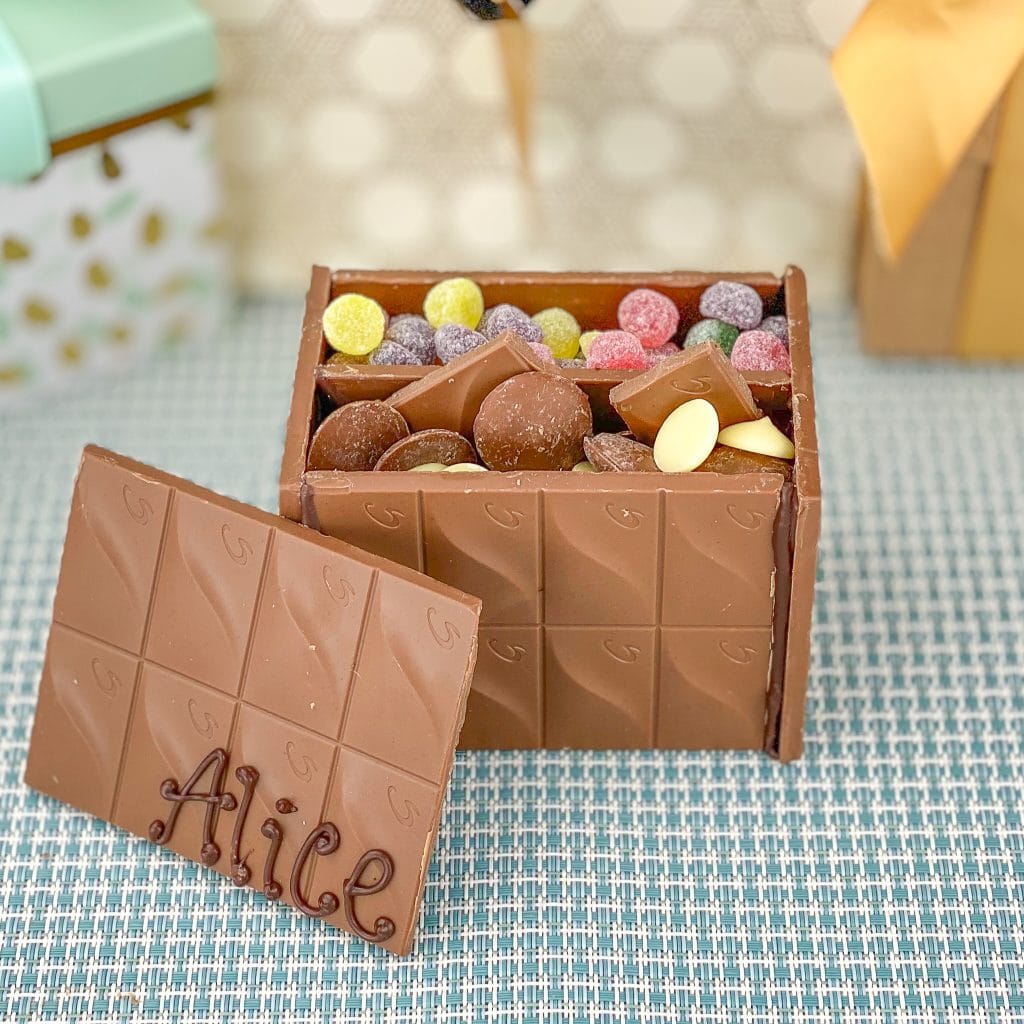 If you are in the confectionery market for novelty ideas, then why not consider a gift where you can eat both the contents and the box they came in, as well? Our chocolate boxes let you do just that, with walls that are made from the finest, creamiest dairy milk chocolate bars, held together by yet more melted chocolate to form a box your loved one is bound to adore. This box is then divided into sections and filled to the brim with a selection of sweets. Think of it as being like a tiny treasure chest for pirates with a love of Galaxy minstrels, rather than gold doubloons. We will even tie your box up neatly with a ribbon, and finish it off with a solid chocolate top that comes with its very own message.
We don't believe in closing the lid on our boxes to those who would prefer a plant-based sweet treat, whether for moral reasons or factors to do with their health³. This is why we are also proud to introduce our vegan chocolate box, the best chocolate gift box you will find on the market for those who don't have dairy.
We make these boxes exactly the same way as our dairy milk chocolate boxes, and the only difference is that every goodie you will find inside is vegan-friendly. Just like our non-vegan selection, you will also find that you can personalise the box with the perfect message for your friend or loved one.
The best chocolate gift boxes we sell can be sent at any time of the year and make the best chocolate gifts for Christmas, birthdays, Mother's Day, Father's Day…oh, who are we kidding? They make the most amazing gift for any occasion you can think of!
---
The Best Chocolate Gifts are a Smashing Time for All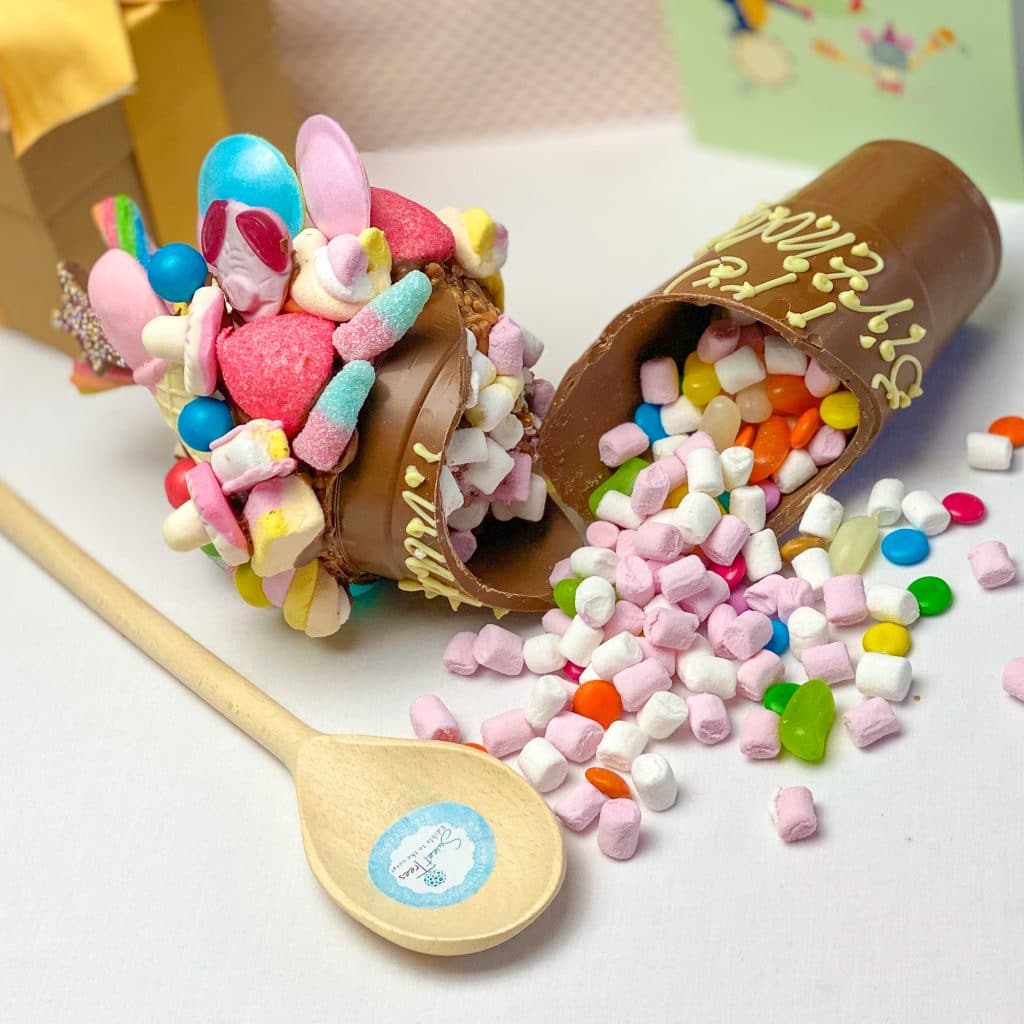 We like to have fun with our work, and we want you to have fun with the gift you receive. And yes, we know that you can't get much more fun than rich, delicious chocolate, but we think we have a way. Instead of opting for an ordinary bar of chocolate for your loved one to snap into pieces, why not order them a tasty treat of a chocolate gift that they then have to break into, revealing smaller, bite-sized nibbles they can enjoy at their leisure?
If this sounds intriguing, why not browse our selection of much-loved and famed chocolate smash cups? Completely hollow, these edible cups and other shaped pieces have a range of sweet surprises inside, from Mini Eggs and marshmallows to Ferrero Rocher, Maltesers and honeycomb.
Our smash gifts come disguised as many different objects for all occasions, from flower pot bouquets for Mother's Day to eggs for Easter. We even offer Smash Puds and Smash Trees, as part of our range for the best chocolate gifts for Christmas. Enjoy the festivities no matter where you are in the UK when you order from us, and turn your smash gift into a fun game to see who can break into it first!
---
The Best Chocolate Gifts are Perfect to Pick At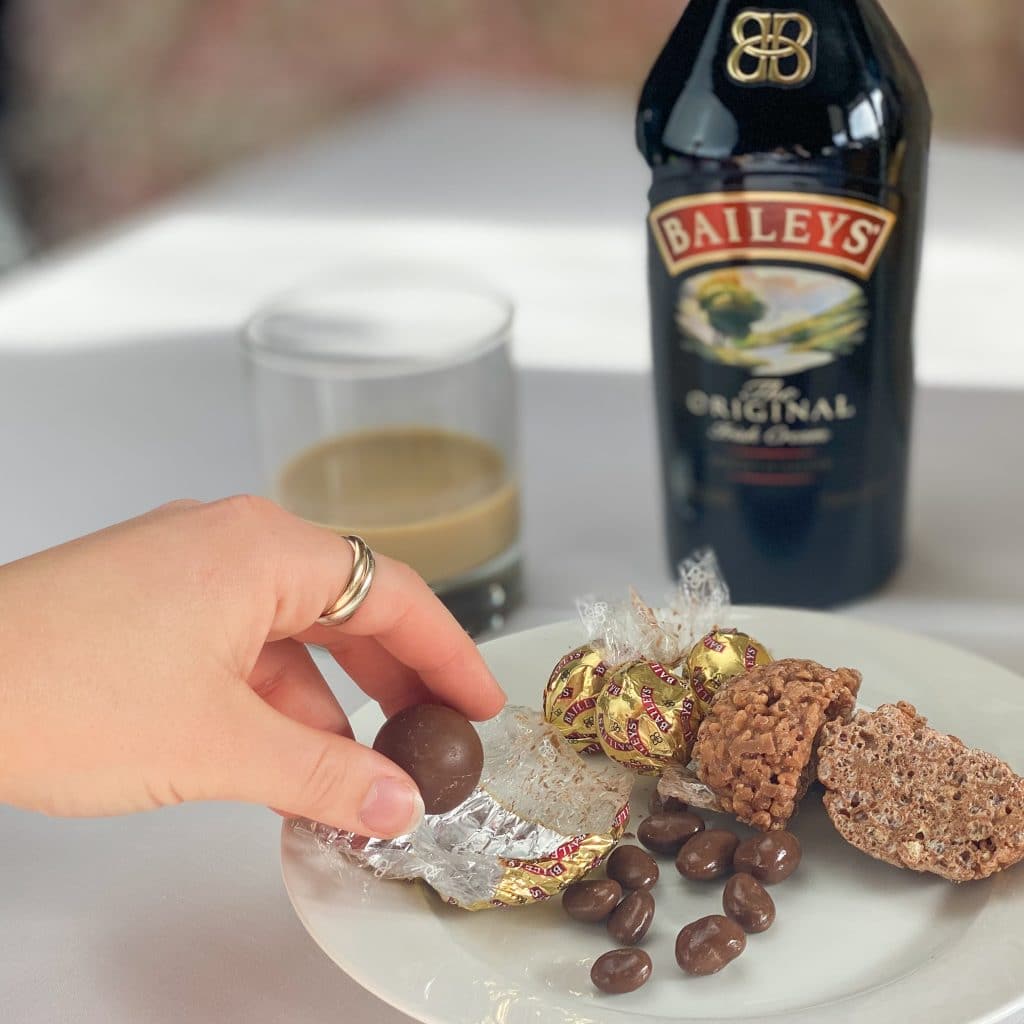 If you know your friend, girlfriend or family member would prefer a more elegant gift that can be plucked from whenever they feel like it, then the ideal gift for them will be one of our sweet trees. Perhaps our most famous creation, these crispy-centred trees come stuck with a variety of candies and chocolates that even Willy Wonka would envy.
From dark chocolate or milk chocolate truffles, salted caramel or fudge, to G&T and champagne varieties (which make some of our best white chocolate gifts), our forest of a collection is bound to have the perfect tree for you to pick from, whether you need the best chocolate for a birthday gift, wedding or to celebrate a holiday. Explore the range we have and find the gift you know will hit the spot just as you need it to, no matter if you are looking for the best white chocolate gift trees, peanut butter cup trees or even a tree made completely from marshmallows!
---
Order the Best Chocolate Gift You Will Ever Give Today
We know that people often worry about making sure gifts ordered online both come out right and are delivered on time. This is why we make ordering our products as simple and swift as we possibly can. All you will have to do is order the fine crafted, richly flavoured chocolate gift that your loved one will adore, and we will do the rest. We can make the best white chocolate gift trees or milk chocolate gift boxes to tantalise your tastebuds, and have them delivered to you in time for when you need them.
We can ensure delivery of the best chocolate gifts in the UK, no matter if you live in London, Manchester, or the furthest reaches of Scotland. Browse to your heart's content, and find the gift that you know will go down a treat.