Luxury Handmade Chocolates for the Ones You Love
At Sweet Tree by Browns, we are proud to work from the heart, creating luxurious and irresistible hand made chocolates from our very own family-run kitchen. As a family-run business, we care about quality and we care even more about our customers.
From our chocolate sweet trees to our popular smash cups, every creation has been imagined and made by our team of chocolatiers. What's more, we hand make, package, and deliver everything to order. If you're looking for one-of-a-kind chocolate gifts for the ones you love, look no further. At Sweet Trees by Browns, we combine incredible designs at great prices with irresistible flavours and textures that will keep you coming back for more.
Handmade Chocolate from the Finest Ingredients
At Sweet Trees, we love chocolate. All of the chocolates we make are handmade using the finest Belgian chocolate ingredients. We know that if our chocolate is going to taste incredible and keep people coming back for more, it has to go above and beyond in taste, texture, and style. That's why we only use 100% Belgian chocolate, creating a smooth and irresistible taste.
When you order from us, your chocolate isn't coming off a conveyor belt in a factory, and it is definitely not packed by machines. All of our chocolates are handmade by our expert chocolatiers from the Sweet Trees kitchen and hand packaged by our passionate team. You can't beat the taste of chocolate that has been made and packaged with love.
Handmade Chocolate Delivery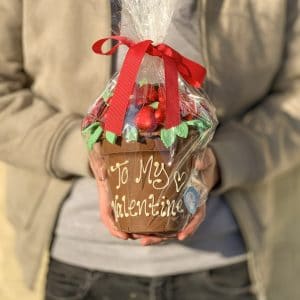 We are proud to provide chocolate delivery throughout the UK. Our team of chocolatiers are highly skilled and passionate about their craft. They are dedicated to ensuring that each chocolate is made, packaged and delivered as a masterpiece.
We aim to have every order made and dispatched within 24 hours, delivered to your door within a couple of days. All of our deliveries are transported via courier to ensure they arrive in one piece. If you require your chocolate gift on a particular day, opt for Express Delivery at the checkout and select the day that's best for you.
Personalised Handmade Chocolates
Nothing is quite as special as receiving a handmade gift that has been personalised just for you. Because we hand make our chocolate gifts to order, each creation can be personalised with a name or phrase of your choice. If you want to opt for a personal message but you just can't find the right words, let us do the talking for you! Choose from a list of pre-written messages and find the words you want to say.
Luxury Handmade Chocolates Perfect for You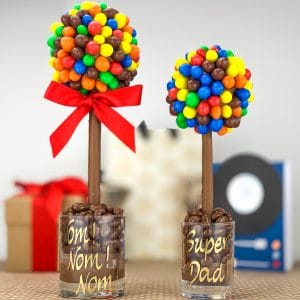 There is nothing quite as luxurious as 100% quality Belgian chocolate, but at Sweet Trees we help you find the perfect indulgent chocolate gift. Whether you're buying for someone you love or just to treat yourself, our luxury chocolates are perfect for you. Choose from a range of designs or call us today to discuss a bespoke chocolate design you have in mind – we are happy to cater for all requirements.
Our chocolatiers are constantly drawing up new ideas and trying out different chocolate creations. So, we are never short of beautiful designs and irresistible flavours. Our creations are hand crafted from the finest Belgian chocolate, enabling our chocolatiers to create bespoke confectionery in nearly every design imaginable. From the production to the packaging, our team takes care of every little detail. If you want luxury, look no further than Sweet Tree by Browns.
We Hand Make Our Chocolate from the Start
We are proud to hand make our chocolate right from the start. There is no part of our chocolate creation process that is not carried out by a person. From the chocolate melting and ingredient mixing, to creating the amazing designs by hand, at Sweet Tree by Browns we do it all. In order to achieve the mouthwatering taste of our chocolate, we have a secret recipe that is melted and mixed by hand before being poured into our chocolate moulds.
Our chocolates aren't just handmade from our family-run kitchen, they are also made from the highest quality ingredients. We only want to provide our customers with the very best and that's why we are proud to combine handmade chocolates with quality ingredients.
Buy Your Handmade Chocolates Online Today
We make ordering chocolates as easy as possible. All you have to do is browse our website, place an order, and we will do the rest! Our chocolatiers know what it takes to create bespoke and luxurious hand made chocolates. Place an order with us today and indulge your taste buds in the finest hand made chocolates.