Chocolate Valentines Gifts: Personalised and Made to Order
Valentine's Day isn't just about romance – it's just a day to remind you to treat the people you love. This February, why not show that special someone how much you care with our chocolate Valentines gifts? Order before 9th February for standard delivery before Valentine's Day. Express delivery is available until the 13th February before 11am. Spread the love with our Valentines chocolate gifts.
£5 discount each time you pay with
Showing 1–16 of 18 results
About Our Chocolate Valentine's Day Gifts
Valentine's Day is right around the corner, so it's time to start shopping for the perfect gift. Here at Sweet Tree by Browns, we don't make generic Valentine's Day chocolates. We think that every gift should be unique, personalised, and made to order. That's why you will only find beautifully designed and quality chocolate gifts in our online store.
All the chocolate valentines gifts we create are handmade by our expert chocolatiers in from the Sweet Trees kitchen. We take pride in every piece we create and because we make everything by hand, we only deliver chocolate that has been made to the highest possible standard.
Personalised Chocolate Valentines Gifts
Is there anything sweeter than a personalised Valentine chocolate gift from someone you love? Well, at Sweet Trees there is! We don't just provide the option for personalisation, but our chocolatiers write your message of choice in Belgian chocolate for extra sweetness.
If you don't know what you want to say, you can choose from our selection of pre-written romantic gift messages. Show that special someone that you'll go the extra mile to make them feel special this Valentine's Day.
Our Popular Valentine's Day Chocolate Gifts
Our chocolatiers are always creating new and unique chocolate designs and we have a whole range of Valentine's Day chocolate gifts for you to choose from. Take a look below at some of our most popular products. We have a selection of the perfect chocolate gifts to help you take your gift-giving up a level.
Chocolate Sweet Trees for Valentine's Day
Whether you've only been dating for a couple of months or you've been married for 20 years, our sweet trees are a Valentine's Day gift with a difference. Fully edible, except for the stem and the vase, our sweet trees are a unique and personalised gift for that special someone. Don't just give a generic box of chocolates this February!
The Sweet Trees Chocolate Box
At Sweet Trees we like to stand out from the crowd. That's why our chocolate box is a little bit different. Unlike generic chocolate boxes, our Valentine's Day chocolate box is made entirely from bars of yummy milk chocolate. These chocolate bars divide the box into four separate sections and each section is filled to the brim with sugary delights.
Do you have a sweet tooth for Haribo? Or perhaps you love the melt-in-the-mouth delights of Cadbury's. Whatever your taste, our chocolate box is the perfect gift this Valentine's Day.
Love Belgian Chocolate Smash Cup
Our Belgian chocolate smash cup is one of our most popular gifts. Made entirely from Belgian milk chocolate, the Love Belgian Chocolate Smash Cup is full edible. For just £3 you can personalise your chocolate smash cup with a handwritten message by our chocolatiers.
Smash the cup open to discover the chocolates hidden inside. Enjoy indulging in Cadbury's Chocolate Buttons, Haribo hearts, Kinder Bueno, Celebrations, Minstrels and more.
Sprinkled with Love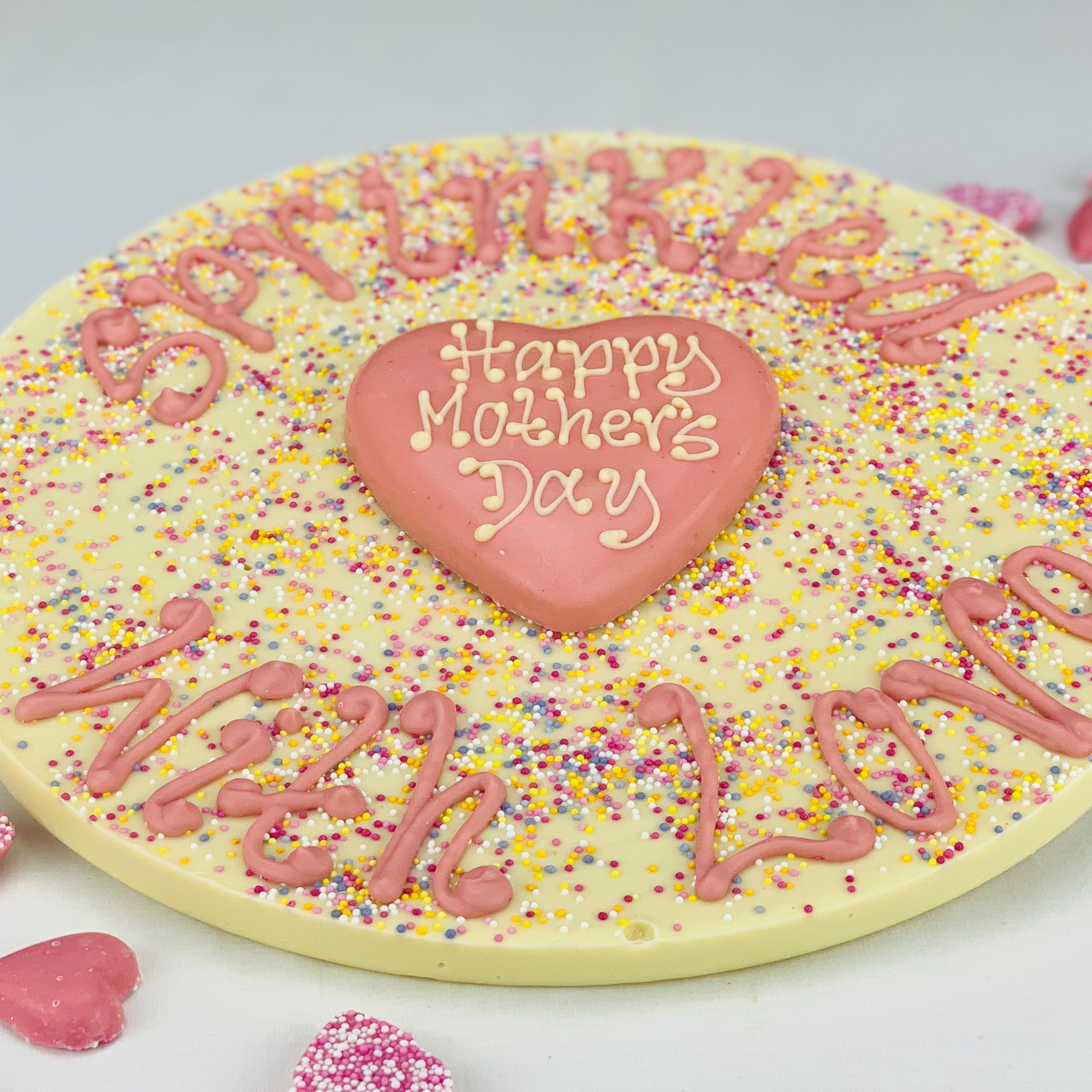 Are you looking for the perfect white chocolate Valentine's gift? This Giant Jazzie is made entirely out of quality Belgian white chocolate. The delicious pink chocolate heart in the centre is the perfect place for our chocolatiers to write a personalised message of your choice.
Our Sprinkled with Love plaque is the perfect chocolate Valentine's Day gift for anyone who likes Jazzies. A nostalgic gift that's perfect for that someone special. Get this Valentine's Day gift for only £29.99 when you order today.
Valentine's Day Chocolate's Made to Order
When you order chocolate gifts from us, we don't make our chocolates in a factory and load everything off of a conveyor belt and into boxes. No, at Sweet Trees we make every gift to order straight from the Sweet Tree's kitchen. Our chocolatiers are experts and make every single order by hand. They take the time to make your order exactly how you would like it to be. So, you can be guaranteed a quality chocolate gift every single time.
Chocolate Valentine's Day Delivery
We deliver all of our products straight to your door, it couldn't be more convenient. Our hand delivered courier service works hard to ensure that your Valentine's Day chocolates arrive to you in perfect condition. What's more, if you've forgotten all about Valentine's Day and you're panicking your gift won't arrive in time, you can opt for express delivery and we will deliver your chocolate the very next day.
Our chocolates are carefully wrapped in bubble wrap and secured in made-to-measure cardboard boxes. We gift wrap everything we sell in cellophane and a colourful ribbon, so that even when you unpack it there is no need to worry about gift wrapping. Now that's great service!
Buy Your Valentine's Day Chocolate Now
If you have been scouring the internet for that perfect Valentine's Day gift, look no further. We have a whole range of chocolate gifts that are unique and made to order. Discover our huge variety of gifts for yourself, we're sure you'll find something perfect for Valentine's Day.