Corporate
Luxury Personalised Chocolate Corporate Gifts
Finding the perfect corporate gift can be tricky. After all, you want to make a good impression, give something thoughtful, and have your company remembered. Corporate gifting can affect how your company is perceived by others, so ensuring you get it right is essential. Our Sweet Trees are the perfect gift. They're beautifully handmade, with over 100 designs to choose from and now offer entirely edible centres. In our humble opinion, there is no better corporate gift.
Our chocolate trees are used as corporate gifts by some of the UK's leading brands.
Showing all 2 results
Why does a Sweet Tree make a great corporate gift?
A Sweet Tree is a gift that can be admired, nibbled at, or devoured. Designed to look like a tree, our chocolate trees are covered in your favourite sweet treats. Displayed in a glass vase with edible chocolate filling, our chocolate trees come in the following sizes: 25cm, 35cm, 50cm, and 65cm. What's more, you can add your very own personal message, to add something a little different.
Here at Sweet Trees by Browns, we have always been unique. With the essential ingredients of family, passion, and chocolate, we can create the most beautiful treats for you and your clients. All of our Sweet Trees are made from mouth-watering chocolate and covered in a variety of delicious sweet treats, from jelly beans or Maltesers, to chocolate buttons and popcorn. You're sure to find a flavour that works for you.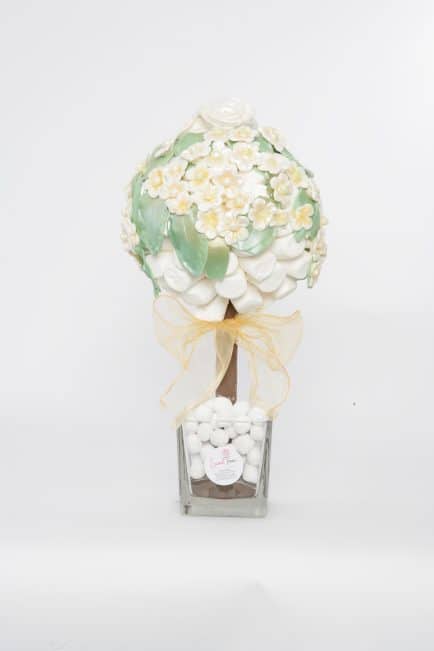 You can make your corporate gift branded
The best corporate gifts are those that are unique and help your company be remembered. If the aim of your corporate gift is to keep your company at the forefront of your customers' minds, it's important you choose something unique that stands out from the crowd and gets everyone talking.
Personalise your corporate gifts to make them more memorable
One of the great things about the Sweet Trees we sell is that they can be personalised to the recipient or made to carry your company's name. This is a great way to provide a personal but professional gift. With Sweet Trees, you can add a personal gift tag or a chocolate message to your order to make it personal to the recipient.
When it comes to corporate gifts, many people assume they are 'boring' or 'lacking personality'. So, go for the unexpected and help your company stand out from the crowd. Remember, your clients may receive dozens of gifts and you want one that says something a little bit different and that makes a lasting impression. Get people talking about your gift by purchasing something unique that no one's ever done before, like a chocolate tree.
When it comes to gift-giving in the corporate sector, the packaging is often just as important as the gift itself. If you lack the art of perfect gift-wrapping, there is no need to panic, all our gifts are beautifully sealed with cellophane and a ribbon tie, the perfect detail to complete your sweet treat.
Use Corporate Gifts to Acknowledge Contributions
There may be times throughout the year when your company receives exceptional contributions and generous gifts from customers, clients, or even other businesses. In these circumstances, it is good to acknowledge them with a gift that makes your appreciation known. One of the best ways to choose corporate gifts that people are sure to love is by working with us. We specialise in gift-giving that is unique to each customer. So, if you want a corporate gift supplier that supplies high-quality, beautiful, and unique gifts every single time, look no further than Sweet Trees by Browns.
Affordable Gifts for Your Business
Knowing how much to spend on your clients or employees can be difficult. That's why we sell a variety of sweet treats in a range of different prices, so you can choose a gift that suits your budget requirements.
Send Your Gift Meaningfully
Generally, corporate etiquette dictates you should send your gifts through a delivery service rather than in person. Here at Sweet Trees by Browns, we are proud to take great care in getting all your Sweet Trees safely to you. That's why all our products are sent via a hand-delivered courier service, straight to your door. Whatever the occasion, our team have the perfect corporate gift for you.
Create Your Own Design
Here at Sweet Trees, we create bespoke designs and have made stunning trees for many big brands, including Walt Disney, Aviva, Transport for London, and so many more. Our team at Sweet Trees can make just about anything, so if you're unsure what you'd like to go for, call our design team and we will happily come up with some ideas to suit your budget and requirements. Make a lasting impression and contact customerservices@sweettreebybrowns.co.uk today.
We Provide Fast Delivery
What should you do next? Purchase your sweet tree from us! Our delivery options are fast, including next day deliver, two-day delivery, and even a Saturday delivery if you purchase your order before 11am. If you live far away, don't worry. Our Sweet Trees are delivered nationally and sometimes internationally, so we have you covered.
Contact Us Today
If you would like more information about the corporate gifts we provide, check out our shop. If you would like to discuss personalising your gift or ask us any questions, please do not hesitate to contact our friendly team today. We would be more than happy to help!
Sweet Tree's have bespoke design and have made trees for Aviva, Walt Disney, Transport for London, Schroders, Longines, Chelsea football Club and many more. Sweets as Rugby balls & a star wars Mickey Mouse to train stations nothings impossible!
Not sure what to have? Call our design team, we will happily come up with some ideas to suit your budget and requirements. We can even make your logo edible. Don't blend in, be remembered, send a Sweet Tree customerservices@sweettreebybrowns.co.uk.